LIFT, Innis College and Cinema Studies Institute announce inaugural Mentorship Recipient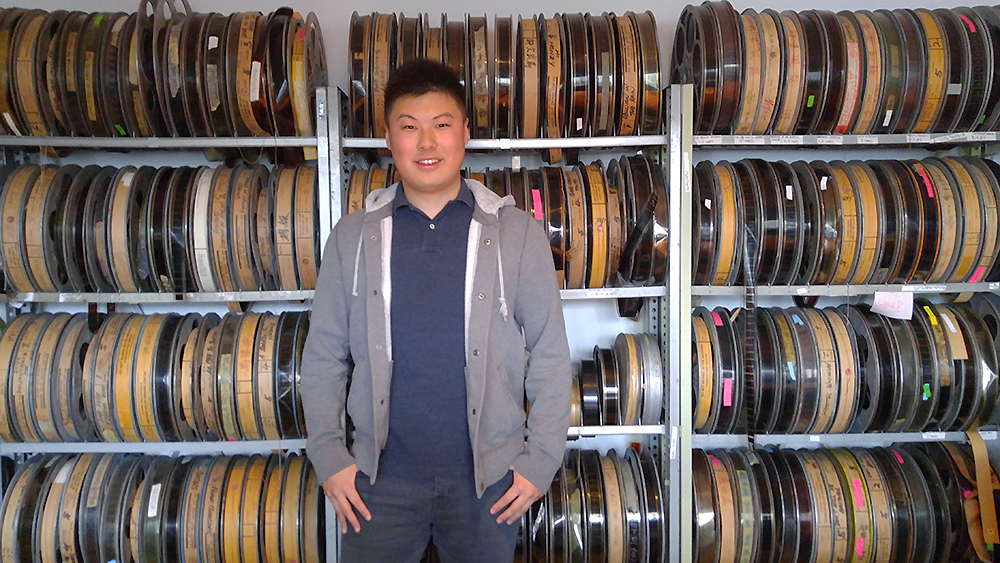 LIFT, INNIS COLLEGE and CINEMA STUDIES INSTITUTE
ANNOUNCE INAUGURAL MENTORSHIP RECIPIENT
Toronto, October 18, 2017—The Liaison of Independent Filmmakers of Toronto (LIFT), Innis College, and the Cinema Studies Institute (CSI) are pleased to announce that He Xu is the recipient of the inaugural Filmmaking Mentorship.
"CSI sees a tremendous amount of potential in He. At U of T, He came to Cinema Studies relatively late compared to some of his peers, but he took to it as an area of study quickly and is now thriving in our program. Similarly, he had great success with the very first film he ever made, 'He's Rooftop Afternoons,' which won prizes in two student film festivals in 2016. We have no doubt that a mentorship with LIFT, which includes access to its many workshops, will allow him to continue his rapid development as someone who both thinks about cinema and make films in a unique and inspired way."
—Corinn Columpar, Director and Associate Professor, Cinema Studies Institute, University of Toronto
"I feel so grateful and privileged to be selected as the participant of LIFT, Innis and CSI's Inaugural Filmmaking Mentorship Program, especially in this era in which cinema is again standing on the edge of change. I believe that this amazing journey ahead of me is going to be an unforgettable experience. The great resources and help this program offers to emerging independent filmmakers like me, are no doubt a significant support, which will indeed propel me towards achieving my dreams as a filmmaker."
—He Xu, recipient
He Xu is now pursuing a Honours Bachelor degree in Cinema Studies and Physics at University of Toronto. His first student short "He's Rooftop Afternoons" won the Best Student Film at 8th Alaska International Film Awards. He's current interest and goal in filmmaking is to put humanity into his imagined science-fiction context, and together with the spectators, experience the moods and philosophies hereby derived from the story.
-30-
Should you have additional questions, please contact LIFT Education and Outreach Administrator Rolla Tahir at 416.588.6444 or specialprojects@lift.on.ca
About the Liaison of Independent Filmmakers of Toronto (LIFT)
LIFT is an artist-run charitable organization dedicated to facilitating excellence in the moving image through media arts education and production resources. LIFT exists to provide support and encouragement for independent filmmakers and artists through affordable access to production, post-production and exhibition equipment; professional and creative development; workshops and courses; commissioning and exhibitions; artist-residencies; and a variety of other services. Founded in 1981 by a small collective, LIFT has since grown to become one of the foremost centres of its kind globally. www.lift.ca
About Innis College
Founded in 1964, Innis College provides a small-scale, home to about 1,950 undergraduate students within the Faculty of Arts & Science at the University of Toronto (U of T). Students of Innis College represent a wide range of backgrounds and interests yet can all enjoy the familiarity and comfort of this local hub within the greater university. www.innis.utoronto.ca
About the Cinema Studies Institute
Innis College also proudly houses the Cinema Studies Institute (CSI), one of the longest standing film-study programs in Canada. CSI has made key contributions to the evolution of this academic discipline through its commitment to scholarship and pedagogy. The research and teaching profiles of CSI faculty continue to attract international attention, and the reputation of its undergraduate and graduate programs has created strong student interest within Canada and beyond. www.cinema.utoronto.ca
Follow this program on social media: #LIFTfilm
Starting: Wednesday 18 October 2017 00:00
Location:
Liaison of Independent Fimmakers of Toronto (LIFT)
1137 Dupont Street
Toronto ON Canada