April 2023: Registration is now closed for Film Labs Gathering.
==============================
This page contains information about screenings and events that run concurrently to the Film Labs Gathering. The programs are put on by colleague organizations and engage with guests and local filmmakers attending the Film Labs Gathering. To list your event, please get in touch with Special Projects Coordinator Helen Lee and we will endeavor to get it added to this list as soon as possible.
Note:  Due to time constraints and the limited size of venues, events on this page do overlap. Please plan accordingly. Check individual websites for more information.

Saturday, May 27
1. Saturday, May 27, 20:00-21:00pm
PIX FILM Gallery, 1411 Dufferin Street, Unit C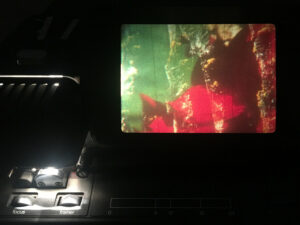 IMMANENT UNION
Kyle Whitehead | Calgary | B+W/Colour | Generative Sound via Light-Controlled Synthesizers | 58 minutes
This Super 8 film on two reels is a retrograde attempt to resolve a personal archive and index, confronting the inexorable passage of time into memory, memory into echo and echo into resonance. IMMANENT UNION was spliced together live over the course of six performances in Mexico, the United Kingdom and Canada – these Drafts for a Scenario facilitating an aleatory approach to the global composition of disparate memories, fleeting images of recorded time that have no story to tell. Performative in essence – where sound is modulated live by the projected light itself – this mystical union justifies an immanent plane as an act of pastoral simplicity. A divine presence.
2. Saturday, May 27, 21:00-23:00pm
PIX FILM Gallery, 1411 Dufferin Street, Unit C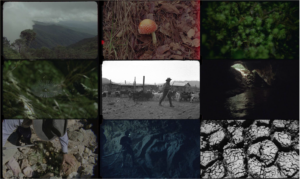 PULSOS SUBTERRÁNEOS / UNDERGROUND PULSES
Elena Pardo | 2022 | México | B+W/Colour | 3/16mm projectors, digital sound | 40 minutes
An expanded cinema performance that observes and listens to visible and underground territories, both physical and intangible, in two regions of Mexico that currently experience or resist mining activities: Zacatecas and Oaxaca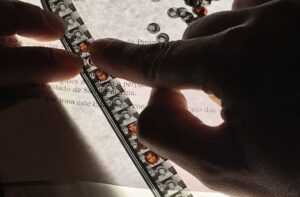 Troco
Azucena Lozana | 2019 – 2022 | México/Brasil/Argentina | Color | Film performance with 16mm and 35mm loops with digital sound | 30 minutes
Film support as a plastic source is an investigation that in this performance proposes the formal study of the perforation as a fundamental element of analogic film, and the human face as a representation, as a color chart configuration and as a target of electronic detectors. Several meters of 35mm film of color reference strips known as "china girl" and other close up takes in 16mm were perforated and their faces were exchanged manually to other faces or film perforations to be displayed iteratively on a live performance. The final piece is a performance that was developed during the residence of the 12th Strangloscope Mostra in Florianopolis, Brazil and premiered at the Cinemateca of the Art Museum of Rio de Janeiro during the Dobra International Experimental Film Festival.
Saturday and Sunday, May 27-28
InterAccess (950 Dupont Street), Charles Street Video (76 Geary Avenue), Mercer Union (1286 Bloor Street West)
For one weekend each year the city of Toronto runs an event called Open Doors, for which architectural, cultural and socially significant buildings are open to the public and give tours. A number of our peer organizations are participating this year, including InterAccess, Charles Street Video and Mercer Union. Please see this link for more information.
Sunday, May 28
1. Sunday, May 28, 17:00-19:00
Behind 129 Spadina Ave.
A Visit to CineCycle: CineCycle is an underground cinema and bicycle repair shop projecting 35mm, 16mm, 8mm, super 8 and video for many renowned visiting film artists since 1991!
http://www.super8porter.ca/CineCycle.htm 416-971-4273
Meet proprietor Martin Heath and watch him project his "Walking Film" (35mm, 2016, 4 minutes) using his 1912, hand-cranked, Simplex 35mm projector from the cinema floor. He will project it a few times during this 2-hour visit, which will be hosted by John Porter and Martin Heath. Cash bar and coffee. BYO food.
CineCycle is in the old coach house down the lane behind 129 Spadina Ave. (on the east side between Richmond and Adelaide), just 2 blocks from Artscape Sandbox where there is a film performance at 20:00pm.
2. Sunday, May 28, 20:00-22:00pm
Artscape Sandbox (301 Adelaide St W, Toronto, ON M5V 2E8)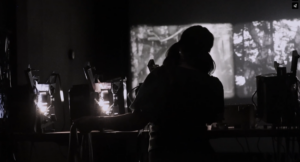 Worth More Standing: Lindsay McIntyre and Peter Bussigel
https://counterarchive.ca/worth-more-standing
7:30 pm Doors open. Preregistration encouraged through the eventbrite link. A reception follows the performance
The process of finding one's place in fractured familial histories is the starting point for a series of films and performances produced by Lindsay McIntyre. Between 2007 and 2012, she produced a series of five short films under the title Bloodline concerned with some of the lost histories and intergeneration traumas of her Inuit matrilineal heritage. The program opens with Her Silent Life (31 min, 2012), an experimental documentary which seeks to understand the complex life of her Inuk great grandmother Kumaa'naaq. Seeing Her (3 min, 2020), made several years later, offers a sparkling repose presenting an analogue experimental animation that builds on elements explored in the previous film, animating Kumaa'naaq's beautiful bead work. The second half of the program is an expanded cinema performance featuring several 16mm projectors (Lindsay McIntyre) and digital and live sound (Peter Bussigel). Worth More Standing (40 min, 2022) is "a looping 16 mm performance exploring the framework of tree/human relationships on unceded Pacheedaht territory at Fairy Creek. A site of civil disobedience, it is also a place of recognition, passion, and dedication for the more-than-human beings with whom we share the planet. High contrast images are hand-processed, optically printed, contact printed and altered, creating a portrait of this landscape and its employ at the hands of humans" (69th International Short Film Festival of Oberhausen 2022: 349).
This event is made possible by the generous support of Archive/Counter-Archive, the Social Sciences and Humanities Research Council (SSHRC), and the Film and Media Studies Association of Canada (FMSAC).
3. Sunday, May 28, 20:00-22:00pm
PIX FILM Gallery, 1411 Dufferin Street, Unit C
SMOKE AND MIRRORS: Dave Johnson and Matthieu Hallé
Sonorous Light
Dave Johnson | Victoria | 16mm and sound | indeterminate length
Inspired by the description of a radio from Aldous Huxley's 1931 book Brave New World and adapted into a 16mm light sculpture producing sound. The artist presents a completely analogue experience using homemade audio components, a 16mm film loop and a smoke machine. The result is a unique dichotomy between cinema and sculpture. The artist invites the viewer to participate in altering the light, sound, and space.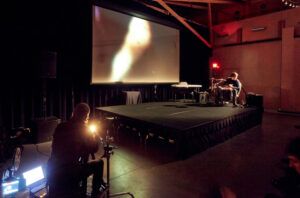 The Waterfall
Matthieu Hallé | Ottawa | 16mm projection | 30 minutes
A 16mm film loop of a waterfall plays continuously on a custom-modified 16mm film projector that uses a live video feed of candles focused with hand-held pieces of glass as the light source that illuminates the film. With live musical accompaniment by Anne Bourne. This will begin at 21:00p,.
Presented by Lightproof Collective and funded by Petman Foundation.
4. Sunday, May 28, 22:00 until Tuesday, May 30, 20:00pm
PIX FILM Gallery, 1411 Dufferin Street, Unit C
Desastres Naturales – we trust too much everything will fail
Daniel Bajoit and Andrea Novoa | Performance, 16mm, S8mm, Digital projection, Sculpture
A 16mm film and sound installation and performance, based on the desire to dig into the spiritual state of our days and testify to it, a found miniature bible, 16mm images of a Chilean landscape and live music. We trust too much everything will fail is a message brought from the west-south border of the living land, Chile. It is an attempt to represent how human life and political deceptions nowadays affect us and to intervene on it. The Installation continues after the Sunday performance until Tuesday, May 30.
« People from here feel safe thinking nothing is gonna be well. From there, everything will remain quite as a piece of paradise. » (Unknown)
« We believe we're a country, but we're barely a landscape. » (Nicanor Parra)
5. Sunday, May 28, 20:00
Charles Street Video (CSV), 76 Geary Avenue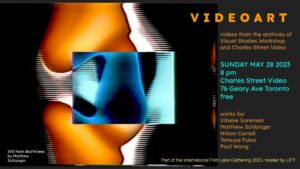 VIDEOART: Videos from the Visual Studies Workshop and Charles Street Video 
Monday, May 29 
1. Monday, May 29, 19:00 (Doors), 20:00
Canadian Filmmakers Distribution Centre, 1411 Dufferin Street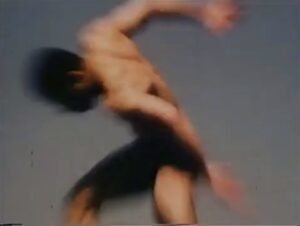 PAS DE CIEL
Téo Hernandez | 1987 |  Colour | Super 8mm screening on 16mm | 29 minutes | silent
"Specially made for the first Danse / Image event at Chateauvallon, this film is the result of the meeting, then confrontation, then finally the miraculous agreement between the weightless, vicious camera of Téo Hernandez and the improvisation of dancer-choreographer Bernardo Montet. A body between sea and sky, the silent presence of the wind, a few birds: elements of a fundamental mythology transformed into lyrical abstraction." -Dominique Noguez
L'EAU DE LA SEINE 
Téo Hernandez | 1982-1983 |  Colour | Super 8mm screening on 16mm | 11 minutes | silent
Hernandez films the water of the Seine River and its reflections, like a luminous material. The "moving" shooting technique gives the images remarkable plastic effects.
"As the film progresses, our field of vision expands to the street above, and in an early version of a visual experiment he would continue in several other works, passing cars are transmogrified into a single entity, transient, pulsing as it fails to pass, constantly held in place despite its continuous movement."
-Maximillien Luc Proctor, MUBI Notebook
THE BIG FILM SERIES: 1083, Brian, Huh, Mattilda, Stom, Susannah, Self-Portrait, Twoness, Willa
Leopoldo Bloom (Lee Krist) | 1999- 2011 |  colour and black & white | 35mm | 19 minutes | silent
A collection of nine 35mm hand-processed film portraits, shot using an early motion picture hand-cranked camera. The Big Film Series was first exhibited as an expanded cinema series reminiscent of the dawn of cinema. In these performative film screenings, Leopoldo Bloom creates an intimate screening experience by operating a hand-cranked projector among the audience rather than anonymously from an isolated projection booth.  While working as a motion picture processing technician at Colorlab, Bloom was able to produce restoration prints of the camera originals in this collection, enabling the portraits to be screened at 24 frames per second.
JUNE
Leopoldo Bloom (Lee Krist) | 2012 |  Colour | 35mm | 7 minutes | silent
A city symphony of Portland, Oregon shot entirely with slide film and still photographic cameras.
2. Monday, May 29, 21:00-21:30
PIX FILM Gallery, 1411 Dufferin Street, Unit C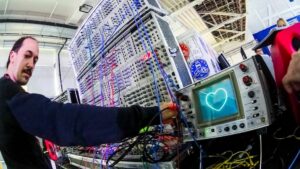 Isentropic: Bernhard Rasinger (Austria)
Patch improvised modular synthesizer performance, visualized by RGB diode laser
3. Monday, May 30, 21:30-22:00
PIX FILM Gallery, 1411 Dufferin Street, Unit C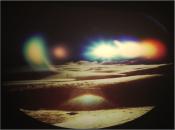 I CAN'T SEE THE SIXTH SUN: Luis Macías (Spain)
Slide projection performance +16mm
Supported by Institut Ramon Lull – Lengua y Cultura Catalana
Tuesday, May 30
1. Tuesday, May 30, Doors 19:30, Screening 20:00
CineCycle, Behind 129 Spadina Ave.
IN AND OUT A WINDOW, INTERSECTION, LIKE A LIGHTHOUSE, TURNING BUS, CROSSING, DEAR DREAD, INSIDE THE MACHINE, CHINA NOT CHINA: Richard Tuohy and Dianna Barrie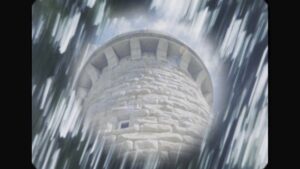 A program of short films by Australian experimental Filmmakers Richard Tuohy and Dianna Barrie that takes us from windswept coasts to pulsating mega cities. The work revels in the energy of place as expressed through rhythmic movements of light and shadow and the wash of time dissected into frames in the camera and reconstituted into a flickering flow by the projector. All films shown on 16mm.
Wednesday, May 31 
1. Wednesday, May 31, 18:00
Canadian Filmmakers Distribution Centre (CFMDC), 1411 Dufferin Street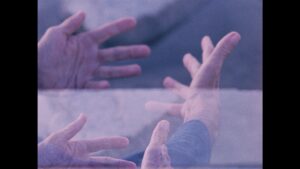 STE. ANNE by Rhayne Vermette
Join us for a screening and discussion with filmmaker Rhayne Vermette in conversation with Dr. Suzanne Morrissette (OCADU) and Claudia Sicondolfo (University of Toronto Scarborough). Presented by: relationships, reciprocity, exchange collective