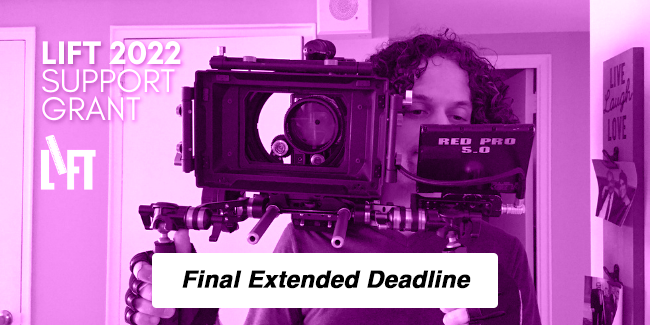 Photo Credit: Member Richard B. Pierre and  shooting his documentary, "What Are You?" with LIFT's RED Epic Mysterium-X Camera Package. "What Are You" was a recipient of a 2016 Production and Post-Production Support Grant. .
 
December 13, 2021
Revised February 25, 2022
LIFT PRODUCTION AND POST-PRODUCTION SUPPORT GRANT 2022
Final Extended Deadline: Monday, March 21, 2022 at 12:00noon ET
After a five year hiatus, the Liaison of Independent Filmmakers of Toronto's (LIFT) Production and Post-Production Support Grant returns.
Between 2005 – 2015, LIFT's Support Grant annually provided $2,000 in equipment credits per filmmaker for eight projects at varying levels of completion ($16,000 a year commitment). This year, to mark the Grant's relaunch, each recipient will receive $2,000 in credits to be put towards LIFT equipment and facilities rentals as well as $1,000 in cash to be used in support of the project.
LIFT is able to offer a cash award for the 2022 grant thanks to donations made in the memory of Mara Da Costa Reis throughout this year. Mara was a young actor, writer and filmmaker who unexpectedly passed in February 2021.
Her mother, Helga Marinzel, explains:
"Mara was a creative being, who loved the magic of life, art and nature. As a child, Mara demonstrated a unique gift of connecting with plants, animals and people: an ability she embodied into adulthood.
Mara expressed her vision and relationship to the invisible as an actor, writer and filmmaker. Mara saw film as a vehicle that can express the ineffable power of images through a symbiosis of the camera's magnetism and the inner sensibility of a human being. She was intrinsically aware of the complexity that can be transmitted through the ability of film to use images and dialogues to reveal the layered, the secret and the hidden.
Mara was attuned to the pulse in music of Mother Earth and was preparing to make a film called "Sprout" to share her experience of nature's power.
Through "Sprout", Mara wanted to make others aware that plants exude musical frequencies and intelligence and had planned to film "Sprout" on March 5 and 6, 2021 on a farm she loved. Mara's vision of co-directing her film script for "Sprout" came to an impending pause when she tragically and unexpectedly passed away in February 2021."
To celebrate Mara's independent and artistic spirit, her family encouraged those who knew her to donate to charities that share Mara's values. LIFT was one of the charities selected and since February 2021, $7,325.00 has been raised in her memory.
LIFT hopes that the memory of Mara Da Costa Reis will live on in the works that are made through our 2022 Production and Post-Production Grant.

How to apply
To apply for a grant you must be a current LIFT member in good standing to be considered. Only General Level memberships are required at the time of application. If you are not currently a member, we suggest you join at the General Level instead of the Production Level as Production Levels memberships may not be processed in time.
1. If you are currently a non-member, please complete the register and pay for the General Membership by Friday, March 18,  2022 at 10:00am ET
2. Complete application form (applications are now closed)

Final Extended Deadline: Monday, March 21, 2022 at 12:00noon ET
All results will be released by Friday, June 3, 2022.
If you have any questions regarding membership status or the application, feel free to email Deputy Director Renata Mohamed at membership@lift.on.ca with the subject heading: LIFT Production and Post-Production Support Grant 2022

Eligibility
1. All General, General Student, Production and Production Student individual members in good standing as of February 28, 2022 are eligible to apply. All outstanding debts must be paid in full prior to applying. If awarded a grant as a General or General Student member, you must follow the procedure to upgrade to a Production membership, if you haven't already, including providing a reference check and paying additional upgrade fees.
2. First time filmmakers and students, over the age of 18, may apply. This Grant is not designed to support student projects that are deemed as classwork. If you are a student, please provide a letter from an advisor/instructor confirming this is an extra-curricular project.
3. Previous grant recipients are eligible to apply. Anyone who has previously received a Production and Post-Production Support Grant must have completed their previous project, submitted final reports and final copies of the work to LIFT and/or waived the grant for projects not completed before they can apply for a new project. Final reports for previous projects must be submitted and approved BEFORE the 2022 deadline.
4. The Grant is for projects starting production and principal photography after June 3, 2022. There is no retroactive funding.
5. Applicants must hold, and retain, creative, and editorial control in the director and/or the filmmaker role, as well as copyright to the project for which they apply. Producers are not eligible to apply.
6. Applicants may apply for funding for only one (1) project per application deadline.
7. 7. Artistic collectives are eligible to apply. One collaborator of the collective will submit the project in their name as the lead contact, but the application must include résumés and information of all collective members. Also, all members of the collective must be at least a General LIFT member as outlined in point #1.
8. Interdisciplinary projects are welcome, however, film and digital (the moving image) components must play a key role in the project. Priority is given to celluloid focused projects, but all formats are eligible.
9. The following types of projects are ineligible:
industrial or corporate projects; calling card films; student projects; web series, conventional forms of theatrical and television entertainment, such as dramas, movies-of-the-week and news reports; and post-production projects that have no creative element, such as blow-up processes, transfers from one format to another, duplication, DCPs, or subtitling.
10. Late, incomplete, or ineligible applications will not be accepted.
You will be asked to upload the following when you start you application:
1. A detailed budget (see info on budget requirements below)
2. Up to three (3) pieces of support material in the form of a film, video, installation documentation. Please have links ready to submit.
3. Detailed Project Description – Describe the idea behind the project. If this project represents a significant departure from your previous work, please discuss. Maximum three pages.
4. Script/Storyboard/Treatment/Research – For dramatic/narrative projects, a draft script may be provided. For documentary projects, a treatment and a detailed description of your research is optional. For experimental projects and animation, a planned visual and sound treatment. Storyboards may be accepted for any genre of project.
5. Curriculum Vitae and Confirmation Letters – Applicant's CV is mandatory; Cast and Crew CVs and letters optional. If applicable, include résumés and/or confirmation letters from your key personnel (i.e. producer, cinematographer, editor, etc.)
6. Production Schedule (a short paragraph describing the timeline for your project.
For the 2022 grant application, LIFT is using Google Docs. Unfortunately, one of the short comings of Google Docs is that you cannot save you application midway, nor can you skip ahead to other parts of the application to see all of the questions. We apologize for the inconvenience and will seek a new system for future grant.
In the interim, here is a general list of questions in the 2022 application so you may craft you answers prior to starting the Google Doc application: LIFTProductionSupportGrant2022_QuestionsReference


Budget Requirements
1. Requests for development funds, promotion, distribution or packaging costs will not be accepted.
2. Filmmakers can apply for 100% of their total budget.
3. If the request is less than 10% of the total budget, applicants must explain why LIFT's contribution would be significant to the project.
4. Applicants must submit a detailed budget outlining how the credit and cash requested from LIFT will be used.
5. All budgets must be detailed and balanced. The total of the expenses must match the total of the revenues.
6. Budgets must include a detailed list of all the revenue sources, pending or confirmed, and the amount requested from each source.
If you need a template you can use/modify one of the following Telefilm Canada budgets:
– Talent to Watch budget [Scroll down to templates and click Standard Production Budget Template – https://telefilm.ca/en/financing/talent-to-watch
– Production Program budget [Scroll down to templates and click Standard Budget Template – https://telefilm.ca/en/financing/production
– Theatrical Documentary Program budget [Scroll down to templates and click Standard Budget Template – https://telefilm.ca/en/financing/theatrical-documentary-production
– If this budgets are too extensive you can always use LIFT's simplified template
LIFT Simplified Budget Template for 2022 Grant

Selection Criteria
LIFT supports film-based projects that offer something unique, whether in aesthetic exploration, social relevance, and or cultural contribution. Projects should demonstrate artistic integrity, originality, and vision. The jury will take into account the demonstrated ability to complete the project. Projects may be intended for any presentation method or context.
Unfortunately, due to financial constraints, all projects meeting the criteria may not receive funding.
– All jury decisions are final.
– Jury comments are confidential and will not be released.
– The jury is not obliged to award all the equipment credit or cash award that is available.

If You Receive a Grant
1. The filmmaker must be a Production or Production Student member in good standing, and must sign a contract with LIFT before the grant is released. Successful General and General Student members must upgrade to a Production or Production Student membership before the grant is released. This will require providing references and passing a successful reference check and paying additional upgrade fees.
2. Recipients of a grant must acknowledge LIFT's support in their film credits. Logo and wording will be provided. Details on credits and acknowledgement can be found on our website.
3. Upon completion of the film, the filmmaker must submit a report and summary of expenditures, along with any pertinent information about the film (e.g. promotional material, awards, etc.).
4. If after one year of the contract signing the film is not complete, written progress reports and a summary of expenditures to date must be provided to LIFT.
5. Grants that are unused or partially unused after two years will be voided. Credits will not be made available to the granted individual after this time.
6. Successful applicants must provide LIFT with a final digital copy of their completed film for our records. (H264 format preferred)
7. Grant recipients agree to allow LIFT to use stills and/or project information in promotional and funding applications. LIFT will credit authorship for any documentation used in promotional materials. Artist fees will be paid if LIFT uses any final films in future screening events, though being awarded a grant does not guarantee a screening exhibition via a LIFT member event.
8. Equipment credits and cash are non-transferable. Equipment credits cannot be applied to membership dues, workshops, miscellaneous office fees, other projects outside of grant proposals, keycard purchase or LIFT Store items. Cheques will be written to the applying person or their legal entity.
All questions can be directed to Deputy Director Renata Mohamed at membership@lift.on.ca with the subject heading: LIFT Production and Post-Production Support Grant 2022.

Grant Writing Resources
Ontario Arts Council's Media Artists Creation Projects Webinar
This webinar (originally from February 26, 2021) can be viewed as a guide on how to present your practice and project to a media arts application. While this is a presentation by the Ontario Arts Council, the same principles can be addressed to the LIFT Production and Post-Production Support Grant.
https://vimeo.com/520153153/5358cea727
Ontario Arts Councils' Media Art Grants and Services Information Session
This webinar (originally from March 11, 2021) can be viewed as a guide on how to present your practice and project to a media arts application. While this is a presentation by the Ontario Arts Council, the same principles can be addressed to the LIFT Production and Post-Production Support Grant.
https://vimeo.com/525166132
One Stop Business Workshop virtual series
Organized by CBC, the Canadian Audio-Visual Certification Office (CAVCO), and the Canadian Media Producers Association (CMPA).
https://www.cbc.ca/businessandrights/one-stop-workshops
– Season 1, Building A Production Budget
– Season 2, How to Arrive at Your Budget Ranges for Development and Production for Fiction and Non-Fiction
– Season 4, Moving from No Budget to Low/Micro Budget Production