Collective Statement by the Board and Staff of LIFT – Solidarity with the Muslim Community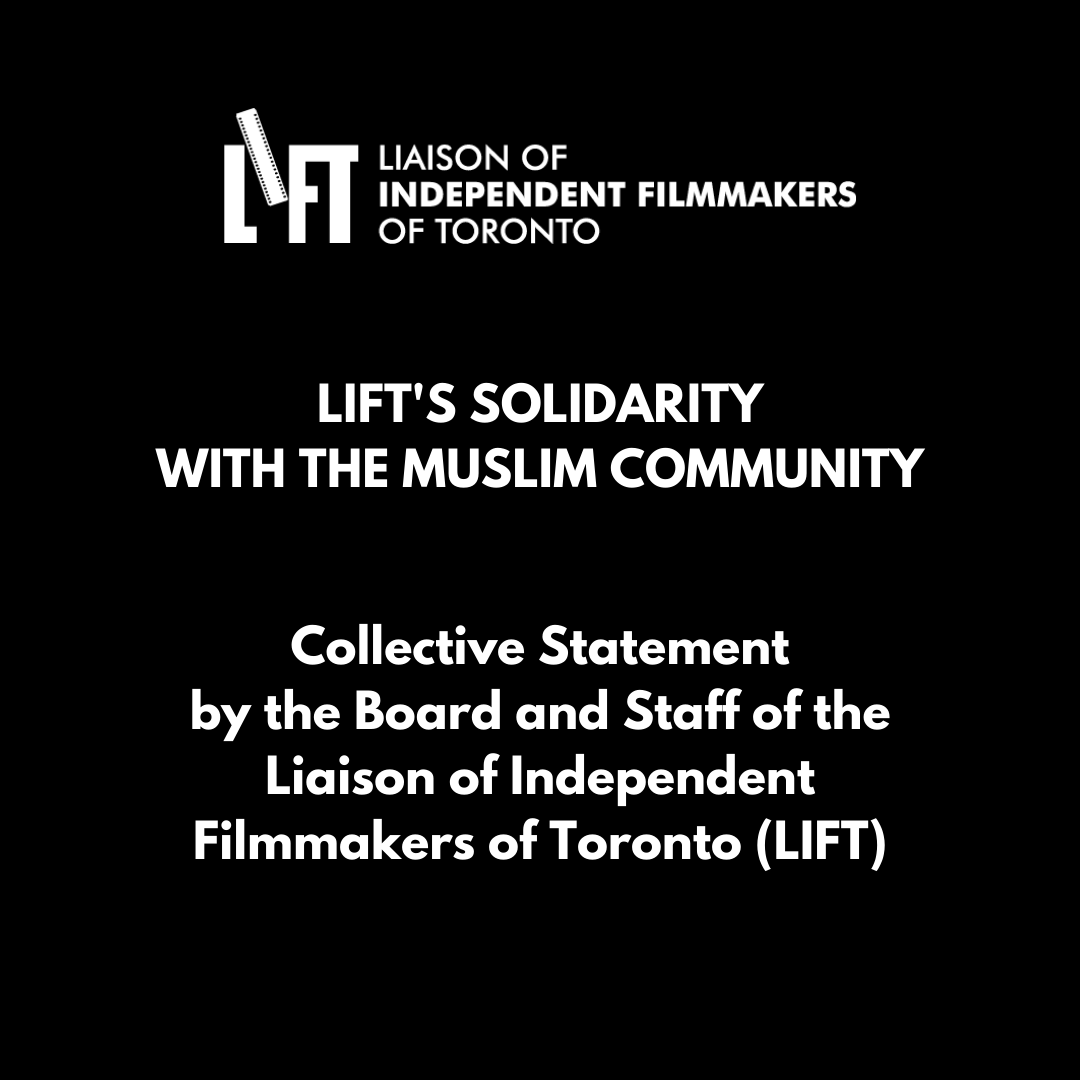 LIFT's SOLIDARITY WITH THE MUSLIM COMMUNITY
Collective Statement by the Board and Staff of LIFT Regarding Islamophobia
June 11, 2021
In the wake of the terrorist attack in London, Ontario on Sunday, June 6, 2021 that took the lives of Yumna Afzaal, Madiha Salman, Talat Afzaal and Salman Afzaal, the staff and board of the Liaison of Independent Filmmakers to Toronto (LIFT) want to extend our deepest sympathies to the Muslim community and condemn this vile act of Islamophobia.
This violence is not new and attacks on the Muslim community have only increased over the years. It's something we can't turn away from and dismiss as one bad actor. In a country where "46% of Canadians have an unfavourable view of Islam—more than for any other religious tradition" (Source: 2017 Islamophobia in Canada, UNHCR), there is no excuse from our elected officials and public institutions for not calling out and fighting this kind of racist rhetoric so prevalent across the country.
We stand in solidarity with our friends and colleagues impacted by this crime and commit to creating a safe and nurturing space for all artists.
Vigils will be held across the country this weekend in honour of the Afzaal family. You can learn more about times and locations at the National Council on Canadian Muslims: https://www.nccm.ca/londonvigils
Below is list of resources you can amplify and contribute to:
Show support and solidarity online by using the hashtag #OurLondonFamily
Two fundraisers have been created in response to the attack which you can donate to today:
LaunchGood – https://www.launchgood.com/campaign/london_community_united_against_hate
GoFundMe – https://www.gofundme.com/f/salman-family-accident-relief
Resources to understand and dismantle Islamophobia:
Islamophobia is – https://islamophobia-is.com
Stats on Islamophobia* on Canada from 2017 via Saadia Sediqzadah
https://twitter.com/Saadia_Sediq/status/1402617475745796101
*Source: United Nations Human Rights Office of the High Commissioner
Resources dedicated to LGBT+ Muslims
Created by @mniskhte and @mantisfemme, facilitators of the LGBT+ Muslim: Resilience and Healing workshop through @ok2bmeca
https://www.instagram.com/p/CP6nC0YJBql
Statement from the National Council on Canadian Muslims (NCCM)
https://twitter.com/nccm/status/1401980772035203072
Interview from CBC's "Canada Tonight" host Ginella Massa and Imam Munir El-Kassem
https://www.youtube.com/watch?v=XfqS2XM7qXs

Mental Health Support Lines:
Amala Muslim Youth Hopeline – https://amala.mas-ssf.org
Naseeha Mental Health Hotline – https://naseeha.org
Nisa Helpline – https://nisahelpline.com
Showing Up for Racial Justice (SURJ) – Toronto Chapter
https://surjtoronto.com

Resource for Addressing the Lack of Muslim Representation in Film:
Pillars Fund, USA (includes a new study and blueprint for change)
https://pillarsfund.org/2021/06/10/coalition-unites-to-define-and-address-issues-of-muslim-representation-in-film
We support the ongoing work of our colleagues at the following media arts organizations that champion the work of Muslim and racialized artists including:
BIPOC TV & Film – https://www.bipoctvandfilm.com
Inspirit Foundation – https://inspiritfoundation.org
Mosaic International South Asian Film Festival (MISAFF) – https://www.misaff.com/
Regent Park Film Festival – http://regentparkfilmfestival.com
South Asian Visual Arts Centre (SAVAC) – https://savac.net
Toronto Arab Film (TAF) – https://www.arabfilm.ca
Toronto Palestinian Film Festival – https://www.tpff.ca
Signed,
LIFT Board of Directors and Staff