Collective Statement by the Board and Staff of LIFT – Support of Indigenous History Month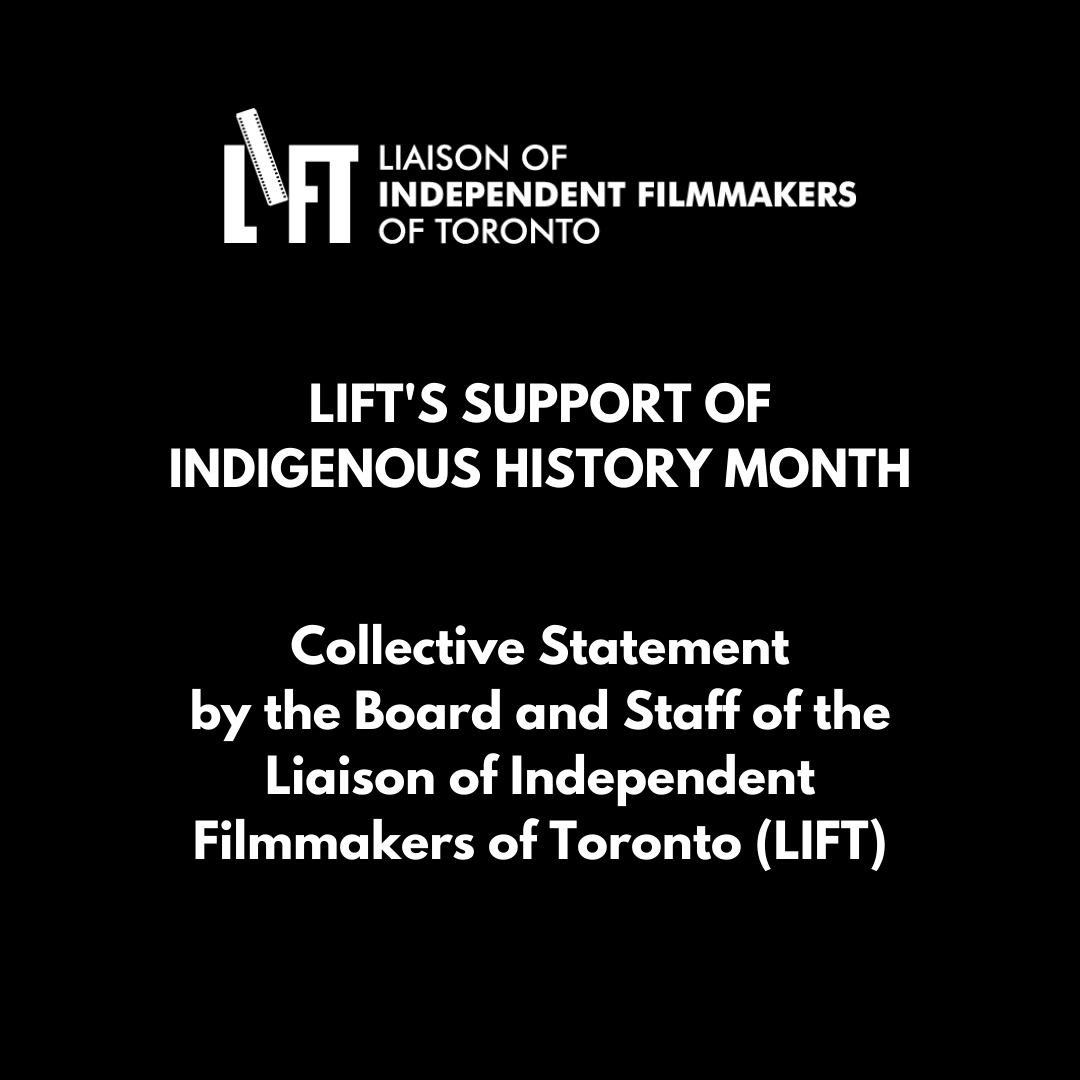 LIFT'S SUPPORT OF INDIGENOUS HISTORY MONTH
Collective Statement by the Board and Staff of the Liaison of Independent Filmmakers of Toronto (LIFT)
June 9, 2021
It is deeply saddening that we began National Indigenous History Month with the terrible news of the discovery of a mass grave of 215 Indigenous children at the Kamloops Residential School in British Columbia. We, as a nation, have yet to fully reckon with the tragedy of the Residential School system, and we must hold our elected officials accountable for implementing the 94 recommendations of the Truth and Reconciliation Commission. Settlers who have benefitted from the displacement and disenfranchisement of Indigenous peoples have a responsibility to unlearn harmful colonial beliefs and work to educate themselves to become better allies.
If you are able to, give to organizations that provide support and resources to the families and survivors of residential school, the Sixties Scoop, and other forms of systemic racism. You can learn more about charities and resources to access here.
As a service organization, the Liaison of Independent Filmmakers to Toronto (LIFT) is committed to cultivating a safe and respectful environment for all. Our staff and board are dedicated to doing the work to continue conversations and take action to decolonize and create space for our Indigenous members and colleagues.
Within our sector of media arts, Indigenous filmmakers have been an essential part of the growth of independent film in Canada. First Nations, Inuit and Métis filmmakers and artists continue to share important stories and perspectives on screen. It has been through the incredible work of Aboriginal Peoples Television Network (APTN), the imagineNATIVE Film + Media Arts Festival, IsumaTV and the Indigenous Screen Office (to name just a few) that Indigenous stories have been made and embraced across Canada and around the world.
Our colleagues are using this month to amplify the work of many amazing Indigenous filmmakers. Please don't hesitate to reach out and let us know of additional events—we will make sure to add them to the list below:
Donate to the Indian Residential School Survivor Society (IRSSS)
https://www.irsss.ca
CBC Gem – Indigenous History Month Program
https://gem.cbc.ca/category/national-indigenous-history-month/featured-all/48630f09-4383-49bf-8613-9b882fa2136b
Harbour Collective
Operating out of Winnipeg, HC's Call for Participants for this summer's Wascana Lab to be held in Regina
https://harbourcollective.ca/wascana-lab
imagineNATIVE is hosting programming throughout the month of June
Programming includes their Feature Fridays series, masterclasses and artist profiles.
https://imaginenative.org/year-round/indigenous-peoples-month/
National Arts Centre's Indigenous Storytelling Video Series
https://nac-cna.ca/en/video/series/national-indigenous-history-month

National Film Board of Canada's Indigenous Cinema Collection
https://www.nfb.ca/indigenous-cinema/?&film_lang=en&sort=year:desc,title&year_min=1939&year_max=2021
National Screen Institute – Canada's NSI IndigiDocs on CBC Gem
Titles include; When the Children Left, As the Smoke Rises, êmîcêtôsêt: Many Bloodlines, Ahkâmêyimo nitânis (Keep Going My Daughter), and Lost Moccasin.
https://gem.cbc.ca/category/documentaries/featured-documentaries/a04e4803-9d0c-4480-845f-54bcf081b65f
Toronto Public Library and Trinity Square Video
Pride Month Filmmaker Talks with Thirza Cuthand
https://www.torontopubliclibrary.ca/detail.jsp?Entt=RDMEVT449314&R=EVT449314
Signed,
LIFT Board of Directors and Staff