Collective Statement by the Board and Staff of LIFT – Actions to Support Black Lives Matter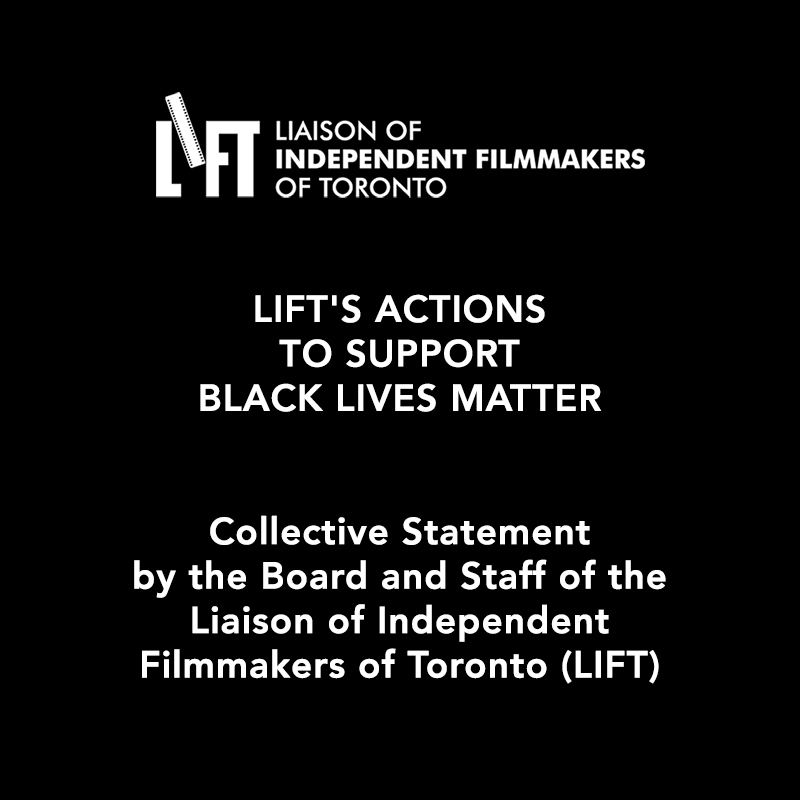 LIFT'S ACTIONS TO SUPPORT BLACK LIVES MATTER
Collective Statement by the Board and Staff of the Liaison of Independent Filmmakers of Toronto (LIFT)
June 4, 2020
The Liaison of Independent Filmmakers of Toronto (LIFT) stands in solidarity with our Black members, Black colleagues, and Black-led organizations. We extend condolences to the families and communities of loved ones whose lives have been lost during these past few weeks. That includes Regis Korchinski-Paquet, the young Toronto woman who died last week in the Toronto Police Services' presence. We want to acknowledge all the lives that have been tragically lost and traumatized at the hands of systemic violence and discrimination for generations.
As an organization that aims to prioritize diversity, we do so while knowing there is a lack of true plurality in the arts and that there is persistent harm caused to Black, Indigenous, People of Colour (BIPOC) in our community and beyond due to white privilege. The current calls for support by Black activists, organizers, and allies is a call to action that LIFT hears and takes seriously.
We will hold ourselves accountable and appreciate that there is no time to waste in creating change. LIFT is one of the most established artist run centres in Canada and has benefited from the support from all levels of government for nearly 40 years. This is a privileged position to occupy and even more incentive to use our resources to work towards decolonizing the independent media arts in Canada.
There is a lot more to do.
That is why LIFT is dedicated to the ongoing work of anti-racism by:
– Sharing resources to increase our support of Black-led arts organizations and community initiatives.
– Amplifying the voices and work of our Black staff, colleagues, and members through our social networks.
– Remaining diligent and continuous in our commitment to support our Black membership by ensuring that the environment and services LIFT provides is consciously affirming to Black artists and dismantles anti-Black racism by listening and responding to feedback by BIPOC staff, members, and Black-led organizations in our arts community with mindful and swift action.
– Ratifying our new Code of Conduct by the end of this summer, which will aim to protect the well-being and safety of everyone who engages with our organization.
We are thankful to the members of our community who actively engage with LIFT and our community through your art practices. We will hold ourselves to a higher standard as we work together to create a more equitable space in what can be a competitive and exploitative industry.
Below is a list of organizations, educational resources, petitions and charities in which you can donate and stand in solidarity with, both today and during the ongoing fight to a more equitable future.
Black and Indigenous focused arts organizations amplifying filmmakers and media artists across the Greater Toronto Area,  which also happen to accept donations:
BIPOC TV & Film
https://www.bipoctvandfilm.com
Black Women Film! Canada
http://www.blackwomenfilm.ca
Black Youth! Pathway 2 Industry (BYP2I)
https://www.pathway2industry.com
CaribbeanTales
https://www.canadahelps.org/en/charities/caribbeantales/
Film in Colour
https://filmincolour.ca
The Film Stars Project
https://www.thefilmstarsproject.org
imagineNATIVE Film + Media Arts Festival
https://imaginenative.org/support-1
Indigenous Screen Office
https://iso-bea.ca
Nia Centre for the Arts
https://niacentre.org
Reel World Film Festival
https://www.reelworld.ca/donate
Regent Park Film Festival
http://regentparkfilmfestival.com/donate
Toronto Queer Film Festival
https://torontoqueerfilmfest.com
Toronto Black Film Festival
https://torontoblackfilm.com
DONATE:
Black Canadian Organizations Accepting Donations
https://docs.google.com/document/d/1Rgxo00aICHYgXZh4yJJ4MQQs7tenypIVF46UdsNYxug
The Black Health Alliance
http://blackhealthalliance.ca
Black-Led Mental Health Support Fund:
https://www.gofundme.com/f/a-fund-for-blackled-mental-health-supports
Black Legal Action Centre (BLAC)
Non-Profit Legal Clinic for Low-to-No Income Black Residents of Ontario
https://donorbox.org/donate-to-blac
Black Lives Matter Toronto
https://blacklivesmatter.ca
Black Youth Helpline
https://www.canadahelps.org/en/charities/black-youth-helpline
Caribbean African Canadian Social Services (CAFCAN)
https://cafcan.org/donate
Justice for Regis:
https://www.gofundme.com/f/justice-for-regis
⁠
Local Toronto Black-Owned Businesses to Support
https://www.afrobiz.ca/Toronto
The Most Nurtured
https://www.themostnurtured.com
Non-Profit Legal Clinic for Low-to-No Income Black Residents of Ontario
https://donorbox.org/donate-to-blac
Toronto Protestor Bail Fund:⁠
https://www.gofundme.com/f/toronto-protestor-bail-fund
⁠
Women's Health in Women's Hands
http://www.whiwh.com
Bail funds split between 70+ communities in the United State  of America:
https://secure.actblue.com/donate/bail_funds_george_floyd
DIRECT ACTION:
Demand an Inquiry into the Death of Regis Korchinski-Paquet:⁠
https://www.change.org/p/justice-for-regis-korchinski-paquet
2020 Toronto Police Budget – Call For Action / Defunding Template
https://docs.google.com/document/u/0/d/1roduncOZ_y0C_oWIMIQ6yV-13fZqck0i54RZoPSwYBw/mobilebasic
⁠
MEDIA PRACTISES:
WITNESS – Brooklyn, New York
Resources for Documenting Protests and Ethically Using Video
https://library.witness.org/product-tag/protests
https://library.witness.org/product-tag/video-as-evidence
Authority Collective – United States of America
https://authoritycollective.org
Resources for Photographers (Readings, safety, actions to take)
https://docs.google.com/document/d/1JI-nF62WmPBVJjsyGm2Qa7Vrwgno0wXWDh2W2TBJUSU/edit
Signed,
LIFT Board of Directors and Staff