LIFT's Operations and Facilities Protocols – June 2023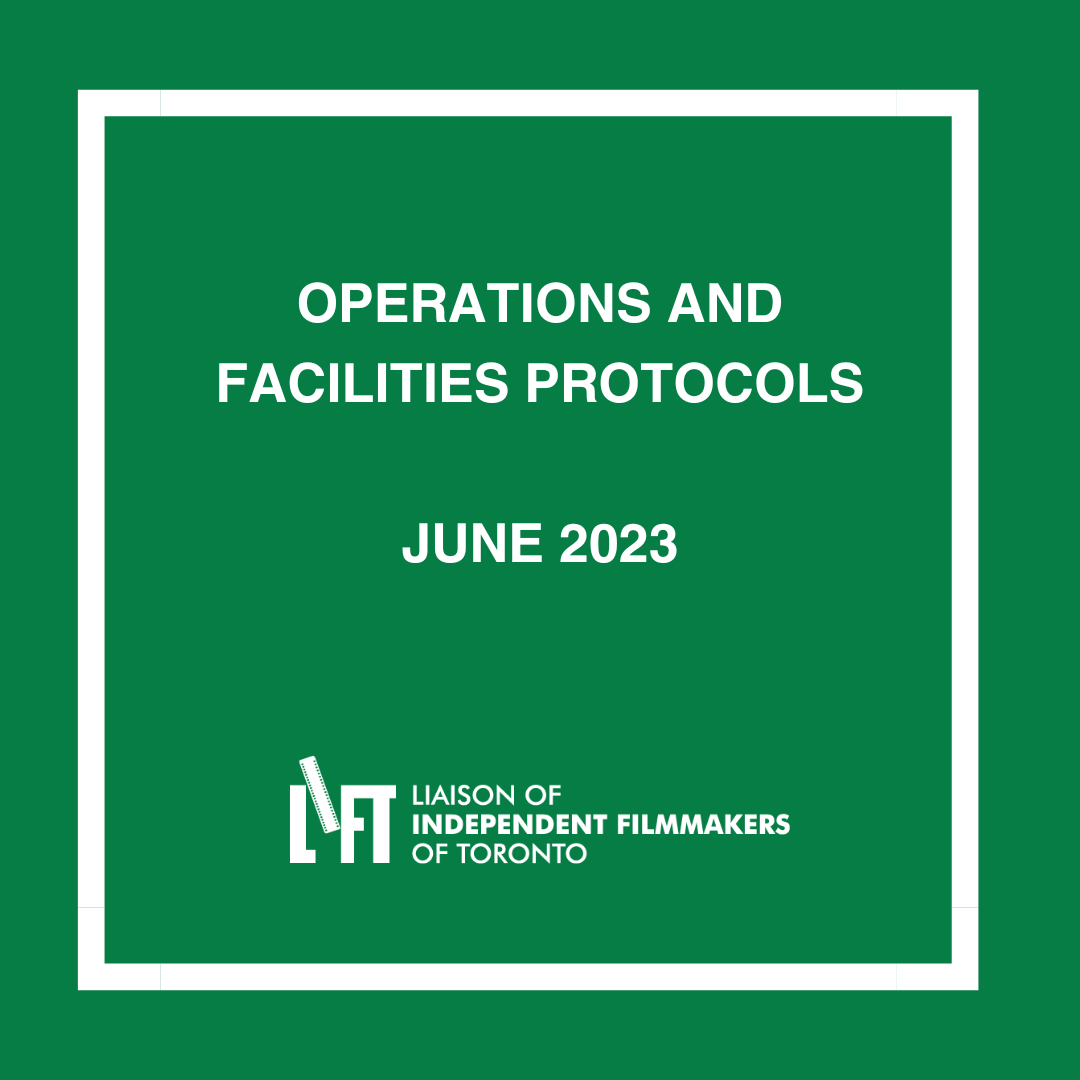 Thursday, June 21, 2023
Dear Members and Community,
The Summer months are upon us and LIFT is now fully open to the public again following the commencement of the Film Labs Gathering last month. Our front door will be open on most days during our daytime hours (pending staffing levels). Access for workshops and the technical department continue to be through the side door under the awning on Gladstone Avenue.
Our mask mandate has been revised. Due to the proximity of participants during in-person workshops, masks are still required for participants and instructors of in-person workshops.
We continue to strongly encourage masks inside all areas of LIFT (common areas, edit suites, washrooms, etc.), but we are no longer enforcing mask use outside of the workshop setting.
We continue to utilize enhanced health and safety precautions, including air filters in our common spaces, and we ask that visitors who feel unwell or have any symptoms of contagious illness postpone their visit.
With this update in our policies, we'd like to remind all community members of our Code of Conduct and we will not tolerate any discrimination. The behaviour of those in the LIFT community should reflect the same values on which LIFT was founded: namely, to foster an inclusive and diverse safe space to all those interested in learning and experimenting with the practice of filmmaking. The existence of this policy is meant to create a safer space for all who use it as outlined in the Ontario Human Rights Code and other legislation which prohibit discrimination and harassment in the workplace.
To review our full Code of Conduct please click here:
https://lift.ca/statement-of-inclusion-and-code-of-conduct

MEMBERSHIP
Non-renting and renting levels of memberships are available for purchase, both renewals and new applications.
Keep in mind that new Production and Production Student memberships require a reference check, which takes approximately ten (10) business days. This reference check was always part of LIFT's membership process for many years before the start of COVID-19.
All membership renewals and new applications can be done via the online membership portal at https://lift.ca/lift-membership and payment options include PayPal, Credit Card or VISA Debit card. We do not accept cheques for membership, or any other type of LIFT products and services.
For any membership related inquiries, please email membership@lift.on.ca
LIFT STORE
– Store items are available for purchase via the online store at https://lift.ca/store
– Current individual members can log on to the site with their members password to get discounted prices (Email tech@lift.on.ca if you don't have a password).
– LIFT Store is open for walk-ins from 11am – 4pm, Mondays through Fridays, excluding Holidays.
For any store related inquiries, please email tech@lift.on.ca
MOBILE EQUIPMENT RENTALS
– Please review our updated rental policy before contacting the Technical Department.
– Only current Production and Production Student members can rent equipment.
– Same-day equipment bookings are possible, if the day's schedule allows, and are subject to equipment availability. Booking in advance is highly recommended.
For any production equipment inquiries, please email tech@lift.on.ca
POST-PRODUCTION FACILITIES RENTALS
– Facilities are available for rent for Production and Production Student members only.
– Non-members are allowed to join the renting member in the rental facilities. (eg. Editor, Colourist, etc.). The LIFT member is liable for all equipment.
– Air purifiers with HEPA filters are available on request for facility spaces that have a booking.
– No eating inside the facilities. Drinks allowed, but are to be kept off the tables.
For any facilities inquiries, please email tech@lift.on.ca
WORKSHOPS
– Our Summer 2023 continues with a hybrid model of online and in-person workshops.
– Please see https://lift.ca/workshop-registration for workshop description and location.
– Entrance to our workshops is through the side door with the awning (on Gladstone Avenue).
– Masks must be worn during all indoor workshops, due to the close proximity of participants and to maintain expectations that were agreed upon when participants registered for the workshops.
– Depending on the workshop, outside teaching may be incorporated (weather permitting).
– Large air purifiers with HEPA filters will be in working rooms related to the workshops.
– No eating inside the facility. Drinks allowed (must be kept on the ground in the digital classroom and off the computer desks).
For any workshop related inquiries, please email workshops@lift.on.ca
CONTACT
LIFT's operating hours are Monday to Friday, 10:00am to 6:00pm ET.
For any other additional matters, feel free to email staff:
https://lift.ca/contact-lift-2
Sincerely,
Chris Kennedy
Executive Director