ARRI 35 III Camera Package (35mm)
The ARRI Arriflex 35 III 35mm Camera in photo is shown with zoom lens, follow focus and 6x6 matte box - all are available separately.
***Please note that batteries are NOT included with this package***
NOTE:
A profiency test is mandatory to rent this item.
Lens Mount:
Arri PL
4-Perf Pulldown
NOTE: A
proficiency test
is mandatory to rent any PL mount lenses from LIFT.
Magazines:
2x 400'
Compatible Batteries:
IDX JL-2 Plus Lithium Battery Combo
(with included adaptor)
Switronix V-Lock Battery Kit
(with included adaptor)
Compatible Tripod:
Sachtler 7x7 150mm Head & Studio Tripod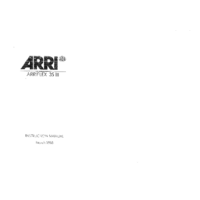 Open PDF in new tab
Package includes:
2x 400' Magazine
1x 6-pin Cover Wheel
1x 9" Viewfinder Extension
1x ARRI 3 Camera Body w/ High Speed Motor
1x Arri Baseplate
1x ARRI Colour 5 Video Assist
1x Arri DoveTail
1x Manual
1x Procell Battery
1x Riser Plate
1x Side Handle (no trigger)
1x Spare Fuse
1x Tiffen Trigger Pouch
2x Titanium Rods (15")
1x Variable Speed Baseplate (attached to camera)
1x Video Assist Cable (Mini XLR Adapter)
1x Zipper Pouch (black)
Rates:
Per day: $200
Per week: $800