ShopLIFT: 2011 Silent Auction and Film Karaoke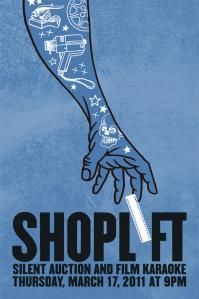 Join LIFT in celebrating our 30th anniversary with ShopLIFT, our annual Silent Auction Fundraiser. Get caught stealing the best deals on film production services, gallery memberships, tickets to dance and theatre shows, dinners for two, and many more.
And don't sneak out until you try your hand at Movie-Oke, where you can perform the dialogue to scenes from your favourite films with live musical accompaniment provided by Bob Wiseman, Stacey McLeod, Mark Hundevad, Rachel Melas and Jeff Burke.
All proceeds go towards LIFT and its commitment to supporting independent filmmaking.

DONORS:
(Current as of March 16th)
Items and value subject to change
A Space Gallery
One (1) Membership and selected catalogues
Value $50
Academy of Canadian Cinema and Television
Two (2) 1-year Affiliate Memberships
Value $200
Academy of Spherical Arts
Certificate for two for a dinner and an evening of billiards
Value $125
Acme Art & Design
One (1) Postcard Design
Value $375
Adfactor Postcards
Credit for 4″ x 6″ Colour postcard printing
Value $200
Alternative Grounds
Two (2) pounds of coffee
Value $26
Another Story Bookstore
Gift certificate
Value $35
Art Gallery of Ontario (AGO)
Two (2) Complimentary Passes to the AGO valid for general admissions
Value $80
Art Gallery of Ontario (AGO)
Five (5) Books:

Wangechi Mutu: This You Call Civilization?
Black Ice: David Blackwood: Prints of Newfoundland
Drawing Attention:
Murray Laufer – From Eight to Eighty
Value $243
Art Gallery of York University (AGYU)
2 Individual Memberships
Value $80
Australian Boot Company
Gift certificate for $75.00 off regular adult Blundstones shoes
Value $75
Automatic Earth
One (1) feature length DVD author/ encode (up to 120 minute in length)
Value $2600
Automatic Earth
One (1) Short DVD encode/author (up to 25 minutes in length)
Value $500
Automatic Earth
One (1) Short DVD encode/author (up to 25 minutes in length)
Value $500
Autoshare
One (1) Autoshare Family Membership and a $100 Driving Credit
Value $308
Avenue Flower
Elegant potted orchid dressed and decorated in a ceramic pot
Value $60
Balzac's Coffee
Three (3) one-pound bags of coffee beans (Balzac's Blend, Organic Farmers' Blend, and The Atwood Blend)
Value $30
Banu
Gift Certificate
Value $50
Belly Catering
Generous donation of popcorn during Movie-oke at event
Blue Banana Market
Gift Basket
Value $75
Body Harmonics Pilates
$100 Towards Mat and Reformer Classes
Value $100
Buck 65
Will score your credit sequence or a 2-4 minute segment of your film
Starting Bid $200
C Magazine
Two (2) x 1-year C Magazine subscriptions
Value $48
Camera Bar
Rental of Camera Bar for a weekday evening
Value $1,300
Canadian Art
Two (2) Gift Subscriptions and Two (2) Current Issues of the Magazine
Value $64
Canadian Cinema Editors
Associate Membership – Membership #1
Value $100
Canadian Cinema Editors
Associate Membership – Membership #2
Value $100
Canadian Filmmakers Distribution Centre (CFMDC)
$75 Credit for CFMDC membership or new work – Credit #1
Value $75
Canadian Filmmakers Distribution Centre (CFMDC)
$75 Credit for CFMDC membership or new work – Credit #2
Value $75
Canadian Opera Company
Two (2) Tickets to "Love From Afar"
Value $140
Carbon Sound + Picture and Witz Apple Certified Training
Certificate for One (1) seat in FCP 101: Introduction to Final Cut Pro 7
Value $1,395
Carbon Sound + Picture and Witz Apple Certified Training
Certificate for One (1) Delegate Pass to the 2011 Hot Docs Canadian International Documentary Festival
Value $575
CARFAC
One (1) Artist Membership – Membership #1
Value $75
CARFAC
One (1) Artist Membership – Membership #2
Value $75
Catherine Rankin Productions
One Credit for Negative Cutting Services
Value $500
Casa Loma
Complimentary Admission Pass (Max. 4 Persons)
Value $82.20
Certified F.P.S.
-Kodak Vision 2- 5218-500T-35mm Camera Negative 2x400ft
-Kodak EXR-5245-50D-35mm Camera Negative 1x400ft
-Fuji F 64D 8522-64D-35mm Camera Negative 3x400ft
$520
CFC's Worldwide Short Film Festival
Two (2) All Access Passes and Two (2) Opening Night Gala Tickets for the 2011 Worldwide Short Film Festival
Value $380
CineCycle
One (1) day/evening rental of CineCycle and choice of one (1) print from the CineCycle archives
Value $200
Dancemakers
Two (2) Tickets to the Dancemakers 2011 Home Seasons Project
Value $50
Tony Dekker
of Great Lake Swimmers
Will score your credit sequence or a 2-4 minute segment of your film
Starting Bid $200
Divine Skin Therapy Wellness Spa
One (1) Hour Oxygen Facial or Thirty (30) minute Massage
Value $110
Documentary Organization of Canada
One (1) individual membership to Documentary Organization of Canada (DOC)
Value $200
Downward Dog Yoga Centre
10 Class Pass
Value $130
The Drake Hotel
Dinner for two (2) at the Drake Hotel
Value $100
Dufflet Pastries
One (1) Small Cake
Value $25
Ego Film Arts
"Chloe" DVD Signed by director Atom Egoyan
Starting Bid at $25
esse arts + opinions Magazine
One 1-Year Subscription – Subscription #1
Value $24
esse arts + opinions Magazine
One 1-Year Subscription – Subscription #2
Value $24
Fearless Films $250 Credit for post-production services, including dubbing, file-to-tape outputs, down-conversion from HD, HD clones, etc
Value $250
Frame Discreet
$100 worth of Transfer Services
Value $100
Frame Discreet
$100 worth of Transfer Services
Value $100
Frame Discreet
$50 worth of Transfer Services
Value $50
Front Door Organics Inc.
Three (3) Custom Fresh Boxes
Value $126
Gallery 44 Centre for Contemporary Photography
Gift Certificate for Workshops
Value $75
Gallery TPW
One (1) Regular Membership – Membership #1
Value $35
Gallery TPW
One (1) Regular Membership – Membership #2
Value $35
Gentleman Reg
Will score your credit sequence or a 2-4 minute segment of your film
Starting Bid $200
Glad Day Bookshop
Gift Certificate
Value $20
Gladstone Hotel
One (1) night stay in one of the Gladstone's Classic Designed Rooms
Value $250
Good For Her
Sexy Gift Prize
Value $80
Green Earth Organics
One (1) Regular Harvest Box
Value $37
Harbourfront Centre
2 Tickets to the performance of Louise Lecavalier/ Fou Glorieux as part of 2010/2011 World Stage HFC
Value $90
Hot Docs Canadian International Documentary Festival
Two (2) Festival Passes to the 2011 Hot Docs Festival
Value $196
Il Fornello
Gift Certificate for Lunch or Dinner
Value $50
Image Gear Inc.
Gift Certificate – Certificate #1
Value $100
Image Gear Inc.
Gift Certificate – Certificate #2
Value $100
Images Festival
One (1) 16mm Membership – Membership #1
Value $100
Images Festival
One (1) 16mm Membership – Membership #2
Value $100
imagineNATIVE Film + Media Arts Festival
Two (2) Festival Passes to the 2011 imagineNATIVE Festival
Value $200
Inside Out Toronto LGBT Film and Video Festival
One (1) Supporter Membership
Value $180
Interacces Electronic Media Arts Centre
One (1) Membership and 150 Interaccess dollars
$250
KINOSMITH
Hot Docs Collection of 22 Feature Documentary Films
Army of One, Collapse, Burma VJ, Flicker, Cat Ladies, H2Oil, Last Call at the Gladstone Hotel, RIP! A Remix Manifesto, Last Train Home, Scott Walker: 30 Century Man, Pax Americana, The Art Star and the Sudanese Twins, Prom Night in Mississippi, The Betrayal, The Bodybuilder and I, Water on the Table, The Order of Myths, When We Were Boys, The Rise and Fall of the Grumpy Burgerm, Winnebego Man, Unmistaken Child, You Don't Like the Truth
Value $500
Kodak Canada Inc.
Certificate for Kodak Motion Picture Stock
Value $2,500
Michael Levine
Executive Producer, lawyer, and agent who will discuss your project for thirty (30) minutes
Starting Bid $200
Lisa Kiss Design
One (1) Postcard Design
Value $500
Magic Oven
Certificate for Products
Value $60
Magic Pony
Two (2) Books, "The Mania" and "The Unknown Portraits"
Value $35
Maple Leaf Sports and Entertainment Ltd.
Autographed Tyler Bozak hockey puck and photograph
Value $50
The Mercantile
Sushi Gift Basket
Value $60
Merch Guy
Screenprinting of 12 T-Shirts with 1 color on 1 side, (Men's Fruit of the Loom, S-XL sizes)
Value $125
Motion Data Technologies Inc.
Credit for services – Credit #1
Value $320
Motion Data Technologies Inc.
Credit for services – Credit #2
Value $320
Niagara Custom Lab
Processing of 1200 feet of 16mm film
Value $300
Niagara Custom Lab
Processing of 12x Carts of Super 8
Value $240
Numbers Film Supply
$100 of Film Editing-Supplies
Value $100
Oh Susanna
Any song from her upcoming CD
Starting Bid $200
Ontario Science Centre
Two (2) Complimentary Passes
Value $40
Open Studio
Two-day Weekend Printmaking Workshop
Value $160
Pikto
Gift certificate for Workshop
Value $225
Planet in Focus International Environmental Film and Video Festival
One (1) Festival Pass for the 2011 Planet in Focus Festival
($100)
Playwrights Canada Press
Eight (8) book package:
Afterimage, Courageous, Crackwalker, Forests, Lady in the Red Dress, Scorched, Scratch, and Such Creatures.
Value $120
Pleasure Dome
One (1) Pleasure Pass Membership
One (1) Copy of "Cinematic Folds: the Furling and Unfurling of Images" – Book #1
Value $60
Pleasure Dome
One (1) Copy of "Cinematic Folds: the Furling and Unfurling of Images" – Book #2
Value $30
Point of View Magazine
One (1) 1-year Subscription
Value $20
Prefix Photo
One (1) 1-Year Subscription to Prefix Photo with an Artist Designed, hand silk screened black tote bag
Value $43
Project X Distribution Limited
The War Game
Edward Munch
Punishment Park
The Freethinker
Loving Couples
The Girls
Hunger
Privilege
Value $200
Puppy Machine Productions
Four (4) hours of studio time
Value $500
Salon Yanna
Gift certificate for haircut – Certificate #1
Value $65
Salon Yanna Gift certificate for haircut – Certificate #2
Value $65
Salon Yanna
Gift certificate for haircut – Certificate #3
Value $65
Andrew Scott
of Sloan
Will score your credit sequence or a 2-4 minute segment of your film
Starting Bid $200
Shaw Festival
Two (2) tickets to an upcoming show
Value $144
Soulpepper Theatre
Tickets for two (2) for an upcoming performance
Value $136
Source Shop
$200 workshop credit for LIFT's Workshop and Vouchers. Sponsored by Source Shop.
Value $200
Spacing Magazine
1 year Subscription
Value $29
Tarragon Theatre
Two (2) Complimentary Ticket Passes to "After Akhmatoua." Show runs from March 22 – May, 2011.
Value $88
Technicolor Creative Services Toronto
Credit for services from Technicolor Toronto
Value $2,000
Textile Museum of Canada
One (1) 1-Year Dual/Family membership
Value $85
Toronto Animated Image Society (TAIS)
One (1) TAIS Studio Membership
Value $150
Toronto International Film Festival
One (1) Family/Dual Level Membership – Membership #1
Value $150
Toronto International Film Festival
One (1) Family / Dual Level Membership – Membership #2
Value $150
Toronto Dance Theatre
Two (2) tickets to Toronto Dance Theatre Paris / Toronto Project at the Winchester Street Theatre
Value $52
Toronto Image Works
Credit for services
Value $250
Toronto Palestine Film Festival
One (1) TPFF 10 Card
Value $50
Toronto Reel Asian International Film Festival
Two (2) Festival Passes for 2011 Reel Asian Festival and merchandise
Value $160
Toronto Symphony Orchestra
Two (2) Tickets to a Toronto Symphony Performance
Value $160
Torontonians
Spaghetti dinner for 4 made by the Torontonians, a collective of Parkdale artists mostly aged 14.
Starting Bid $50
Transit Audio Services
Division of Skylight Studios Ltd.
16mm or 35mm Opitcal Sound Transfer or DigiBata / HD CAM Restripes
Value $500
Type Books
Gift Certificate
Value $20
Unionville Insurance, a division of CG&B Group
$1,000 equipment/facilities rental at LIFT. Sponsored by Unionville Insurance
Value $1,000
Ingrid Veninger
of pUNK Films
Two (2) x 2-hr sessions of Script Reading (Total of 4 hours)
Value $500
Ingrid Veninger
of pUNK Films
Signed poster from "NURSE.FIGHTER.BOY."
Value $150
Wallace Film Studios
Rental for studio space
Value $2,000
Andrew Whiteman
of Broken Social Scene and Apostle of Hustle
Will score your credit sequence or a 2-4 minute segment of your film
Starting Bid $200
Women in Film and Television (WIFT)
One (1) 1-year Associate Level Membership – Membership #1
Value $250
Women in Film and Television (WIFT)
One (1) 1-year Associate Level Membership – Membership #2
Value $250
Woolfitt's Art Enterprise
Gift Certificate
Value $75
YYZ
Grammar & Not Grammar – Edited by Andre J. Patterson
Mirror Machine Video and Identity – Edited by Janine Marchessault
Plague Years – Mike Hoolboom
Mining the Media Archive – Dot Tuer
Money Value Art- Sally McKay, Andrew J. Patterson
Ethics of Luxury- Jeanne Randolph
Performance, Performance, and Performers #1– Bruce Barbar
Performance, Performance, and Performers #2– Bruce Barbar
Value $160
The Yoga Sanctuary
Five (5) Class Pass Gift Certificate
Value $73.45
Zip.ca
One (1) 6-month Gift Membership on the 3 DVD Unlimited Plan
Value $150
Since 1981, LIFT has been Canada's foremost artist-run centre for independent filmmakers, providing affordable access to film equipment, education and space. LIFT is supported by its membership, Canada Council for the Arts, Ontario Arts Council, Ontario Trillium Foundation, Ontario Arts Foundation, the Government of Ontario and the Toronto Arts Council. www.lift.ca
Location:
The Garrison
1197 Dundas Street West (just West of Ossington Avenue)
Toronto ON Canada