Nicky Hamlyn – Summer 2007 Artist in Residence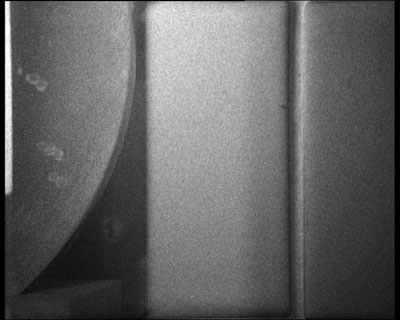 LIFT summer 2007 artist in residence is
Nicky Hamlyn. Hamlyn's mostly silent films are concentrated, focused on
the relationship between camera and place, maker and materials. Subtle
shifts in focus, single-frame sequences, or time-lapse photography alter
our perception of a tree, a wall, a garden trellis, a shadow, or a reflection.
Space is alternately flattened and expanded. The gap in a fence, the opening
between two sheets hanging on a laundry line reframe the outdoors, and
nature in close-up becomes abstract and intensely colored, surprising
us with its patterns, variability, and the sheer beauty of the mundane. This summer Hamlyn completed three new 16mm films during his stay at LIFT.
Nicky Hamlyn studied
Fine Art at the University of Reading. From 1979 to 1981 He was a workshop
organizer at the London Filmmakers' Co-op, where he was also a founder
of and regular contributor to the Co-op's magazine Undercut. He is currently
a lecturer in Time Based media and Visual Theory at Kent Institute of
Art and Design. His films have been screened at festivals and venues around
the world. As well as making films, Nicky Hamlyn has written a book about
the subject: Film Art Phenomena, published by the British Film Institute,
2003.
Location:
LIFT

Toronto Canada