LIFT Monthly Viewing: History and Memory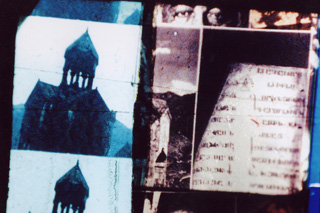 The LIFT monthly viewing is a new social event intended to get LIFT members talking about diverse approaches to filmmaking. During the workshop season, the last Sunday of each month will be devoted to screening and discussing a selection of work from the library of the Canadian Filmmakers Distribution Centre (CFMDC) and elsewhere. This is an excellent opportunity for filmmakers to get together, discuss the approaches other filmmakers have taken, and develop their own ideas. For the Winter-Spring 2009 season, we will focus on a diverse selection of classic Canadian documentary work.

History and Memory's Featured Films
Total running time: 54 min.
Girl from Moush by Gariné Torossian
16mm, 6 minnutes, 1993
Girl from Moush is a poetic montage of the artist's journey through her subconscious Armenia. It is not an Armenia based in a reality, but one which appears, like the mythical city of Shangra La, when one closes one's eyes. Rooted in what Jung may call a "communal consciousness," her Armenia appears on film as a collage of myth, legend, experience and immigration.
Private Property / Public History by Judith Doyle
16mm, 17 min., 1982
"Having acquired a set of family snapshots at an auction sale, Doyle traced their origins to an Ontario family. She talked with the now-elderly women and reconstructed the photographs and the dialogue in this film which confronts issues of photographic representation and its uses in family
history."
– Toronto: A Play of History. The Power Plant, 1987
Retrato Oficial (Official Portrait) by Francisca Duran
16mm, silent, 1 min., 2003
Retrato Oficial animates the dissimulation and reconstruction of the
great liberator of Chile, 19th-century revolutionary and republican
Bernardo O'Higgins, and the historical reach of the late-20th-century
dictator Augusto Pinochet. Based in part on a conceit borrowed from Raul
Ruiz's essay "Images of Images" and original footage shot by Patricio
Guzman on September 11, 1973, the short video is an exploration of the
mediated image and the mnemonic possibilities of video and still image
technologies.

A Film Trilogy by Elida Schogt
16mm, 30 min. 1999-2001
Filmmaker Elida Schogt uses a striking blend of documentary and experimental approaches in her work. This trilogy brings together three films which examine Holocaust memory, the family and the role of photography in history: "Zyklon Portrait," "The Walnut Tree," and "Silent Song."
Sunday 26 April 2009 19:00  
Non-members: $5.00
Members: $5.00
Location:
LIFT Classroom 
1137 Dupont Street 
Toronto ON Canada