LIFT and Inside Out 2009 co-presentation: HALF-LIFE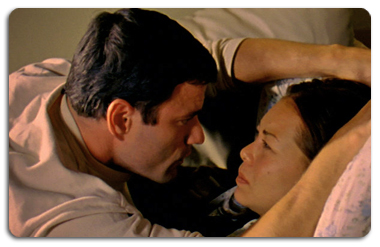 Half-Life by Jennifer Phang
35mm, 106 mins., 2008
Half-Life by Jennifer Phang
35mm, 106 mins., 2008
It takes a while to sort out how the characters are connected to each
other in Jennifer Phang's ambitious feature-length debut, but that's
okay-the characters in this psychological drama are having a hard time
figuring it out themselves. Set in the not-too-distant future, when TV
newscasts inform us that global warming has begun to have drastic
effects all over the world, 21st-century self-awareness does little to
help anyone understand who they are and what they want. Eight-year-old
Timothy Wu (Alexander Agate) lives with his mother Saura (Julia Nickson)
but spends much of his time in a hyper-dream world, which Phang depicts
in lush animated sequences of crashing waves, gliding stingrays and
shooting stars. Timothy's father is gone and his defensive mother is
dating a handsome younger man (Ben Redgrave from Straightman), who
speaks in a pseudo-spiritual babble that borders on creepy. Timothy's
melancholic older sister Pam (Sanoe Lake) apparently has a boyfriend
(Leonardo Nam)-a boyfriend who is really gay and trying to come out to
his religious parents. Amid all its suburban angst and philosophical
musings, Half-Life exhibits a dark humour that helps its characters
find a still place in our messy world.

Official Selection:
2008 Sundance Film Festival
2008 Toyko International Film Festival
2008 International Filmfestival Mannheim-Heidelberg
2009 San Francisco International Asian American Film Festival (Winner of Best Narrative Feature)

TORONTO PREMIERE

The INSIDE OUT Toronto LGBT Film And Video Festival runs from MAY 14 – MAY 24, 2009.
Tuesday 19 May 2009 21:45  
Non-members: $12.00
Members: $10.00 (Inside Out)
Location:
Royal Ontario Museum 
100 Queen's Park 
Toronto ON Canada