LIFT Welcomes New Staff – Summer 2018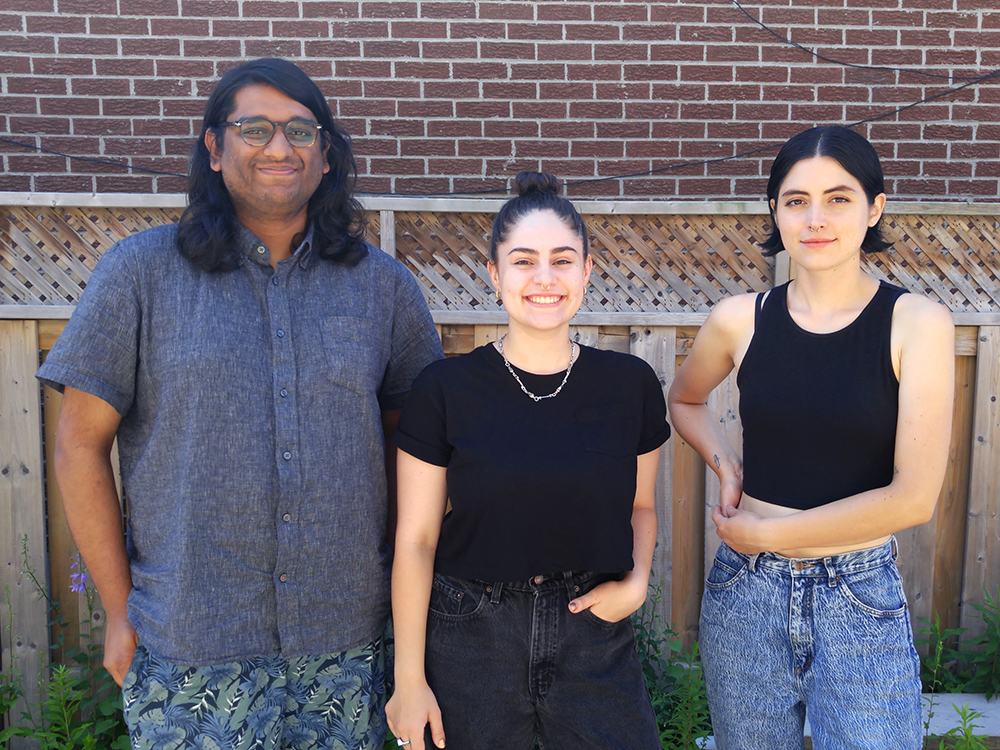 July 5, 2018
(L-R) Kieran Maraj, Goldbloom Micomonaco, and Muriel Jaque
July 5, 2018
(L-R) Kieran Maraj, Goldbloom Micomonaco, and Muriel Jaque
LIFT Welcomes New Staff – Summer 2018

Thanks again to the Canada Summer Job program, supported by the Canadian Government, we are able to welcome three summer staff to LIFT this summer. Goldbloom Micomonaco is our new Education and Outreach Assistant this summer at LIFT. They will be assisting our Education and Outreach Coordinator Shenaz Baksh and our Education and Outreach Administrator Rolla Tahir in day-to-day coordinating of the summer workshop season. Muriel Jaque and Kieran Maraj are our Technical Assistants this summer at LIFT. Muriel will be assisting our Technical team, Karl Reinsalu, Justine McCloskey and TJ Ediger, in the equipment room and production facilities. Kieran will be working on updating our digital interfaces for some of our older equipment, troubleshooting how we can future-proof our analogue equipment. He is currently focusing on upgrading our Digital to Film Transfer Suite.


"To join LIFT this summer has been a wonderful opportunity. I remember reading through the catalogue in high school and wondering when I was going to be able to join as a member. I count myself lucky to join the hardworking team here at LIFT. Being able to work here has made the story come full circle and I look forward to the many learning experiences I will have while I'm here."
—G. Micomonaco

Goldbloom Micomonaco is our new Education and Outreach Assistant this summer at LIFT. They joined us as of June 11th, 2018 and are going to be focusing on their thesis film in September working towards their BFA in Film Studies at Ryerson University. Goldbloom's film work overlaps with a lot of their community work in Toronto's queer film community. They are director and writer of multiple short films, Co-Founder and Creative Lead of Made by Muses—a film collective focused on support for Female and Trans/non-binary identifying youth filmmakers in Toronto—and Camp Director at Muses Summer Camp for Filmies.


"It's an honour to be joining LIFT this summer as a Technical Assistant and I'm looking forward to learning new skills especially with analog equipment and film which I have not had an opportunity to work with before. I love working with old technology and taking on new challenges in handling and managing equipment. I'm looking forward to learning more at LIFT's Technical department from Justine, TJ, and Karl and becoming more integrated in the film community."
—M. Jaque

Muriel Jaque is a multimedia artist who primarily works on interpersonal films and installations hybrids focused within the spectrum of intersectionality in mental health, immigration, and feminism. Recently they have been working on a short series of films dealing with the effects of mental disorders and artistic production and how the two are often in a struggling balance. Currently they are finishing their Bachelors of Fine Art at OCADU in integrated media and can be found of in the shooting studio working on new films or in metal shop building supporting apparatuses for their work.


"I'm very grateful to be returning to LIFT this summer! I had a wonderful experience last year in working to future-proof the equipment and being part of the team that supports the independent filmmaking community. I'm looking forward to another great summer with the LIFT staff!"
—K. Maraj

Kieran Maraj is an interdisciplinary artist and researcher currently based out of Toronto. He is currently an undergrad student in the Computational Arts department at York University where he focuses his work on the worlds of sound, perception, and technology.