LIFT Welcomes New Staff – Summer 2017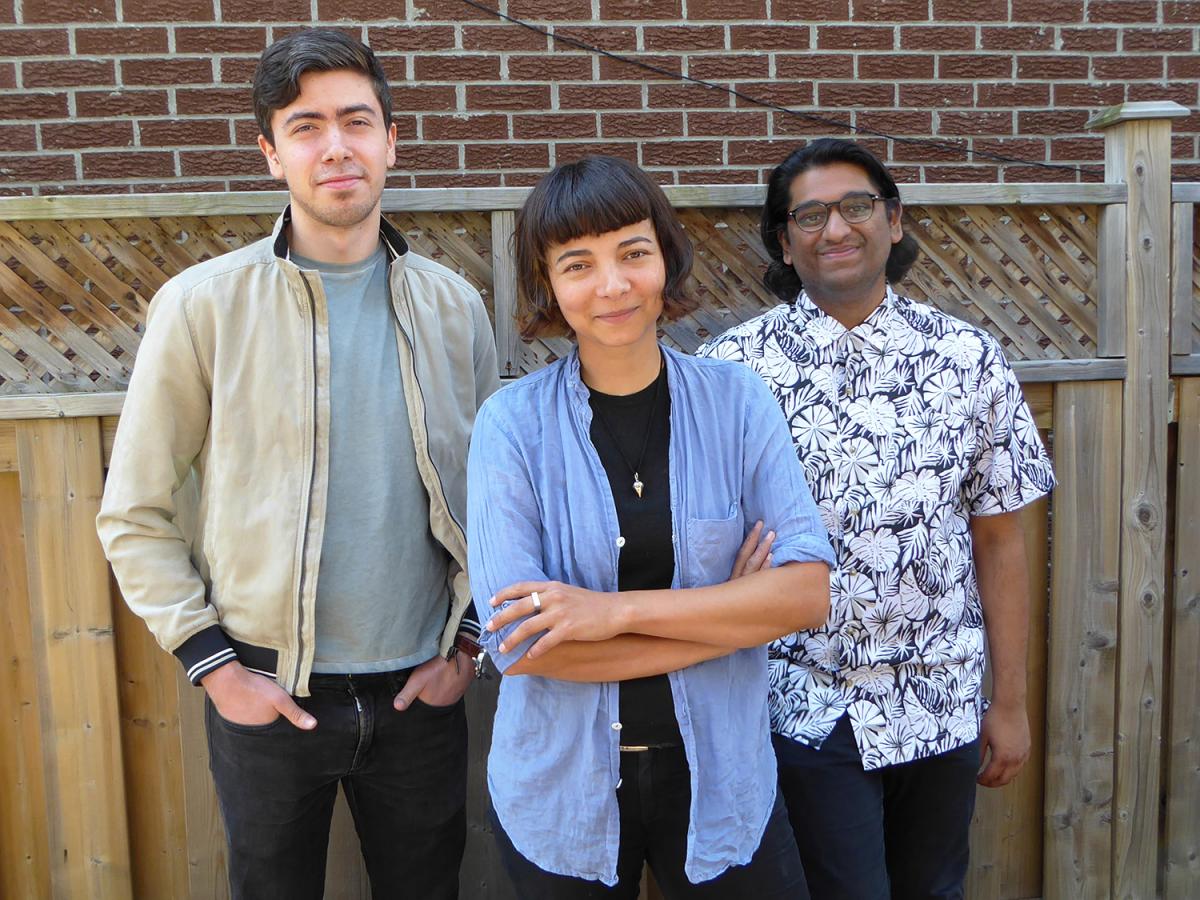 June 29, 2017
(L-R) Sina Dolati, Polina Teif, and Kieran Maraj
June 29, 2017
(L-R) Sina Dolati, Polina Teif, and Kieran Maraj
LIFT Welcomes New Staff – Summer 2017

Welcome to New Summer 2017 Education and Outreach Assistant, Technical Assistant and Technical Assistant, Digital Interfaces

Sina Dolati is our new Education and Outreach Assistant this summer at LIFT. He will be assisting our Education and Outreach Coordinator Shenaz Baksh and our Education and Outreach Administrator Rolla Tahir in day-to-day coordinating of the summer workshop season and in seeking out further opportunities for LIFT to provide service and access to community organizations. Polina Teif and Kieran Maraj are our new Technical Assistants this summer at LIFT. Polina will be assisting our Technical team, Karl Reinsalu, Anh Dao and TJ Ediger, in the equipment room and production facilities. Kieran will be working on updating our digital interfaces for some of our older equipment, troubleshooting how we can futureproof our analogue equipment.


"I'm thrilled to be working at the rich filmmaking environment of LIFT for the summer, alongside some very cool and amiable staff members who are all passionate about the goal of the organization. I hope to gain further experience in arts administration and develop valuable relationships that I can carry on with me throughout the journey that comes next."
—S. Dolati

Sina Dolati is a recent graduate of the Cinema Studies and Biotechnology programs at the University of Toronto. As an emerging independent filmmaker, he has worked on numerous short films and promotional media with a focus on writing, directing and producing. He will soon be starting the Masters in Media Production program at the Ryerson RTA School of Media. Sina has also co-founded The Labyrinth Pictures in 2016, a production company through which he collaborates with Toronto artists, aiming to integrate within the larger Toronto arts scene.


"I think of LIFT is an incubator/hub for experimental film practices in Toronto thus I am very pleased to have been given the opportunity to immerse myself in the tech department and filmmaking community at large this summer. Looking forward to working with the gear and the LIFT tech team."
—P. Teif

Polina Teif is a multidisciplinary artist and filmmaker currently based in Toronto. She received her BFA from the University of Toronto with emphasis on Visual Studies and Semiotics and currently pursuing an MFA in Film Production at York University with a specific interest in documentary, experimental film, and video art.


"I'm so excited to be joining LIFT this summer and to have the opportunity to support the work of the Toronto film community! The challenge of updating and future-proofing some of LIFT's gear is sure to be a great learning experience and I look forward to facing it under the guidance of Karl, Anh, and TJ."
—K. Maraj

Based out of Toronto, Kieran Maraj is an artist and researcher with a passion for the experimental and exploratory. His work focuses on sound, interdisciplinary performance, and their intersections with technology. He is currently an undergraduate student in York University's Computational Arts department and can be found performing with groups Bears & Children, Aniqa Dear, Turtle Thompson, and the York University Electro-Acoustic Orchestra.