CanadaHelp's Great Canadian Giving Challenge 2021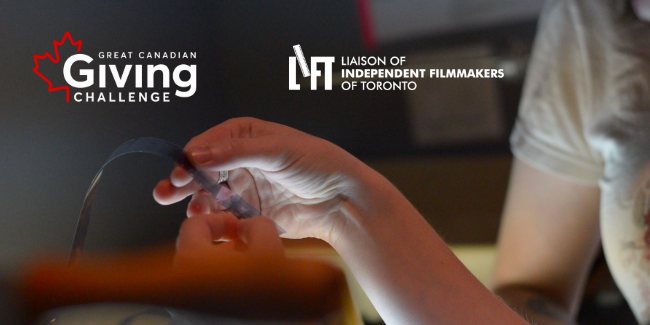 June 4, 2021
This June is the Great Canadian Giving Challenge, where each dollar donated through CanadaHelps from the 1st to the 30th of June, will enter the charity of your choice to win $20,000.
With a one-time or monthly donation, as little as $3.00, you'll be helping the Liaison of Independent Filmmakers of Toronto (LIFT) get that much closer to the jackpot. All you have to do is donate through CanadaHelps here.
I don't think any of us knew what 15 months into this pandemic would look like. As we work our way towards reopening, not just as an organization but as a province, it's important to ask what do we value moving forward.
Filmmakers and Artists have been some of the hardest hit over the past year and when an industry is predicated on collaborative work and public exhibition it takes time to adapt. As an organization LIFT has been able to pull through this, but as a member driven organization we wouldn't be anything without the creativity and ingenuity of the people we work with.
You can choose to donate directly to funds that will impact artists through our year-round programming like the soon to be relaunched Production and Post-Production Grants or Community and Youth Projects. You can also donate directly to the Josephine Massarella Artist Award and the Roberto Ariganello Fund which will provide opportunities for Canadian artists to develop new film and media works on their own terms.
Donate by 11:59pm PDT on Wednesday June 30th to enter us to win $20,000!
You might be wondering what LIFT would be able to do with $20,000?
It would allow for:
– 10 artist Production and Post-Production grants with in-kind and cash support
– 5 more years of the Josephine Massarella Artist Award
– Another year of the LIFT Filmmentor Program for 3 mentees and 3 mentors
Whether or not we win on July 1st you can rest assured that your donations will be supporting the independent artists that need it most. Help spread the word by using #GivingChallengeCA to join the conversation on social media.
If you have any questions don't hesitate to get in touch with Development Coordinator Cayley James at development@lift.on.ca.
The Liaison of Independent Filmmakers of Toronto (LIFT) is an artist-run charitable organization dedicated to facilitating excellence in the moving image through media arts education and production resources. LIFT exists to provide support and encouragement for independent filmmakers and artists through affordable access to production, post-production and exhibition equipment; professional and creative development; workshops and courses; commissioning and exhibitions; artist-residencies; and a variety of other services. Founded in 1981 by a small collective, LIFT has since grown to become one of the foremost centres of its kind globally. https://lift.ca