Seeing Double: Films by Antonia Kuo and Lily Jue Sheng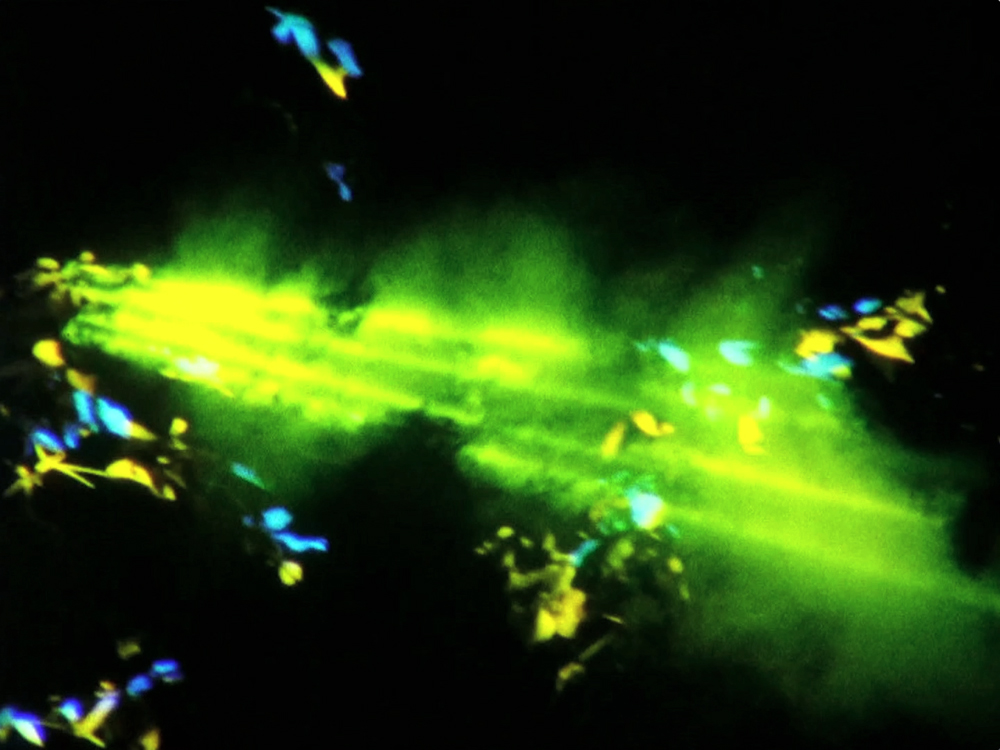 Chromoflux
Chromoflux
The Liaison of Independent Filmmakers of Toronto (LIFT) is pleased to present
Seeing Double: Films by Antonia Kuo and Lily Jue Sheng

Kuo and Sheng in attendance

Antonia Kuo and Lily Jue Sheng are visiting artists from Brooklyn collaborating at LIFT from July 4 to August 17. This screening will present a number of their single and dual channel 16mm films—including Chromoflux, Seeing Double and Point, Line, Plane—as well as showcasing the work that they've done while in residency at LIFT. Their films explore the fleeting temporality of an immersive optical experience, emphasizing oscillating, flickering compositions that exploit the frame-by-frame structure of 16mm film through in-camera and stop-motion collage animation and mirror the visual world of their parallel practices in print-making and photography. The frenetic pace of shifting abstractions create visual unrest, mirroring the unstable flux inherent in natural systems, spanning all scales of matter.
Programme:
Seeing Double, dual 16mm transferred to digital, 3 min. 2013
Chromaflux, 16mm transferred to digital, 8 min. 2014
Mercurial Matter, 16mm, 6 min. 2014
Aegyptia, 16mm, 3 min. 2016
Force Majeure, 16mm, 5 min. 2015
*Untitled, 16mm, 9 min. 2016
Mashup, 16mm, 5 min. 2015
Change, dual 16mm, 5 min. 2016
Point Line Plane, dual 16mm, 11 min. 2015

Live sound performed by Processor.
Antonia Kuo is an interdisciplinary artist working with photography, film, drawing, painting and printmaking. She is currently an MFA candidate in Painting at Yale University and received her BFA from School of the Museum of Fine Arts Boston and Tufts University, and a one-year certificate from the School of the International Center of Photography under the Alan L. Model Grant. Antonia was awarded the Robert and Stephanie Olmsted Award as a MacDowell Colony Fellow in 2014, and participated in additional residencies at The Banff Centre, Center for Photography at Woodstock and Arteles in Finland. Her work has been shown internationally, including exhibitions in New York at Eyebeam Art + Technology Center, Ryan Lee Gallery, Greenpoint Terminal Gallery, and abroad at Alte Poste in Vienna, Galerie Catherine Putman in Paris, Gloria Maria Gallery in Milan, and West Bund Art and Design Fair in Shanghai. www.antoniakuo.com

Lily Jue Sheng makes moving images with film, video, and live performance. She graduated from the School of the Museum of Fine Arts in Boston, MA, and is currently based in Queens, NY. Her work has exhibited internationally at Eyebeam Art and Technology Center in New York City; the Museum of Fine Arts in Boston; the Musée d'art contemporain de Montréal in Montreal; the Bibliorium at Beijing Design Week in Beijing; and the 1933 Slaughterhouse in Shanghai. Sheng is a 2016 recipient of the Queens Art Fund New Work Grant. www.lilyjuesheng.net
Lily Jue Sheng's visit is made possible in part through the New Work Grant from the Queens Council on the Arts.
Kuo and Sheng are working at LIFT in July 2016 as Visiting Artists.
In 2012, Toronto artist Lorenz Peter joined bassist Melissa Joakim to form heavy, post-industrial duo Processor. Known for playing in rock outfits such as Corpusse, Les Fontaines and Bay of Creatures, Peter also runs Toronto record store LP's LPs and has recently collaborated with Constellation Records artist Sandro Perri. Joakim is also psych-noise band Bay of Creatures' bassist, a professional lighting designer, and consummate experimenter with tapes, loops and radios. Processor have released five albums since 2012 and are currently in the studio with producer David Lush of Memorex, recording material for their next LP, building on the duo's pursuit of relentless, hypnotic noise within composed, genre-defying music. http://processor.bandcamp.com
Wednesday 10 August 2016 20:00  
Non-members: $8.00
Members: $5.00
Location:
CineCycle 
129 Spadina Avenue (down the alley) 
Toronto ON Canada