LIFT announces American Visiting Artists Antonia Kuo and Lily Jue Sheng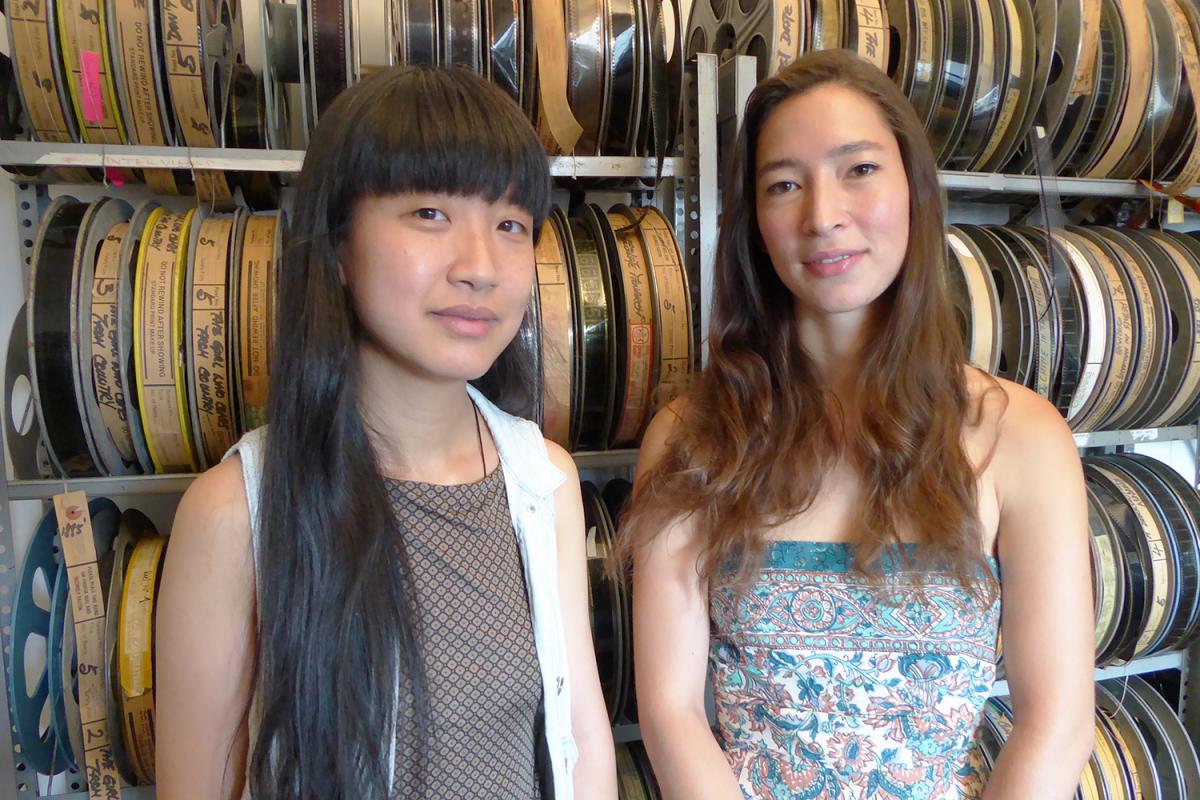 Lily Jue Sheng and Antonia Kuo
Lily Jue Sheng and Antonia Kuo
THE LIAISON OF INDEPENDENT FILMMAKERS OF TORONTO (LIFT)
ANNOUNCES AMERICAN VISITING ARTISTS ANTONIA KUO and LILY JUE SHENG


Toronto, July 20, 2016—The Liaison of Independent Filmmakers of Toronto (LIFT) is pleased to announce that Antonia Kuo and Lily Jue Sheng have joined us from Brooklyn, New York as visiting artists from July 4, 2016 to August 17 to work on a series of collaborative films together. They will be teaching a workshop on July 24 on photogramming—exposing objects directly on film stock to create visual patterns—and presenting a screening of their work on August 10 at CineCycle (129 Spadina Avenue, down the lane).
Antonia Kuo and Lily Jue Sheng began their collaborative filmmaking practice after meeting at the School of the Museum of Fine Arts Boston in 2006. Their film screenings, performances and installations explore the fleeting temporality of an immersive optical experience, emphasizing oscillating, flickering compositions that exploit the frame-by-frame structure of 16mm film through in-camera and stop-motion collage animation. The frenetic pace of shifting abstractions create visual unrest, mirroring the unstable flux inherent in natural systems, spanning all scales of matter.
At LIFT, Kuo and Sheng will be composing a new film using our optical printers and dark room, utilizing camera rolls that they have previously shot of colour visual animations to make active collage of images, photograms and hand-painted animations—films that point beyond the cinema to pattern making processes of textile design and print making.
On Sunday, July 24, Kuo and Sheng will lead a workshop, 16mm Black and White Photogramming and Hand Processing, that will teach participants about the possibilities of photogramming, exposing found materials directly onto the film surface and then learning how to hand-process the results.

On Wednesday, August 10 at 8:00pm at Cinecycle (129 Spadina Avenue, down the lane), Kuo and Sheng will present a screening of their films. In addition to showing a collection of their previous films, Kuo and Sheng will show works in progress that they will be making during the six weeks of their residence.
Antonia Kuo is an interdisciplinary artist working with photography, film, drawing, painting and printmaking. She is currently an MFA candidate in Painting at Yale University and received her BFA from School of the Museum of Fine Arts Boston and Tufts University, and a one-year certificate from the School of the International Center of Photography under the Alan L. Model Grant. Antonia was awarded the Robert and Stephanie Olmsted Award as a MacDowell Colony Fellow in 2014, and participated in additional residencies at The Banff Centre, Center for Photography at Woodstock and Arteles in Finland. Her work has been shown internationally, including exhibitions in New York at Eyebeam Art + Technology Center, Ryan Lee Gallery, Greenpoint Terminal Gallery, and abroad at Alte Poste in Vienna, Galerie Catherine Putman in Paris, Gloria Maria Gallery in Milan, and West Bund Art and Design Fair in Shanghai. www.antoniakuo.com

Lily Jue Sheng makes moving images with film, video, and live performance. She graduated from the School of the Museum of Fine Arts in Boston, MA, and is currently based in Queens, NY. Her work has exhibited internationally at Eyebeam Art and Technology Center in New York City; the Museum of Fine Arts in Boston; the Musée d'art contemporain de Montréal in Montreal; the Bibliorium at Beijing Design Week in Beijing; and the 1933 Slaughterhouse in Shanghai. Sheng is a 2016 recipient of the Queens Art Fund New Work Grant. www.lilyjuesheng.net
Lily Jue Sheng's visit is made possible in part through the New Work Grant from the Queens Council on the Arts.

16mm Black and White Photogramming and Hand Processing
Sunday, July 24, 2016
10:00am – 6:00pm
Liaison of Independent Filmmakers of Toronto (LIFT)
1137 Dupont Street (at Gladstone Avenue)
Cost: $125 LIFT members, $100 non-members
Pre-registration Required. Enrolment limit to 4.
Register: 416.588.6444 Ext. 221 (Must register before 5pm on July 22)


Seeing Double: Films by Antonia Kuo and Lily Jue Sheng
Wednesday, August 10, 2016
8:00pm
CineCycle
129 Spadina Avenue (down the lane)
Admission: $5 LIFT members, $8 non-members

The Liaison of Independent Filmmakers of Toronto (LIFT) is Canada's foremost artist-run production and education organization dedicated to celebrating excellence in the moving image. LIFT exists to provide support and encouragement for independent filmmakers and artists through affordable access to production, post-production and exhibition equipment; professional and creative development; workshops and courses; commissioning and exhibitions; artist-residencies; and a variety of other services. LIFT is supported by its membership, Canada Council for the Arts, Ontario Arts Council, Ontario Trillium Foundation, Ontario Arts Foundation, the Government of Ontario and the Toronto Arts Council. lift.ca

-30-


For additional information please see http://lift.ca or e-mail Executive Director Chris Kennedy at office@lift.on.ca

Location:
Various 
 
Toronto ON Canada