Lost Secrets of the Royal at the Blackwood Gallery and A Space Gallery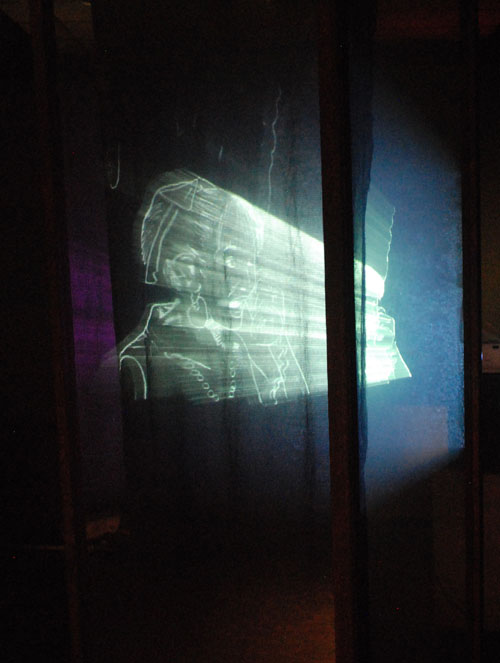 (Cindy
Mochizuki's YOKAI
& OTHER SPIRITS – photo by
Dalia Vukmirovic)
Project stills at the end of this entry.

LOST SECRETS OF THE ROYAL
Four newly commissioned works presented by Liaison of
Independent Filmmakers Toronto (LIFT), Reel Asian, the Blackwood Gallery, and A
Space Gallery
Curators: Ben Donoghue and Heather Keung
Donoghue and Keung began discussions in 2008 for possible
collaborations using LIFT's archive of 35mm Hong Kong films from the 1960s, '70s,
and '80s, recovered by Colin Geddes from the basement of what is now Toronto's
Royal Cinema. The collection includes period dramas, comedies, martial arts,
and pink films. All the prints in the collection are incomplete and in various
stages of decay and discolouration.
Artists were invited to produce new works that could
challenge the source material and break with overtly didactic collage-based
composition. Emerging from this are four projects by contemporary
Asian-Canadian artists that challenge cinematic narrative, locational identity,
movement, and technologies. With the generous support of a commissioning grant
from the Canada Council for the Arts, the following projects that began as
concepts borne from the shelves of decaying film have finally emerged, fresh
and vital, in their exhibition spaces.
At Blackwood Gallery
NEVER A FOOT TOO FAR, EVEN
Daïchi Saïto (Montreal) | Canada 2011 | 2 x 16mm Films, Projectors, Loopers, 4 Channel Sound
Appropriating a brief fragment from a 35mm print of a 1970s kung
fu film, Never A Foot Too Far, Even creates
an action movie without action. Presented as a double projection with two 16mm
film projectors and loopers, the chemically and optically manipulated images
are overlaid to form a single composition. Focusing on an obscure figure caught
between perpetual motion and stasis, the painterly images fluctuate in a
complex shifting of colour and texture, phasing in and out through a polymetric
structure. The installation also features a new audio composition by Malcolm
Goldstein.
Montreal-based Japanese filmmaker Daïchi Saïto has exhibited in numerous venues worldwide. His
work explores the relation between the corporeal phenomena of vision and the
material nature of the medium, fusing a formal investigation of frame and
juxtaposition with sensual and poetic expressions.
YOKAI
& OTHER SPIRITS
Cindy
Mochizuki (Vancouver) | Canada 2011 | HD Video, Glass Case, Fog Machine,
Telephone, Six Channel Sound

Paranormal
phenomena are common in Asian films, literature, and popular culture. In
Japanese folklore, for instance, yokai are a class of supernatural creatures that
often shape-shift and play tricks on humans. This interactive, animated, and
sound-based installation repeats a key moment in the 35mm film, Happy Ghost
3, when the lead
ghost calls "home" through various phone booths throughout the city. The
animated projection is an accumulation of hand-traced frames of the original
film through rotoscoping. The film explores the interiority of the archive and,
like an X-ray print, uses light as a means to make visible what we cannot
normally see. This work uses the presence of audience members to trigger the projections
and sounds; without their actions, the film lies unseen and unheard, leaving
only the stark presence of the scenic and museological props.
With
sound design by Antoine Bédard, programming and electronics by Bobbi Kozinuk,
and construction design by Minoru Yamamoto.
Cindy
Mochizuki is an
interdisciplinary artist with a practice that moves across several forms, including
drawing, animation, multimedia, and performance. Her body of work explores
cultural memory and experimental narratives that play with the space of the
documentary and the imagined. She lives and works in Vancouver, BC. Artist website
Wed Nov 9 |
5 – 9 pm | Blackwood Gallery
Opening
Reception
Bus departs
OCAD at 6:30 pm (100 McCaul St)
Bus departs
Blackwood at 8:30 pm
Blackwood
Gallery
Kaneff
Center, University of Toronto Mississauga
3359
Mississauga Road North, Mississauga
(905) 828-3789
Hours
Monday to Friday: 12 – 5 pm
Wednesday: 12 – 9 pm
Saturday, Sunday: 12 – 3 pm
At A Space Gallery
SNAKE'S SHADOW
Louise Noguchi (Toronto) | Canada 2011 | 3 x HD Vide, Six Channel Sound
Louise Noguchi's three-channel video installation, Snake's
Shadow, fills three walls
with an
intricately executed sequence of dance and motion composed from high-definition
scans of 35mm CinemaScope action films. These archetypal fragments of fight
scenes are recomposed with a newly commissioned soundtrack into a dizzying mix of movement and light.
The work is divided into four acts across three channels, assembling a sequence of pivotal moments without an end. Noguchi writes of the
work: "Maybe having to accept real endings and loss, as opposed to staged drama, which is seductive, is what
viewers may perceive of the sequencing; although, others may have another
reaction to the ending."
Toronto-born Louise Noguchi works in video,
photography, sculpture, and other media. Noguchi's concepts confront the
spectators' notions of identity, perception, and reality. Her recent videos
have examined tourist locations and key monuments of her Canadian and ancestral
histories in terms of cultural memory and experience. Artist website

OFFICER TUBA MEETS THE HAPPY GHOST
soJin Chun
(Toronto) | Canada 2011 | HD Video, Lightbox
soJin Chun combines characters appropriated from two
Hong Kong films and
digitally rotoscopes
them into contemporary Super 8mm film footage shot in Sao Paulo, Brazil, and Toronto,
Canada. Pulled from their Hong Kong settings, these characters are recast as Koreans, playing with western
perceptions of Asian identity. The ruptures and continuity of culture within diasporic communities frame
these figures displaced in time, space, language, and culture. Chun builds a small
cinema within the gallery, complete with illuminated film poster, but the form of cinema—its narrative conventions, framing, and representative structure—is broken.
soJin Chun is a
photo and video artist based in Toronto. Her work demonstrates narratives from
diasporic positioning, exploring the fluid nature of identity within a place.
Her work has exhibited internationally, including in the United States, Serbia,
Mexico, England, France, Argentina, and Bolivia. Artist website

Sat Nov 12 | 3 pm | A Space
Gallery
Artist Talk
Sat Nov 12 | 5 – 7 pm | A Space
Gallery
Opening Reception
A Space Gallery
401 Richmond Street West, Suite 110
Toronto, Ontario
(416) 979-9633
Hours
Tuesday to Friday: 11am – 6 pm
Saturday: 12 – 5 pm
Daïchi Saïto's NEVER A FOOT TOO FAR, EVEN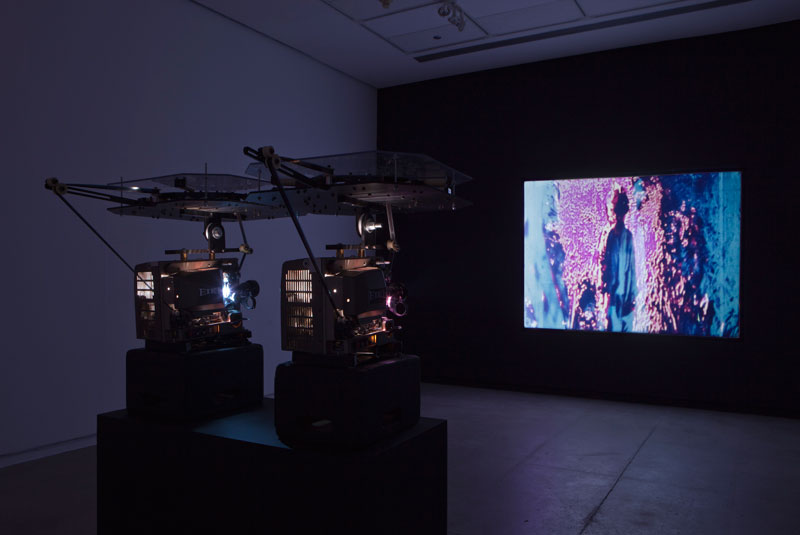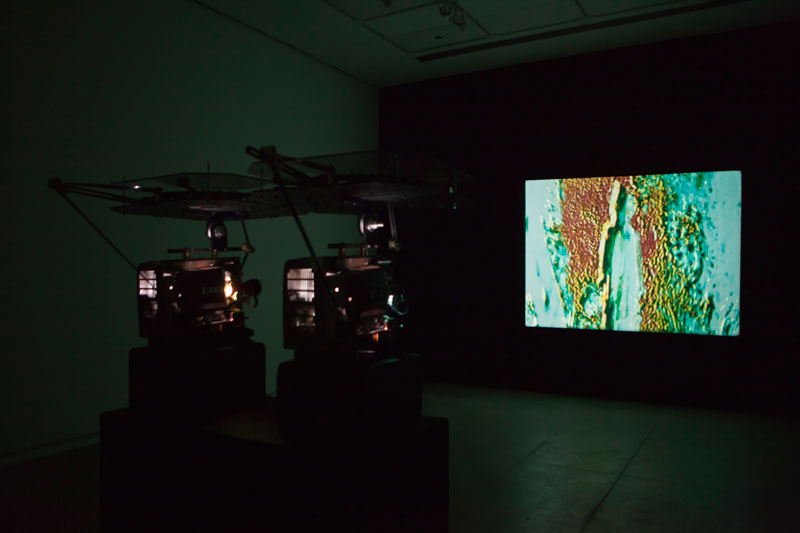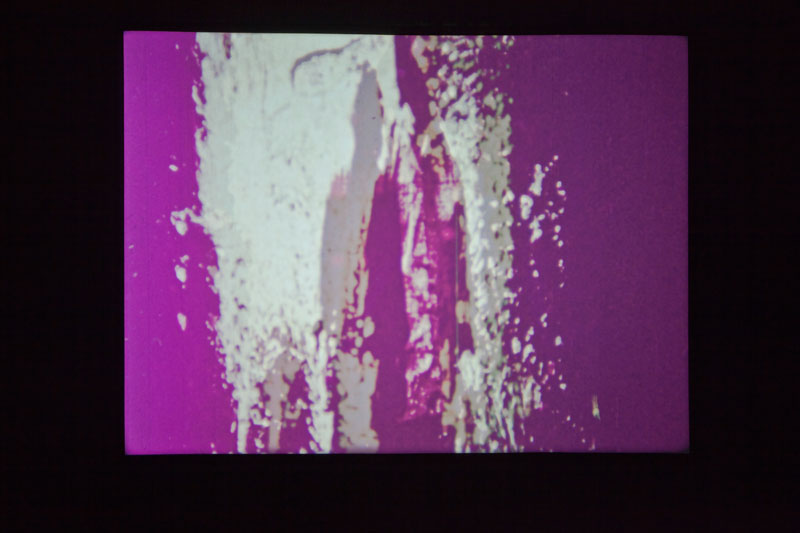 Cindy
Mochizuki's YOKAI
& OTHER SPIRITS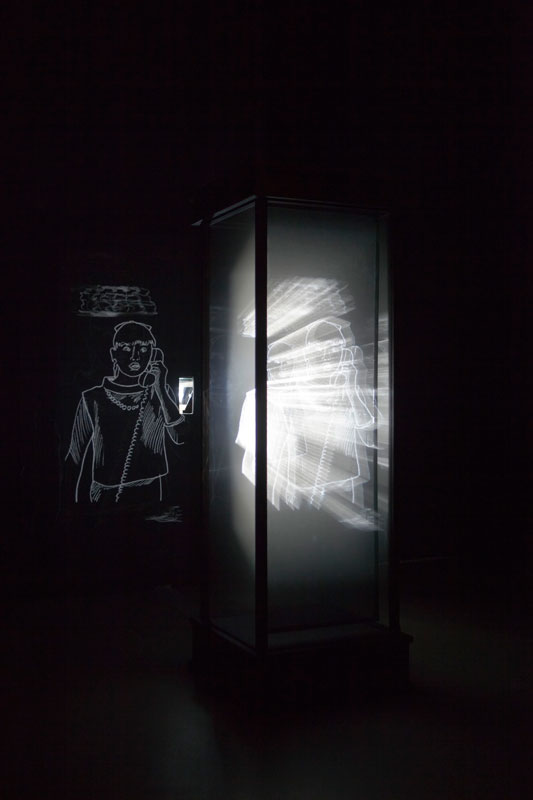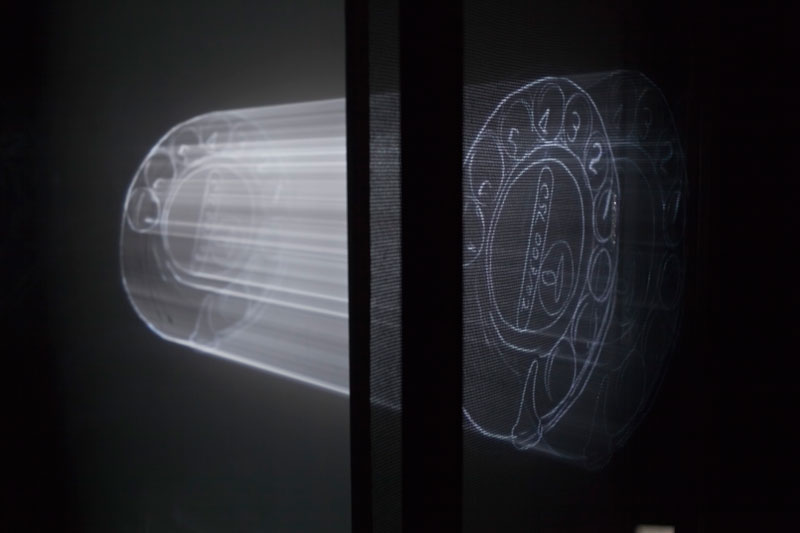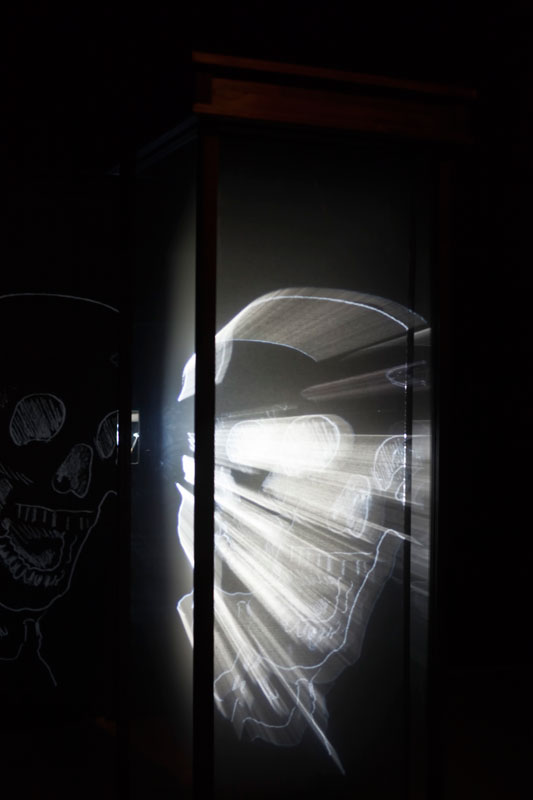 soJin Chun's OFFICER TUBA MEETS THE HAPPY GHOST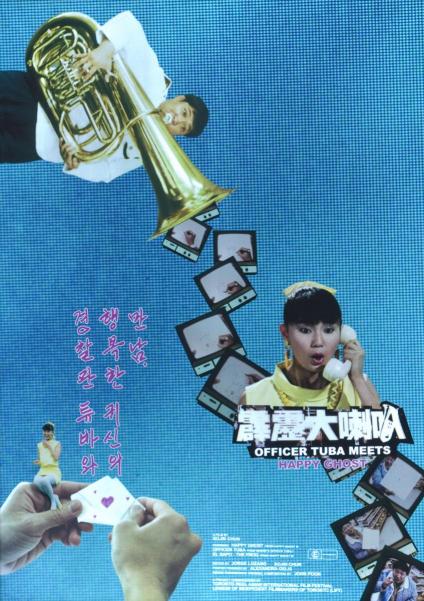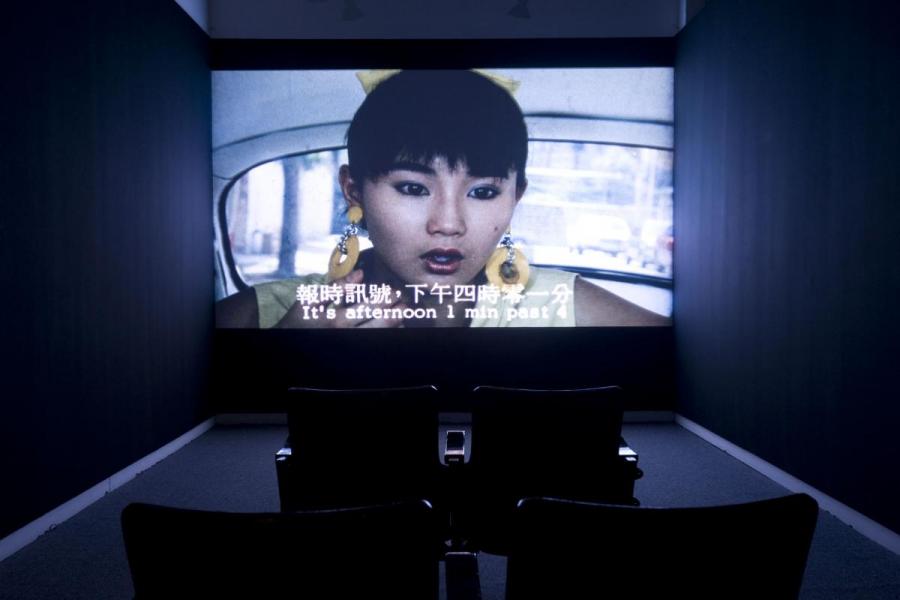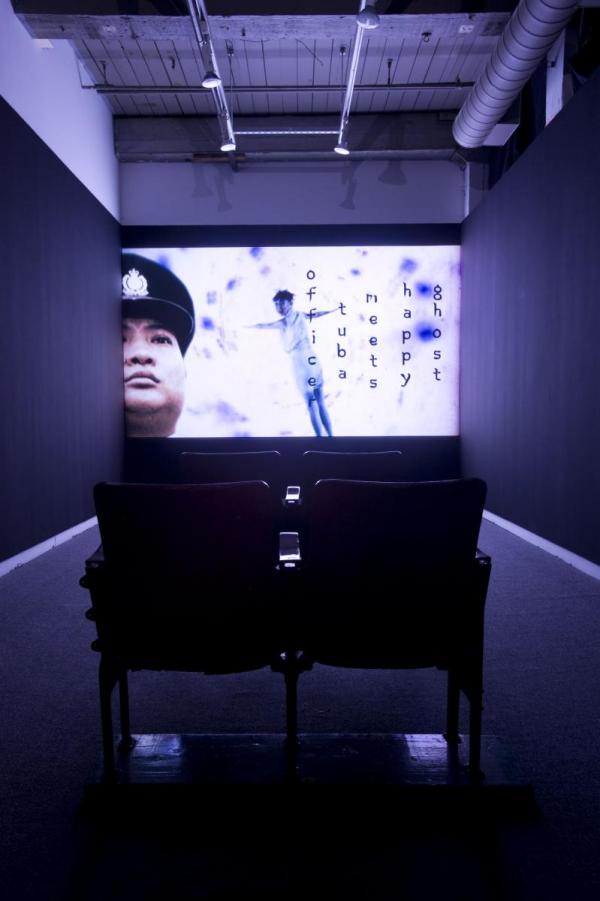 Louise Noguchi's SNAKE'S SHADOW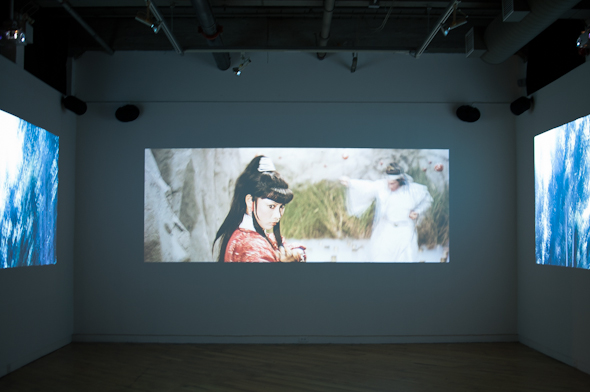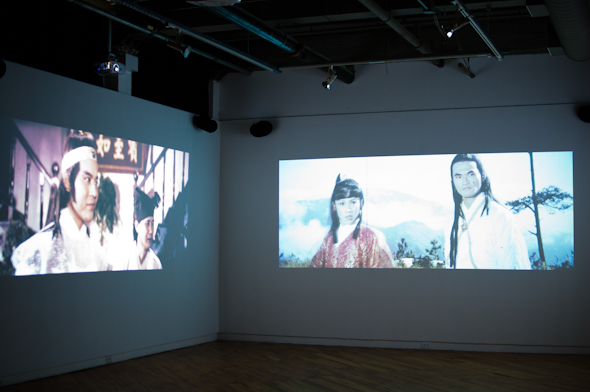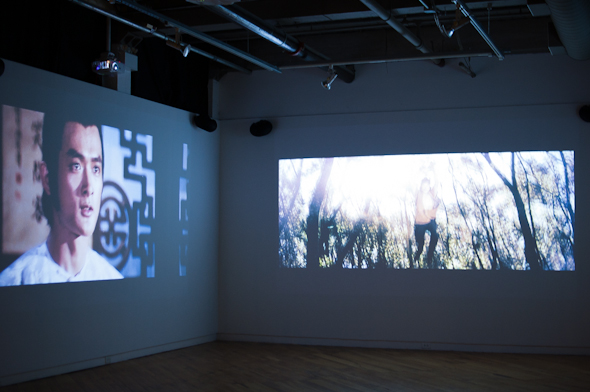 Wednesday 9 November 2011 –
Non-members: Free
Members: Free
Location:
Blackwood Gallery and A Space Gallery
See above for full details
Mississauga and Toronto Canada