Anton Vidokle's New York Conversations – NRATI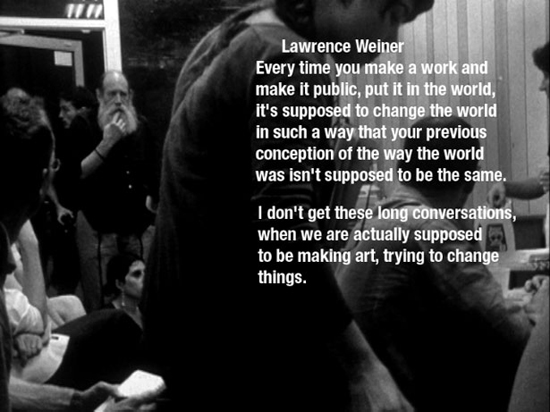 September's No Reading After the Internet salon series features a special presentation of Anton Vidokle's film New York Conversations (2010, 64 minutes, 16mm-to-video)
Facilitated by Melanie O'Brian and cheyanne turions
Following the screening, the audience is invited to stay and discuss
topics raised in the film over drinks at the Camera Bar. This conversation will
be facilitated by Melanie O'Brian, Curator & Head of Programs at the Power
Plant.
New York Conversations is a text film. Shot in a Chinatown storefront
converted for this occasion into an improvised kitchen/restaurant, the film
documents three days of public conversations between artists, critics, curators
and a free floating public. The talks, lunches and dinners were organized by
Rirkrit Tiravanija, Nico Dockx and Anton Vidokle in response to an invitation
by Brussels-based art journal A Prior to be the subject of their new issue. Instead of
commissioning essays or producing artwork to be printed in the journal, the
artists decided to rethink the structure by which an art publication is
produced and to attempt to do this discursively in a public setting.
The film is a subjective record of these conversations, which explored
various topics ranging from questions concerning precarious and immaterial
labor in the field of art, possibilities for non-alienated life and working
conditions, the feasibility of artistic freedom, and possible means of
reclaiming dignity in the work of art criticism, to more immediate questions
concerning whether what was actually taking place throughout the course of the event
was in fact an artwork. In the tradition of underground cinema, essay films and
experimental language-based films from the conceptual era, New York
Conversations insists
upon a certain degree of participation from the audience—by way of critical
reading—over passive spectatorship.
Anton Vidokle
is currently based in New York and Berlin. His work has been exhibited in shows
such as the Venice Biennale, Lyon Biennial, Dakar Biennale, Lodz Biennale, and
at Tate Modern, London. As founder of e-flux, he has produced projects such as Next
Documenta Should Be Curated By An Artist, Do it, Utopia Station poster project, and organized An Image Bank for
Everyday Revolutionary Life,
Martha Rosler Library
and e-flux video rental (with Julieta Aranda). Vidokle initiated research into
education as site for artistic practice as co-curator for Manifesta 6, which
was canceled. In response to the cancellation, Vidokle and others set up an
independent project in Berlin called Unitednationsplaza—a twelve-month "exhibition-as-school"
involving more than a hundred artists, writers, philosophers and diverse
audiences.
Melanie O'Brian
is currently the Curator & Head of Programs at Toronto's Power Plant
Contemporary Art Gallery. From 2004-2010 she was the Director and Curator at Artspeak,
an artist-run centre in Vancouver. She has also previously worked for the
Vancouver Art Gallery as Assistant Curator and has taught at Emily Carr
University. O'Brian received her MA in Art History at the University of
Chicago, and her BA in Art History from Portland Oregon's Reed College.
Wednesday 28 September 2011 –
Non-members: By Donation
Members: By Donation
Location:
The Camera Bar
1028 Queen Street West
Toronto ON Canada