LIFT's Cinema and Disjunction in Vancouver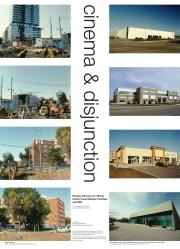 This Vancouver premiere screening of Adrian Blackwell's Night Equals Day and Daniel Young and Christian Giroux's Every Building, Or Site, That a Building Permit Has Been Issued for a New Building in Toronto in 2006 bring two recent structural approaches to urban development in Toronto to the West. These two new silent 35mm architectural films form the initial parts of LIFT's Cinema and Disjunction commissioning and production support project for critical architectural film works. Drawing inspiration from art historical precedents and contemporary critiques of the urban form, the initial projects presented under this framework defamiliarize and interrupt Toronto's visual narratives with new questions and alternative possibilities. To express our intent in Bernard Tschumi's terms, these films "reinscribe the movement of bodies in space, together with the actions and events that take place within the social and political realm of architecture."
Blackwell's Night Equals Day employs complex camera control to record a day at a single point of Regent Park's (Canada's oldest public housing development and now the site of significant condominium development) Sackville and Oak streets intersection, compressing a twelve-hour equinox day to thirty minutes of film time, one frame per second, and one three-hundred-and-sixty degree camera rotation per hour.In Young and Giroux's Every Building, one experiences a comparatively accelerated city represented by one hundred and thirty odd buildings or building sites captured in short static shots. These highly aestheticized images, shot all over Toronto's boundaries, develop a time-based response to photo-conceptualism's language of architectural photography, reframing Ruscha within contemporary practice. – Ben Donoghue, LIFT Executive Director
An essay and poster for this exhibition is available for download as a pdf below.
Co-presented by The Pacific Cinematheque, Presentation House Gallery,
VIVO Media Arts Centre, Cineworks Independent Filmmakers Society and Emily Carr University.
February 9, 2009

Presented by DIM at Pacific Cinémathèque
7:30pm
$9.50/ $8.00 students + $3.00 membership fee
dimcinema.ca + cinematheque.bc.ca
Curated by Ben Donoghue. Filmmakers in person. Panel discussion to follow screening.
Night Equals Day
Canada | 2008 | Director: Adrian Blackwell | 35mm silent | 30mins
Every Building, Or Site, That a Building Permit Has Been Issued for a
New Building in Toronto in 2006

Canada | 2008 | Director: Daniel Young, Christian Giroux | 35mm silent | 13mins
DIM is a monthly evening of contemporary short form moving
images and cinematic collaborations. DIM is focused on expanding the
visibility of Canadian and international experimental artists and their
practices in the cinema; and illuminating underground moving image
culture in Vancouver. Programmed by Amy Lynn Kazymerchyk.
February 11, 2009
Emily Carr University
7:00pm | Free | ecuad.ca
Film does not equal Sculpture: Two Toronto sculpture practices experiment with film.
Young, Giroux, and Blackwell will briefly introduce excerpts of their recent film projects, followed by two short talks investigating the relationship between these moving images and their ongoing investigations of physical space.
February 24, 2009
Cineworks
6:00pm | Free | cineworks.ca
Thought on Film: The Condition of Post-modernity
An excerpt from David Harvey's The Condition of Post-modernity will be presented for group reading and discussion. Harvey's answer to Fred Jameson's Cultural Logic of Late Capitalism, and Jean-Francois Lyotard's The Postmodern Condition is a significant influence on Young, Giroux and Blackwell's work because of Harvey's rigorous basis of his analysis of cultural and social change in the economic and his special emphasis on social geography and the production of space.
Non-members: Various
Members: Various
Location:
Various Locations

Vancouver BC Canada