LIFT co-presents "Journey to Belong" at Mayworks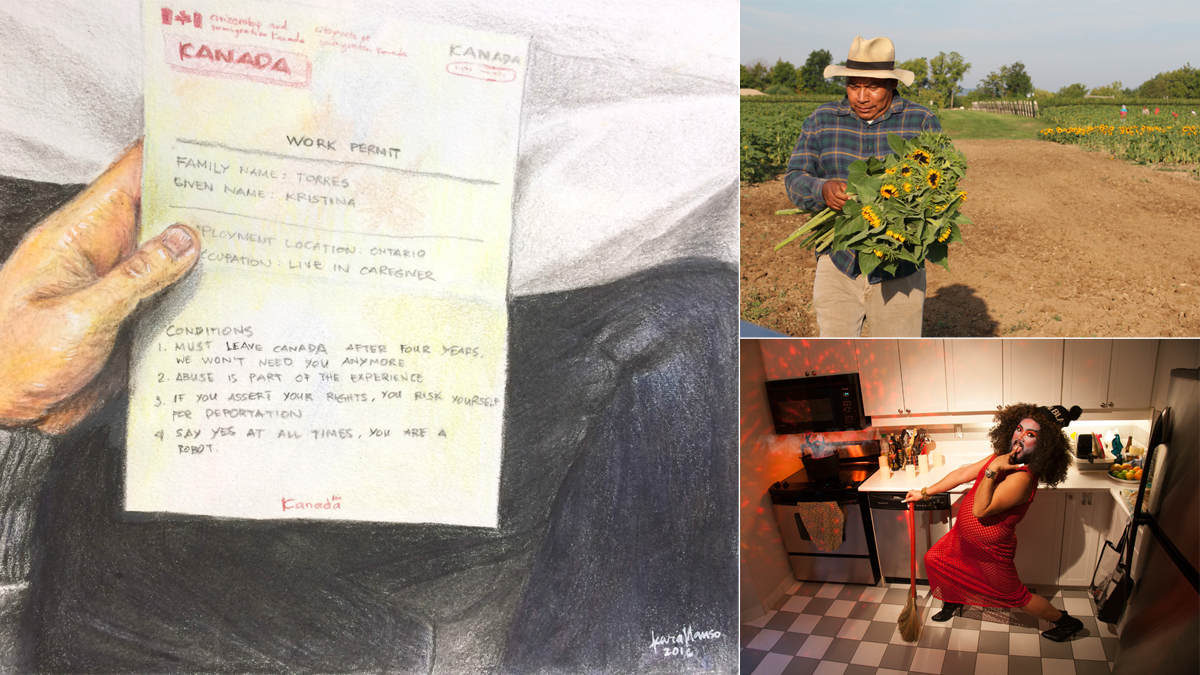 LIFT co-presents Journey to Belong
at the 2017 Mayworks Festival of Working People and the Arts
LIFT co-presents Journey to Belong
at the 2017 Mayworks Festival of Working People and the Arts
Co-presented with Shameless Magazine, Inside Out: Toronto LGBT Film Festival, Workers' Action Centre, Alliance Française de Toronto, Caregivers' Action Centre, Liaison of Independent Filmmakers of Toronto, Migrant Workers Alliance for Change

Co-sponsored by CUPE Ontario

Journey to Belong features the drag performance Sarap, the short film The Sunflower Man, and the visual exhibit My Journey on the "Pathway". These bold and beautiful works are brought together for their common thread of migrant activism, their shared investigation of the power of art to empower, express, and create change, and their connection to our deep desire to belong.

Sarap by Patrick Salvani, aka Ms. Nookie Galore, is a Filipinx Horror Drag Cooking Show that re-imagines the origin story of the Manananggal, a mythical creature from Filipino folklores. Dark and twisted, the performance explores the complexities of being "Proudly Filipino" that are informed by family, history, migration and labour. Have you ever tasted Filipino Sausages? As Filipinos in Canada it can feel like Food is our only way back home. For those people that don't have that… um… acquired taste, they'll never understand that with just one bite of the right dish, you can taste the stories from back home – each ingredient and way of cooking providing its own lesson. These stories tell of our homeland, our bodies, our longing and … our Monsters. Boo. Get ready to swallow!

The Sunflower Man by Monica Gutierrez captures the eponymous dance by Heryka Miranda, a dance artist and scholar-activist, and Juan Luis Mendoza de la Cruz, an emerging dancer and migrant farm worker from Mexico. The dance is inspired by Heryka's experience befriending Luis. Together they explored the lifecycle of the sunflowers at a sunflower farm where Luis works in the Niagara region. Through the method of land dancing and creative expression, Luis found comfort and relief from feelings of isolation and homesickness, often experienced by migrant farmworkers due to the precarity of their employment. A sunflower that has stood strong with the strength of her ancestors is slowly fading in the fields. A woman senses its desire to connect to the man that comes from a foreign land to take care of her.

My Journey on the "Pathway" by Kara Manso, aka Kristina Torres, is a visual exhibit of drawings and performance props inspired by the artist's work in migrant activism and her struggles as a caregiver in the so-called "Pathway to Permanent Residency". The artist refers to this program designed by the Canadian government for live-in caregivers as the "pathway to exploitation". The robot head masks used during the 2016 World Day for Decent Work demonstration point to the reality of migrant caregivers at work who are treated like robots without feelings or dignity. In showing her personal experiences and vulnerability through her art, the artist hopes the works will empower people and give voice to the voiceless.

Following the presentations is a panel discussion facilitated by Monica Gutierrez and featuring Patrick Salvani, Heryka Miranda, Juan Luis Mendoza de la Cruz, and Kara Manso.
Sunday 30 April 2017 14:00  
Non-members: Free
Members: Free
Location:
Alliance Française de Toronto 
24 Spadina Road 
Toronto ON Canada