LIFT co-presents "Hogtown Homos" at Inside Out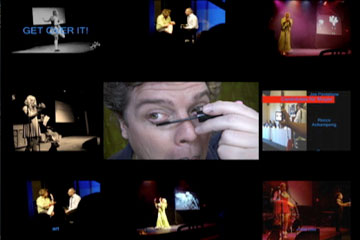 The Liaison
of Independent Filmmakers of Toronto (LIFT),
along with
Xtra! and Community Arts Ontario
The Liaison
of Independent Filmmakers of Toronto (LIFT),
along with
Xtra! and Community Arts Ontario
and the
2011 Inside Out Toronto LGBT Film and Video Festival co-presents
Inside Outs
annual sold-out celebration of our local film and video stars features an
eclectic, entertaining mix of emerging and established talent that exemplifies
why Toronto the Good remains great when it comes to queer art.
A Dragged
Out Affair
A Romeo and
Juliet-inspired fantasy set among the world of Toronto drag queens relays the
forbidden love story of classy seductress Heaven Lee Hytes and her paramour,
Donnarama, a queen who works in the competing dive bar across the street.
Dance to
Miss Chief
Move over
J.Lo and Cher! Miss Chief Eagle Testickle has a sexy new video of her club
track, Dance to Miss Chief a playful critique of Germany's fascination with
North American "Indians" that is guaranteed to make you want to get
up and shake your booty!
At Last
Sit back
for this love story about a lady and her mysterious box.
Making
Ladies
Enjoy this
fun and insightful profile of artist Allyson Mitchell, who melds feminism and
pop culture in an effort to play with contemporary ideas about sexuality,
autobiography and the body.
Seeking Single White Male
Become
absorbed in this study of a brown body in (queer) white spaces.
The House
After a
breakup, a woman begins a relationship with a woman who used to live in her
house – but can anyone really escape a past relationship?
Frozen
Roads
Balthazar
has been friends with siblings Christian and Lyla since childhood. As the trio
struggle with coming-of-age in a rural Canadian town, they must confront
escalating desires that threaten to destroy their delicate bonds.
Swim
Haunted by
the death of a childhood friend, the filmmaker reflects on his role in the
incident.
The Ballad
of Roy and Silo
Two gay
penguins receive an all-expenses paid, same-sex wedding in Toronto. There's a
catch, however – the couple must serve as spokesmodels for a new series of gay
literary classics. Even penguin love has a price tag.
Left
In 2010,
performance artist and bon vivant Keith Cole received 801 votes in the Toronto
mayoral election. Left serves as a remnant of his successful campaign.
Abstract
Random "Cowboy" feat. Ill Nana
Featuring
Ill Nana DiverseCity Dance Company, Cowboy bends gender, questions authority
and challenges the norm.
52
Levy's 52
probes one man's greatest fear: getting old.
Non-members: $13
Members: $11 (Inside Out Members only)
Location:
TIFF Bell Lightbox Cinema 1
350 King Street West
Toronto ON Canada