LIFT co-presents "DIS/Able: Dismantling Ableist Filmmaking…a DIY Extravaganza!" at CFMDC's "The Breadth of" Symposium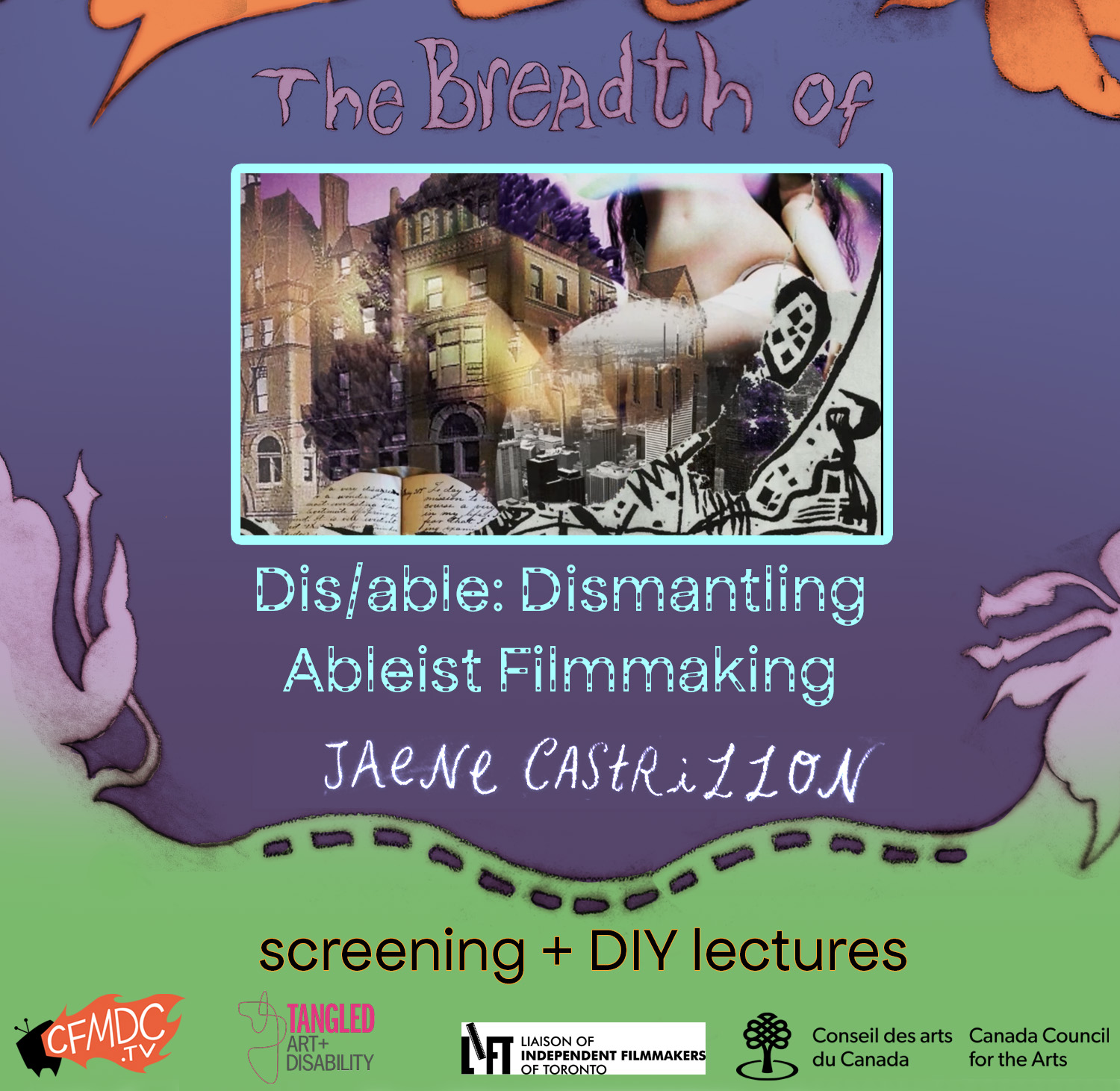 The Liaison of Independent Filmmakers of Toronto (LIFT)
is pleased to co-present
"DIS/Able: Dismantling Ableist Filmmaking…a DIY Extravaganza!"
as part of CFMDC's "The Breadth of" symposium
This program, curated by Jaene Castrillon, includes a screening and 3 DIY lectures over the month of April on cfmdc.tv.⁠ This screening and DIY lectures showcase how "dis"abled filmmakers subvert the filmmaking process to be more inclusive of their accessibility needs.⁠
"Taking the idea of 'DIS/able' – Dismantling ableism within mainstream filmmaking. DIS/Able will be showcasing how "dis"abled filmmakers subvert the film-making process to be more inclusive of their accessibility needs. Filmmaking as a whole should be more accessible to people like us but somehow it continues to not be. Acknowledging that film-making is expensive, hard, takes a lot of energy, gruelling even on able bodied people. Furthermore it's history is steeped in colonization, patriarchal relations and white supremacy. DIS/able looks to remedy this by telling a completely different narrative on film-making. I feel like film-making as a form is actually very inclusive, more about community and advocacy. I think it says a lot that there is a lack of disability representation out there despite how accessible technology has become. The goal of this panel is to show how accessible film-making IS, and help re-imagine a future where we are at the table leading and guiding a more equitable, inclusive and decolonized way of making films. I was hoping by curating a panel of genius DIY filmmakers and deconstructing their process that it would help inspire more undiscovered filmmakers to the table and inspire mentorship programs to target underserved populations."
—Jaene F. Castrillon, Curator
Full Program: https://www.cfmdc.tv/works/dis-able
Event 2021 Dates:
Screening: Saturday April 3, 6pm EDT
DIY Lecture with Sharrae Lyon: Friday April 9, 8pm EDT
RESCHEDULED: DIY Lecture with jes sache: Friday July, 3:30pm EDT
DIY Lecture with Thirza Cuthand: Friday April 23, 6pm EDT
"THE BREADTH OF"
March 27 to April 30, 2021
Free Public Symposium on https://www.cfmdc.tv
10 programs, 25 events, featuring 10 curators and 90+ artists!
"The Breadth of" is a free, public symposium that investigates and responds to the living archive of the Canadian Filmmakers Distribution Centre (CFMDC).
Full Program online at https://www.cfmdc.tv/programs/the-breadth-of
Saturday 3 April 2021 – Friday 23 April 2021