LIFT announces "Transformations: A Cross Generational Commissioning Project" – In-person Screening and VOD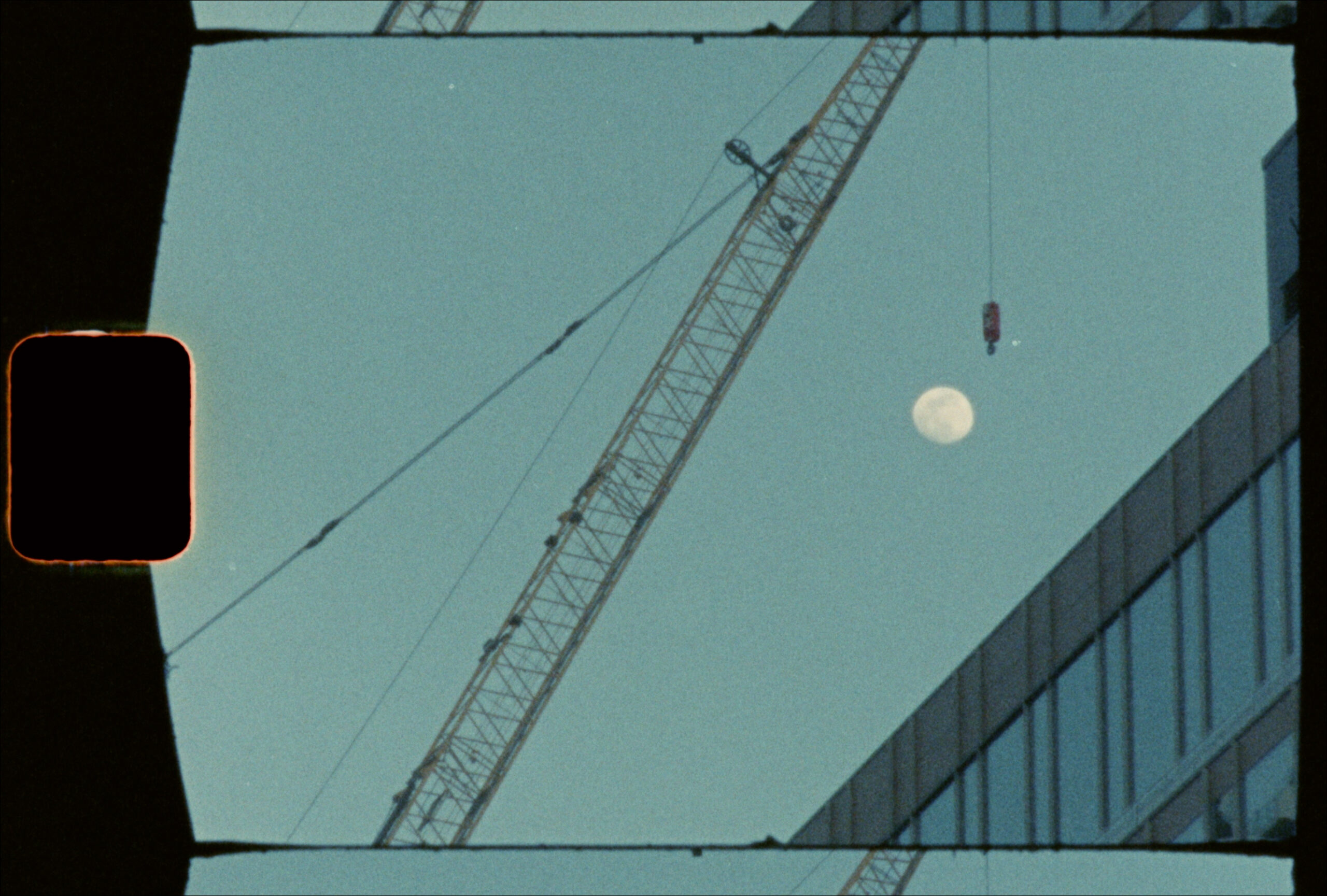 Image Credit: Luísa Cruz and Jorge Manzano, CIRCADIAN VERSES (2023)
.
Transformations: A Cross Generational Commissioning Project
In-person Screening and VOD

September 1, 2023—In 2021 the Liaison of Independent Filmmakers of Toronto's (LIFT) celebrated its 40th anniversary as an artist-run organization. Toronto has changed wildly over the past four decades and the desire to explore this ever shifting urban landscape led to the creation of "Transformations: A Cross Generational Commissioning Project."
Each pair was tasked with considering an open ended question: What defines a city in flux? These commissioned films are explorations of collective experience, and cultural memory; placemaking; intersectional storytelling; intergenerational exchange; and imagined or unexpected communities.
The program includes:
"Circadian Verses" Directed by Luísa Cruz and Jorge Manzano
"What We Carry" Directed Dev Ramsawakh  and Helen Lee
"meditations on a process" Directed by Kourtney Jackson and Edie Steiner
"Some Observations on Human Behaviour" Directed by Kelly O'Brien
"I Said Goodbye to Me" by Alice Charlie Liu
"Toronto, Old and New" Directed by Jean-Pierre (JP) Marchant and John Price
In-Person Screening:
Thursday, September 21, 2023
Innis Town Hall, 2 Sussex Avenue
7:00pm – 9:00pm
$10.00 Non-Members
FREE for LIFT members
Register here: https://lift.ca/workshop-registration/?event=1275&workshopcat=0
Running Time: 53 minutes

*** Cash tickets may be available at the door; space permitting.

Following the screening there will be a Q & A with attending filmmakers and a small reception.
The full film program will be available to watch on demand on VUCAVU.com from September 21 through to October 5, 2023.  No geo-blocking, available to stream worldwide!
English Program: https://vucavu.com/lift/transformations
French Program: https://vucavu.com/lift/transformations-1
This project was made possible by The Canada Council for the Arts and their Digital Now Grant.

Accessibility:
Closed Captioning will be provided for the following films: "Circadian Verses," "meditations on a process," "What We Carry," "Some Observations on Human Behaviour," and "I Said Goodbye to Me." "Toronto, New and Old" will be a live film performance.
If you use an assisted mobility devices and would like to request a space, please get in touch with Development Coordinator Cayley James at development@lift.ca as soon as possible.
Although the University of Toronto and Innis Town Hall does not have an active masking policy, LIFT strongly encourages those attending the screening to wear a mask.
Full Program Details

Circadian Verses
Luisa Cruz and Jorge Manzano
2023, 5 mins 28 seconds

Throughout the winter and spring of 2023, Jorge and Luísa shot countless rolls of Super 8, documenting their days as in Toronto. Every couple of weeks they would meet, talk, exchange rolls and watch their collected footage. This routine prompted conversations around their relationship to filmmaking, their generational gaps, histories of settling into the city, anecdotes from the past and thoughts about the future. Circadian Verses is an exercise of observing the city and allowing the city to observe them back.
Luisa Cruz is a Brazilian filmmaker and producer based in Toronto. She likes to think of her practice as a process, often wondering about the act of image making in itself, both personally and collectively. Themes of longing and belonging are intertwined in her personal practice. As a producer, she has worked on experimental narratives, music videos and commercials. Luísa has a BFA in Film Production from York University. http://luisacruz.ca
Jorge Manzano was born in Santiago de Chile in 1968 and immigrated with his family to Canada following the military coup of 1973. In 1994, Jorge formed Nepantla Films. Nepantla is a Nahuatl word that describes the reality of living between various worlds and identities. His award winning films include "City of Dreams" and "Johnny Greyeyes" screened at the Sundance Film Festival and his screenplay, "The Strike," was a quarter finalist for the Academy Nicholl Fellowships in Screenwriting, shortlisted for the Sundance Film Festival screenwriting lab, the Tribecca Institutes All Access Program, and won the TIFF-CBC Diverse Screenwriters Grant.

What We Carry
Dev Ramsawakh and Helen Lee
2023, 6 mins 36 seconds

"What We Carry" follows a storyteller who wanders through time, joining forces with other shape-shifting savants to build a radical new future.
Dev Ramsawakh is an award-winning disabled, transmasculine and diasporic Indo-Caribbean storyteller and educator whose work focuses on community, arts and decolonization. They often refer to themselves as a "living archive." Dev's short films have been screened at film festivals and their writing has been in the likes of VICE, The Toronto Star, Chatelaine, CBC and Xtra. Dev produces Radio LUMI for Luminato Festival Toronto and has worked as a consultant for various institutions. Dev's practice has been supported by the Ontario Arts Council, LIFT, Tangled Art+Disability, and SKETCH Working Arts. They also facilitate workshops independently and with CRIP Collective around disability justice, media, storytelling, and more.You can learn more about their work at https://www.indivisiblewriting.com
Helen Lee is a Seoul-born, Toronto-based filmmaker whose works explore intersectionalities of place, identity and sexuality. She works in fiction and essay films, featuring diasporic gendered subjects from feminist and transnational perspectives. Upcoming films include "Paris to Pyongyang" and "A Little Tenderness" (working title), a coming-of-age drama set on the day of the Sewol Ferry disaster.
meditations on a process
Kourtney Jackson and Edie Steiner
2023, 12 mins 28 seconds
An experimental documentary exploring the filmmakers' mutual interests in spirituality, imprints of childhood, and ecologies of presence in personal filmmaking practices, bookended by poetry that situates their musings in a rapidly changing Toronto.

Kourtney Jackson is a Toronto-based writer and filmmaker interested in hybridized, experimental forms of storytelling that exist within and transcend the physical body. Centered in the socio-cultural collisions of subjectivity, surveillance, and societal prescriptions of identity, her films "1 versus 1" (2018) and "Wash Day" (2020) have screened locally and internationally at festivals including TIFF Next Wave, BlackStar Film Festival, Sundance Film Festival (Ignite x Adobe), Breakthroughs Film Festival, and Columbus Black International Film Festival. Through film and other lens-based media, Kourtney continues to explore narratives that exist within the demarcations of mind, body, and spirit. https://kourtneyjackson.net
Edie Steiner is an independent artist whose work is exhibited in international arts venues and published in cultural texts. Her projects cross genres and her films have been broadcast on Canadian public television and won international awards. Her early documentary photographs are in the National Gallery of Canada's permanent collection. She was a member of the 1980s experimental film collective, The Funnel, and later served on the LIFT Board. She holds a PhD in environmental studies and has taught arts-based practices in Canadian and international educational institutions and projects. Recent work includes a feature documentary, Borderland Memories (2020), funded by the Canada Council for the Arts, and an experimental poetry film temporal assemblages (2022). She is currently working on a series of new poetry films. https://ediesteiner.com
Some Observations on Human Behaviour
Kelly O'Brien
2023, 12 mins 12 secs
In reflecting on the perception of transformation when raising a child with disabilities, filmmaker Kelly O'Brien considers the limits of empathy, the imperative to love what exceeds our understanding, and how surprise offers us the opportunity to tell new stories.

Kelly O'Brien is a mother and independent filmmaker living in Toronto. Her short diary films have screened internationally and online for NY Times Op-Docs. Her live documentary performance/family slideshow, "Postings From Home," based on a decade's worth of Facebook posts, has been featured at documentary festivals throughout Canada, including the Hot Docs Canadian International Documentary Festival in 2018. She's currently adapting it into a feature film. She received an MFA in film production at York University and is now, very slowly, pursuing a PhD in Environmental Studies at York University.
I Said Goodbye to Me
Alice Charlie Liu
2023, 3 mins

An experimental documentary following the life of 18 year old teenager Ellie Tripp as they graduate from the all girls school they've attended for the last 11 years into the World.

Alice Charlie Liu is a photographer and director based between Toronto and NYC. She is an alum of TIFF Next Wave and Telluride Film Festival's Student Symposium and a 2019 Tribeca Film Institute Film Fellow. Her film "Fictions" (2021) is currently on the festival circuit and won the National Film Board of Canada Award for Best Canadian Film at Toronto Reel Asian Film Festival and has received the support of the Canada Council for the Arts. https://www.alicecharlieliu.com
Toronto, Old and New
Jean-Pierre (JP) Marchant and John Price
2023, 17 mins 43 seconds
Allegedly "bursting at the seams" for over a century now, Toronto is cacophonous,  cosmopolitan, and often confusing. A landscape shaped by generations of dreams and desires, the metropolis bears the overlapping imprints of capitalism, colonialism, conflict, community and celebration. Juxtaposing found footage, paper ephemera, and newly shot 16mm material, "Toronto, Old and New" explores the relationship between past and present in Canada's largest city.

Jean-Pierre (JP) Marchant is a filmmaker and graduate of the York MFA program in Film and Media Studies. He is currently the Director of Operations for Cinemobilia, a mobile media digitisation lab at York. He is also a freelance video editor and colourist and teaches film classes at universities and other institutions. His shorts have screened and won awards in several festivals and art galleries including Photophobia, Trinity Square Video, the Festival of (In)Appropriation, the Calgary International Film Festival, WNDX, Antimatter [Media Art], and many more. https://www.jpmarchant.com

John Price is an independent filmmaker, photographer, diarist, and educator born in Fleming, New Jersey in 1967. He has lived in Canada since 1969. Price's work features extensive experimentation with a wide range of motion picture film emulsions and camera formats. Primarily interested in humanist documentary films with a social conscience, his personal work is a celluloid diary of everyday life. He has produced 50+ films since 1986, which have been exhibited at numerous festivals, museums, and galleries internationally, including New York Film Festival, Berkeley Museum of Art and Pacific Film Archive, Museum of Modern Art Buenos Aires, International Film Festival Rotterdam and Berlinale. https://filmdiary.org
Thursday 21 September 2023, 19:00 to 21:00
Non-members: $10.00
Members: Free
Location:
Innis Town Hall
2 Sussex Ave
Toronto On Canada