LIFT announces the 2022 BAICC Resident – Laura Moreno Bueno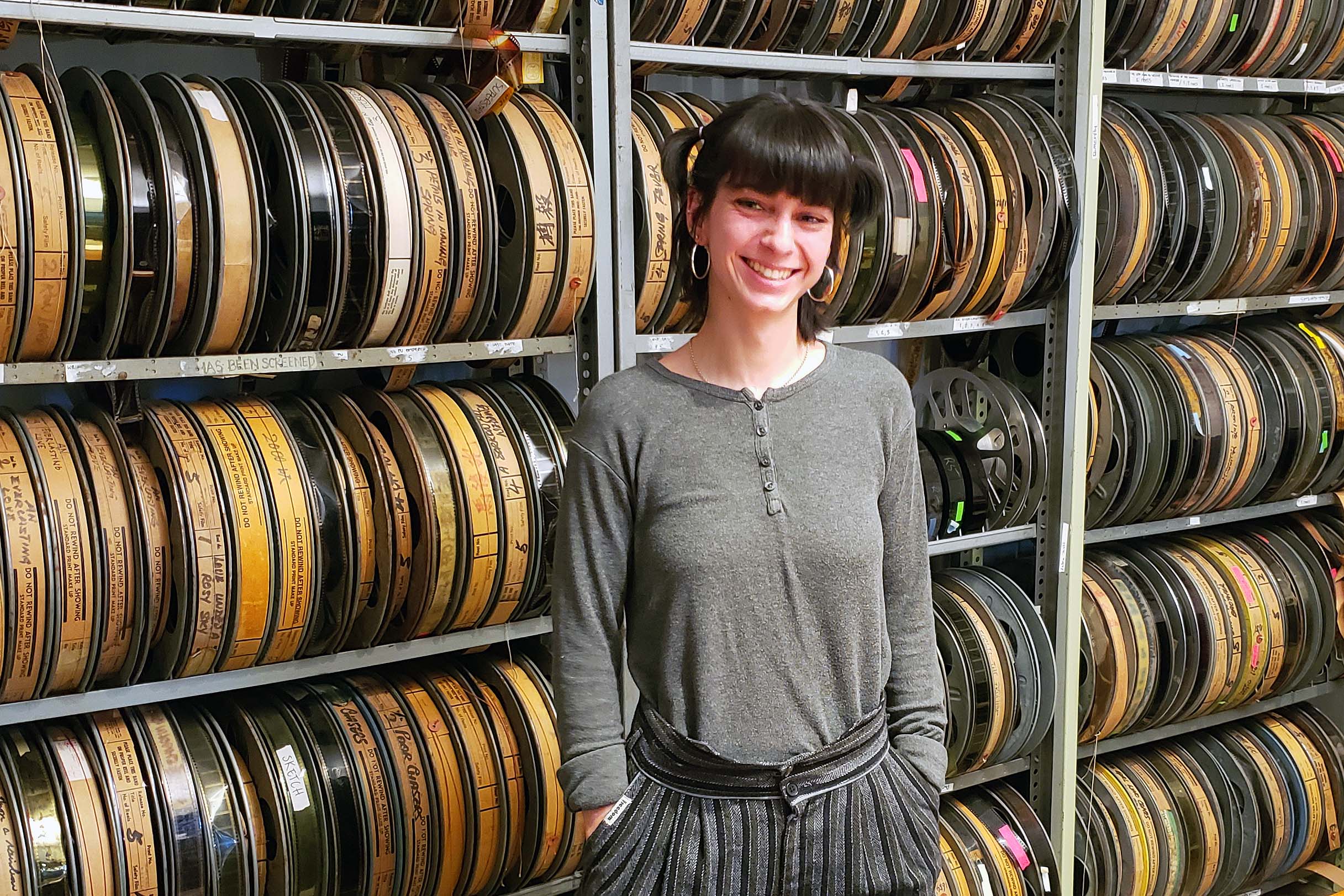 LIFT ANNOUNCES 2022 BAICC RESIDENT
LAURA MORENO BUENO
Toronto, February 16, 2022—The Liaison of Independent Filmmakers of Toronto (LIFT) is pleased to welcome Spanish filmmaker Laura Moreno Bueno as the current resident in the fifth edition of the BAICC Residencias Artísticas Internacionales de Creacion Cinematográfica, a collaboration between the (S8) Mostra Internacional de Cinema Periférico, Acción Cultural Española (AC/E) and LIFT. The residency supports the making of a new analogue film-based work by creators born or living in Spain. The work made in the residency will premiere at the next iteration of the S8 Film Festival, held from May 27 to June 5, 2022 in A Coruña, Spain.
Arriving last week, Moreno Bueno will be in Toronto until March 14, 2022 to work on her project Sound of Images. The piece consists of developing a 16mm film performance that uses photosensitive microphones to create a soundtrack out of the play of colour and shadow that falls upon the screen, generating a synesthetic experience. Her project explores the transfiguration of the colours of the city into sounds, by discovering what Toronto sounds like using the eyes instead of the ears.
Moreno Bueno's residency corresponds with LIFT's re-opening to its members and communities this winter after the latest lockdown. LIFT continues to follow social distancing, masking and advanced cleaning protocols to help keep our community safe in these uncertain times. Full details available on our website.
Laura Moreno Bueno (1995, Spain) creates films and audiovisual video installation. She researches the transformation of audio-visual codes from digital and analog media. Her work has explored the limits of landscape, the relationship between the body and the camera and the body as a form of creation/communication. In 2021, she began the Sound of Images at the Hangar-Casa Velázquez residency, where she fabricated photosensitive microphones that convert light into sound. https://lauramorenobueno.com
Laura Moreno Bueno's residency is made possible in part through support from (S8) Mostra de Cinema Periférico and the Acción Cultural Española (AC/E).


(S8) Mostra de Cinema Periférico is a unique event held in A Coruña, Spain focused on avant-garde cinema and small gauge film formats, where filmmakers, journalists, film professionals, students and a passionate audience from all over the world meet around leading figures of cinema and contemporary filmmakers. https://s8cinema.com/en/
Acción Cultural Española (AC/E) is a state agency for the promotion of culture. It fosters the Spanish creative and cultural sectors through a broad program of activities, fostering the internationalisation of creative professionals, with initiatives such as artist residencies. Projects supported by AC/E underline the diverse Spanish contribution to the global culture, as well as recent contributions of Spanish talent in the main creative fields. https://www.accioncultural.es/en
The Liaison of Independent Filmmakers of Toronto (LIFT) is Canada's foremost artist-run production and education organization dedicated to celebrating excellence in the moving image. LIFT exists to provide support and encouragement for independent filmmakers and artists through affordable access to production, post-production and exhibition equipment; professional and creative development; workshops and courses; commissioning and exhibitions; artist-residencies; and a variety of other services. LIFT is supported by its membership, Canada Council for the Arts, Ontario Arts Council, Ontario Trillium Foundation, Ontario Arts Foundation, the Government of Ontario and the Toronto Arts Council. https://lift.ca
-30-
For additional information please see https://lift.ca or e-mail LIFT Executive Director Chris Kennedy at director@lift.on.ca
Monday 7 February 2022 – Monday 14 March 2022