Cinema and Disjunction at Cinematheque Ontario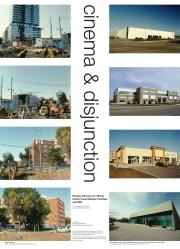 The Liaison of Independent Filmmakers of Toronto (LIFT) is pleased to present Adrian Blackwell's "Night Equals Day" and Daniel Young and Christian Giroux's "Every Building, Or Site, That a Building Permit Has Been Issued for a New Building in Toronto in 2006." These two new 35mm architectural films form the initial parts of LIFT's "Cinema and Disjunction" commissioning and production support project for critical architectural film works. Drawing inspiration from art historical precedents and contemporary critiques of the urban form, the initial projects presented under this framework defamiliarize and interrupt our city's visual narratives with new questions and alternative possibilities. To express our intent in Bernard Tschumi's terms, these films "reinscribe the movement of bodies in space, together with the actions and events that take place within the social and political realm(s) of architecture."
Blackwell's "Night Equals Day" employs complex camera control to record a day at a single point of Regent Park's Sackville and Oak streets intersection (now the site of significant condominium development), compressing a twelve-hour equinox day to thirty minutes of film time, one frame per second, and one three-hundred-and-sixty degree camera rotation per hour. In Young and Giroux's "Every Building," one has the impression of an accelerated Toronto represented by one hundred and thirty odd buildings or building sites captured in eight second shots. These highly aestheticized images, shot all over Toronto's boundaries, develop a time-based response to photo-conceptualism's language of architectural photography, reframing Ruscha within contemporary conceptualism.
The Cinema and Disjunction project has been generously supported by the Canada Council for the Arts and the National Film Board – Filmmaker Assistance Program
Adrian Blackwell is an artist and urbanist whose work focuses on spaces of uneven development in the postfordist city.
Daniel Young and Christian Giroux have been collaborating on sculpturally concerned projects since 2003. They are represented in Toronto by Diaz Contemporary.
<b>NIGHT EQUALS DAY</b>
Director: Adrian Blackwell
Year: 2008
Country: Canada
Runtime: 30 minutes
Format: 35mm silent
<b>EVERY BUILDING, OR SITE, THAT A BUILDING PERMIT HAS BEEN ISSUED FOR A NEW BUILDING IN TORONTO IN 2006</b>
Director: Daniel Young , Christian Giroux
Year: 2008
Country: Canada
Runtime: 21 minutes
Format: 35mm silent
Monday 27 October 2008 19:00  
Non-members: FREE
Members: FREE