Amanda Strong – 2009 – LIFT/ImagineNATIVE Mentorship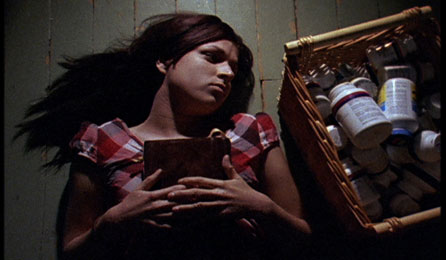 Artist: Amanda Strong (Toronto)- 2009, Canada, 7 min, Digital Beta
Artist: Amanda Strong (Toronto)- 2009, Canada, 7 min, Digital Beta
imagineNATIVE and the Liaison of Independent Filmmakers of Toronto
are pleased to announce Amanda Strong as the recipient of this year's
imagineNATIVE/LIFT Mentorship. This mentorship was developed
with the vision of supporting an aspiring filmmaker to complete their
first project in 8 or 16mm film. The selected candidate is enrolled in
LIFT's series of filmmaking workshops, paired with an experienced
mentor, provided with 1200 feet of film from Kodak and an honorarium
from imagineNATIVE to facilitate the completion of a five minute short
work. The world premiere of the completed work is then presented as part
of the annual imagineNATIVE Film + Media Arts Festival held in downtown
Toronto.
In 2008 the mentorship recipient was Dora and Juno
Award nominee, and Gemini Award winner Jani Lauzon, who produced a
beautiful experimental piece entitled eu•tha•na•sia. In 2007, recipient Michelle Latimer produced a stunning short titled Tomorrow
that has gone on to numerous festivals after its premiere at
imagineNATIVE. Michelle shares that her experience helped to launch her
in the industry: "It gave me confidence to get out there and take charge
of my goals as a filmmaker and a creative person. My life hasn't been
the same since. I've been directing more, producing on a much larger
scale, and generally accepting that I have something to offer in this
industry."
imagineNATIVE and LIFT are excited to work with Amanda Strong whose video short Alice Eaton
screened at the 2008 imagineNATIVE festival. The Selection Committee
was excited by Amanda's proposed project and stated: "Amanda exhibits a
true passion for her craft, as well as ingenuity that will serve her
well in this field. We believe this mentorship will be an important
opportunity that will help launch her already promising career."
Amanda's finished work will be presented as part of the 10th Annual imagineNATIVE Film + Media Arts Festival (October 14th to18th, 2009).
Amanda Strong (Métis) has a diploma in applied photography and is
currently completing her BA in interpretive illustration at Sheridan
Institute. Her first short film, Alice Eaton, screened at imagineNATIVE
in 2008 and Honey for Sale was screened at imagineNATIVE in 2009, which
was created through the LIFT & imagineNATIVE Mentorship Program.
Thursday 1 January 2009 00:00  
Non-members: FREE
Members: FREE