Recipients of the LIFT 2023 Production and Post-Production Support Grant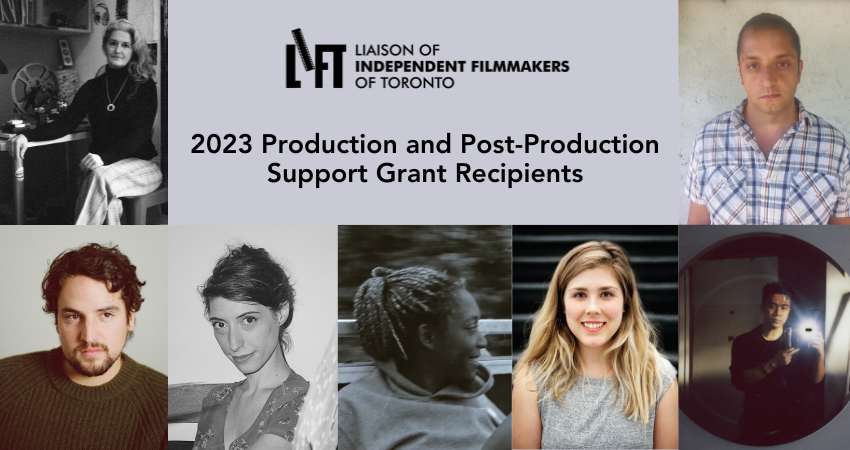 Top Row (L-R): Francisca Duran and Ant Horasanli
Bottom Row (L-R): Felipe López Gómez, Justine McCloskey, Sonya Mwambu, Tara Natalia and Roy Zheng
 
Monday, November 13, 2023
Recipients of the LIFT 2023 Production and Post-Production Support Grant
The Liaison of Independent Filmmakers of Toronto (LIFT) is excited to announce the recipients of the 2023 Production and Post-Production Support Grant. This program has been an essential opportunity for LIFT's members since its introduction in 2005. LIFT is an artist-run charitable organization dedicated to facilitating excellence in the moving image through media arts education and production resources.
Recipients of this year's grant include the following filmmakers and their projects:
Francisca Duran, director of "Radiata"
"Radiata" is a 15-minute, hand-processed, process-oriented experimental film anchored around an exploration of the radiata pine tree (pinus radiata).
Francisca Duran is a Chilean-Canadian experimental media artist who creates films, installations, and photo-based mixed-media work about history, memory, power and violence. Duran has exhibited internationally at film festivals and venues including Edinburgh International Film Festival, HotDocs, Arkipel, Anthology Film Archives, Los Angeles Film Forum, John Hansard Gallery, VideoPool and Centre[3]. Duran holds an M.F.A. from York University and a B.A.H. from Queen's University and continues to receive professional development through artist-run centres and mentorships with artists. https://www.franciduran.art
Ant Horasanli, director of "Hi-Jab"
A young Muslim girl struggles to find her identity and purpose upon arriving in Canada as a new immigrant.
BIPOC filmmaker Ant Horasanli has created a diverse body of work ranging from digital series to feature films. In 2014, Ant was nominated for an Ontario Premier's Award for 'Excellence in the Arts'. In 2017, he received a Canadian Screen Award© nomination for 'Best Original Digital Series', as well as five IAWTV Awards nominations for 'Petrol Season 1'. That same year he was invited to be a special guest speaker at the Bogotá Audio Visual Market (BAM) on 'Commercializing Web Series', hosted by the CMF. In 2018, he received another six international awards for both 'Petrol 2' and 'The Runner'. In 2019, Ant was a key participant in a think tank headed by the IPF, on policies about the state of digital media projects in Canada. In 2020, he was part of the Canadian Delegation of Producers invited to the Australian International Documentary Conference. In 2021, Ant Horasanli received a Canadian Screen Award© nomination for 'The Runner' in the category of 'Best Direction'. http://www.n5p.com
Felipe López Gómez, director of "Cuando el Sol Baja Cansado (When the Tired Sun Sets)"
After his mother's death, Efrain, a 60 year old man, visits his widowed father to arrange his living situation and move him out of his house. Their lost and tumultuous relationship will once again meet to settle the final wishes their deceased wife and mother left.
Felipe López Gómez is a Colombian filmmaker currently based in Toronto, Canada. His films have screened at festivals and venues such as International Kurzfilmtage Oberhausen, Frames of Representation at the ICA, Bogota Short Film Festival, and the Film Museum in Munich. https://altrafilms.com
Justine McCloskey, director of "Blind Bake"
In a quietly dystopian world, a woman in isolation seeks memories of connection by making a food best eaten with loved ones: an apple pie.
Justine McCloskey is a filmmaker, photographer, artist, and writer. She graduated with honours from Toronto Metropolitan University's BFA Film Studies program in 2013, specializing in directing and production design. In 2012, she won the prestigious Norman Jewison Award for Innovation in Filmmaking. She was also nominated for the 2013 Dean's Essay Award for her essay "Grete Suffraunce: Dysentery and The Crusades." Justine went on to attend the University of Toronto where she received her MA in Art History while TA-ing media and photography courses with both UofT and OCAD U. Justine is a board member for the8fest, a devoted analogue film community member, and has received an OAC and CCA grant for photography and short film projects respectively. Her first national commercial has gone live as of mid-October, 2023, and her writing and photography have been published internationally. She can typically be found amidst piles of cookbooks, camera in hand. http://www.justinemccloskey.com
Sonya Mwambu director of "Manidoowaaling: Home of the Great Spirit,"
This project is an experimental film made through process cinema on Manitoulin Island. After researching and shooting over 20 rolls of Super 8mm film, Sonya is planning to hand process the film using organic processing techniques with materials found at important places for me and the history of the island. This film follows Sonya's understanding of the absurdity of our existence and forces beyond our comprehension concluding with the idea that perhaps all creation stories are true and we are life experiencing nature and humanity. This film is an attempt to capture evidence of what we cannot see.
Sonya Mwambu is an experimental filmmaker and editor based in Toronto. Born in Kampala, they grew up in Canada and their work centres on the intersections of their identities through the exploration of race, gender, language and the connections they find through the experimentations of analogue film. Their films have shown at Nuit Blanche Toronto, the8fest, Toronto Queer Film Festival, McMaster Museum of Art, Cinema Politica, Toronto History Museums and Queer City Cinema. Their work has also been published in qumra journal, pitch magazine and The Archive of Forgetfulness supported by the Goethe-Institut Johannesburg. Their last digital project was commissioned by the Art Gallery of Ontario in collaboration with Nada El-Omari. Mwambu holds a BFA in Film Production from York University. https://www.instagram.com/sonya.mwambu
Tara Natalia director of "This is My Face,"
"This Is My Face" is a 7-minute stream-of-consciousness narrative shot on Super 8mm film which explores the psychology of a woman struggling to conceal her acne.
Tara Natalia is a Toronto-based filmmaker and producer who studied commerce at Toronto Metropolitan University and film production at Sheridan College. She is passionate about documentaries, female-driven stories, and working with the medium of film. She recently produced a feature film called "Fortescue" and is excited to jump back into the director's chair with her upcoming film "This is My Face," a Super 8mm experimental film about a woman struggling with acne. https://taranataliafilms.com
Roy Zheng director of "The Language of Balance,"
Award-winning Chinese-Canadian choreographer Wen Wei Wang takes on the challenge of choreographing Ballet Edmonton's full-length piece debut, exploring his personal journey and Chinese heritage. Facing the formidable challenge of completing rehearsals in just six weeks, Wang and his ensemble of ten young dancers navigate the trial and error of complex intercultural dance vocabulary, while forging a bond that goes beyond the confines of the dance studio.
Roy Zheng was born in China and first gained experience working as an assistant to Chinese writer-director Wendong Gao ("Sweet Food City") before moving to Canada to study Film and Television Production at Humber College. Subsequently, Zheng worked in the post-production of the award-winning documentary Shark Water VR, and The Holy City, which was selected for Cannes Film Festival 2019, Cannes XR. Since graduating he has worked in commercial production but his passion is in exploring personal experiences of the Chinese diaspora living in Canada, including highlighting the racism faced by the Chinese community during COVID-19 and discrimination faced by Chinese Canadians amidst international diplomatic tension. His experience as an immigrant and an emerging filmmaker inspired him to make the short documentary "The Language of Balance." https://vimeo.com/royzheng
The Liaison of Independent Filmmakers of Toronto's (LIFT) Production and Post-Production Support Grant returned last year in 2022, after a five year hiatus. Upon its return LIFT was able to offer a cash award alongside the in-kind credits thanks to donations made in the memory of Mara Da Costa Reis. Mara was a young actor, writer and filmmaker who unexpectedly passed in February 2021. Since then LIFT has stewarded over $10,000 in donations made in her name.
You can make a donation directly to the Mara Da Costa Reis Fund, which was formally established in January of 2023. All donations received through this fund will go towards the Support Grant.
If you are interested in donating you can do so by making a one-time or monthly donation through our CanadaHelps page or by cheque. Your donations will continue to help support this essential grant program for our members.
This year's projects were selected by jury of LIFT community members including:
Joanna Decc (she/her) is an actor, writer, and director based in Tkaronto. As a filmmaker she is interested in the mundane, and overlooked, as well as nuances of the human experience. Her work tends to centre on the darker elements of human existence, often encompassing a melancholic stain. She has a particular fondness for analogue film. She was also the recipient of the 2022 LIFT Production and Post-Production Support Grant for her debut film, "Bleak as the Setting Sun." https://joannadecc.com
Daniel McIntyre is an artist working primarily on 16mm and video, exploring concepts of memory, identity, queerness, disability, and history. He holds an MFA from York University and exhibits worldwide at venues including Oberhausen Kurzfilmtage, The National Gallery of Art, Cinémathèque québécoise, The British Film Institute, the Istanbul Modern, and the Museum of the Moving Image. He is currently experimenting with colour, artificial intelligence, and the ways we construct reality. http://www.danielmcintyre.info
Robin Riad is an Egyptian-Canadian experimental filmmaker. Robin works primarily with analogue mediums, and likes to find new ways to mess with film. She devotes her time to the Canadian Filmmakers Distribution Centre (CFMDC), the8fest, and teaching many workshops throughout the year. As one of LIFT's technicians, she supports many artists and independent filmmakers with their arts practice, and enjoys hearing about all their fun, exciting projects. When not at LIFT, Robin can be found making potions in the darkroom. https://robinriad.ca
The Liaison of Independent Filmmakers of Toronto (LIFT) is Canada's foremost artist-run production and education organization dedicated to celebrating excellence in the moving image. LIFT exists to provide support and encouragement for independent filmmakers and artists through affordable access to production, post-production and exhibition equipment; professional and creative development; workshops and courses; commissioning and exhibitions; artist-residencies; and a variety of other services. LIFT is supported by its membership, Canada Council for the Arts, Ontario Arts Council, Ontario Trillium Foundation, Ontario Arts Foundation, the Government of Ontario and the Toronto Arts Council. https://lift.ca
-30-
For additional information please see https://lift.ca or e-mail LIFT Development Coordinator Cayley James at development@lift.ca