LIFT Members Daniel Young and Christian Giroux win the 2011 Sobey Art Award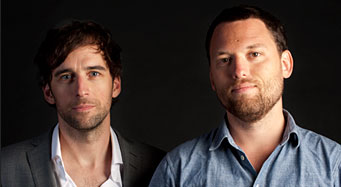 October 13, 2011—HALIFAX, NS—The Curatorial Panel for the 2011 Sobey
Art Award announced today that Young & Giroux representing Ontario
are the recipients of the $50,000 top prize. The announcement was made
during a Gala event held at the Art Gallery of Nova Scotia in Halifax.
The Award was presented to the winning artists by the 2010 Sobey winner,
Daniel Barrow and award-winning author and famed New Yorker contributor
and art critic Adam Gopnik.
The other shortlisted artists for this year's Award were:
• Charles Stankievech (West Coast and Yukon);
• Sarah Anne Johnson (Prairies and the North);
• Manon De Pauw (Québec)
• Zeke Moores (Atlantic).
Each of these outstanding artists receives $5,000 in prize money from the Sobey Art Foundation.
In commenting on Young & Giroux's achievement, the Curatorial Panel said:
"Young
& Giroux reflect a curious world where digital interfaces have
become an inextricable part of our lives. Their collaborative practice
seamlessly integrates works as diverse as architectural proposals for
public spaces, typological films of infrastructure developments across
Canada and re-tooled, pre-fabricated consumer goods. Their adaption of
computer systems, logic and software embodies a language with which they
investigate our more analogue tendencies, our affection for material,
formal elements, space and our relationship with the lingering legacy of
Modernism."
The 2011 Sobey Art Award Curatorial Panel consists of:
• Mary Bradshaw, Gallery Director, Yukon Arts Centre;
• Ryan Doherty, Curator, Southern Alberta Art Gallery;
• Marnie Fleming, Curator of Contemporary Art, Oakville Art Galleries;
• Gaëtane Verna, Director and Chief Curator, Musée d'art de Joliette;
• Bruce Johnson, Curator of The Rooms Provincial Art Gallery.
Since
its inception, the Art Gallery of Nova Scotia has organized and
administered the Sobey Art Award and its accompanying exhibition. Every
other year, the Award travels to a gallery or museum outside of Halifax.
The 2011 Sobey Art Award shortlist exhibition is on view at the Art
Gallery of Nova Scotia until January 8, 2012.