Walter Scott's "Sequel to Guts" – NRATI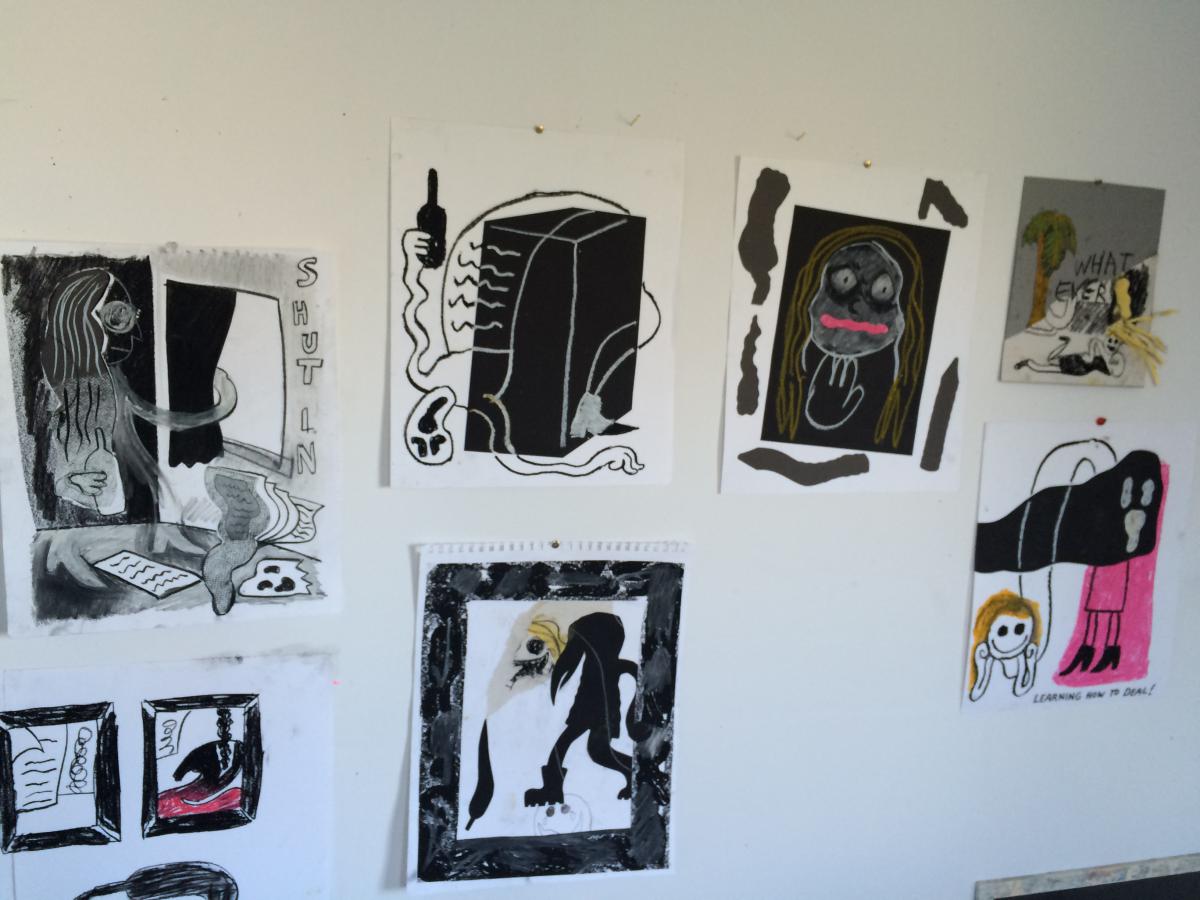 This special edition of No Reading After the Internet will feature a new performance work by Walter Scott presented at the exhibition opening of How a Living Day is Made.
Sequel to Guts is a collage of new and existing writing, reconfigured to create original associations between the fictions and reality of the artist, the audience and the gallery environment. Against the backdrop of a new, site-specific mural, Scott will animate the forms and narratives of the drawing: as the written words are performed over the changing backgrounds, they will create associations with the images encountered along the way.
Curated by cheyanne turions, How a Living Day is Made is an exhibition about survival strategies that features the work of Aisha Sasha John, Rachelle Sawatsky and Walter Scott. Their practices open up places of affect, empathy and entanglement, staking a claim for the vibrancy of being recovered from the banal, systemic or heroic struggles of making a life in the world today.
Walter Scott is an interdisciplinary artist working across writing, illustration, performance and sculpture. In 2011, while living in Montreal, he began a comic book series, Wendy, exploring the narrative of a fictional young woman living in an urban centre who aspires to global success and art stardom but whose dreams are perpetually derailed. The position of the outsider and shape shifter are central to this body of work and the influence of feminist icons such as Elle Woods in Legally Blonde and artist, punk poet, experimental novelist and filmmaker Kathy Acker lingers. Recent exhibitions include Fictive Communities, Koganecho Bazaar, Yokohama, Japan 2014; Pre-Existing Work, Macaulay & Co. Fine Art, Vancouver 2015; and Stopping the Sun in Its Course, Francois Ghebaly Gallery, Los Angeles 2015.
This special edition of No Reading After the Internet is presented as part of the exhibition How a Living Day is Made, which is produced as part of the requirements for the MVS degree in Curatorial Studies at the University of Toronto.
Special thanks to the Doris McCarthy Gallery for hosting this performance and to the Liaison of Independent Filmmakers of Toronto for their ongoing support of this project.
No Reading After the Internet is a salon series dealing with cultural texts, which are read aloud by participants. The particular urgency of the project is in reforming publics and experimenting with the act of reading, as its own media form, in our moment. No Reading After the Internet (Toronto) is a project of the efforts of cheyanne turions.
Non-members: Free
Members: Free
Location:
Doris McCarthy Gallery at the University of Toronto Scarborough
1265 Military Trail
Toronto ON Canada