Processing Black and White Film with Coffee Workshop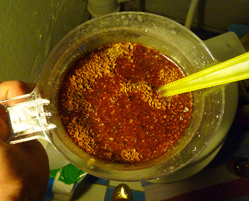 Coffee developer – CAFFENOL (photo Dagie Brundert)
Co-presented by LIFT and the Goethe-Institut Toronto
Instructed by Dagie Brundert
Coffee developer – CAFFENOL (photo Dagie Brundert)
Co-presented by LIFT and the Goethe-Institut Toronto
Instructed by Dagie Brundert
Spring 2012 Goethe / LIFT artist in residence
Enrolment
limited to 4
Cost:

$35 for LIFT members
$45 for non-members
In
this one evening workshop participants will work in the LIFT darkroom
processing black and white motion picture film with instant coffee, vitamin C
and washing soda. This replacement for commercial developers provides an
ecological alternative with ingredients available from the grocery store. Participants may bring one roll of black and white film to process in class (Super 8mm, Regular 8mm or 16mm only).
For more information on Caffenol developer see: http://en.wikipedia.org/wiki/Caffenol
Register by phone with a credit card (416.588.6444) or in person with cash/debit/credit at LIFT during office hours (Monday – Friday, 10am – 6pm).
Non-members: 45
Members: 35
Location:
LIFT
1137 Dupont Street
Toronto ON Canada