LIFT OUT LOUD April 5 – Guest Moderator ANITA DORON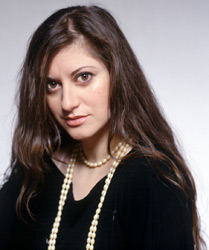 The LIAISON OF INDEPENDENT FILMMAKERS OF TORONTO present
April 's LIFT OUT LOUD Shorts
April's LIFT OUT LOUD Shorts
MRS. & MRS. MOOSEWOOD by Jeremy LaLonde
and CONDOMNED by Albert Duic
Wednesday, April 5th, 2006
7:00 p.m. Sharp!
Admission: Pay-what-you-can (Suggested $5)
CHANGE OF LOCATION
171 East Liberty Street, Suite 220 (CFMDC's Screening Room)
(South East of King St W and Dufferin Street)
This month's event will be moderated by ANITA DORON.
Anita Doron was born in Transcarpathia, Soviet Union. She received the Norman Jewison Filmmaker Award for her Ryerson University thesis film, a sci-fi thriller featured in festivals around the world. Her first short is NOT A FISH STORY, nominated for a Banff Rockie Award and currently distributed by Hypnotic and Vanguard as part of the Ultimate Shorts DVD collection. THE END OF SILENCE is her first feature film starring Juno award-winning singer Sarah Harmer, for whom Anita directed the music video I AM AGLOW. Anita recently won the The Best Feature Award at The Canadian Filmmakers Festival for THE END OF SILENCE.
MRS. & MRS. MOOSEWOOD by Jeremy LaLonde
On his first night out on patrol with his new partner, Officer Trevell, Officer Smit is asked to tell a woman that her husband has died. Complications arise when he discovers he's been sent to the wrong house.
JEREMY LaLONDE is a graduate from Niagara College's Broadcasting program, finishing with top honors and awards for his short film, SELFLESS, COLD AND COMPOSED, which has been showcased in several Canadian film festivals and the New York Independent Film Festival last April, winning the Best Student Drama and Audience Award at the Niagara Indie Film Festival. In addition to this he has written, directed and co-edited five feature length documentaries for the "Ontario Visual Heritage Project" series. Working as an editor he has lent his talents to several commercials, short films, TV series, and is currently editing the feature film, THE LOOKALIKE for Toronto-based Look Pictures Inc. Having been a writer from a young age, he won the Lighthouse Festival Theatre's Young Playwright Award three years in a row and has written and directed six two act theatrical productions.
CONDOMNED by Albert Duic
Craig heads out to an all night condom shop with his best friend Mark, and events unfold that prevent them from getting a pack of condoms.
ALBERT DUIC works on TV and film sets either as an actor or background performer. My main passion is acting and writing short stories, poetry, skits, etc., He prefers to write comedy, as he believes that everyone needs to laugh at one point. Laughter is such a great feeling, and relieves tension, pressure, etc.
LIFT OUT LOUD is Looking for Scripts
———
LIFT OUT LOUD Feature will resume in May 2006. LIFT OUT LOUD is looking for LIFT members (all levels) to workshop feature script they have written to participate in the May reading to be held on Wednesday, May 3rd, 2006. This is a great way to see your script acted out by professional actors. We are looking for features, preferably films that are slated for production this Summer. Please call Matthew Toffolo at 416.568.9046 if interested or are wanting to know more about the series and submit your script to liftoutloud@lift.on.ca