(LIFT) New Directions: I HAVE NO MEMORY OF MY DIRECTION by MIDI ONODERA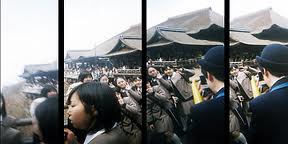 LIFT'S NEW DIRECTIONS IN CINEMA & REEL ASIAN ANNOUNCE A SPECIAL PRE-FESTIVAL PRESENTATION OF
I HAVE NO MEMORY OF MY DIRECTION by MIDI ONODERA
LIFT'S NEW DIRECTIONS IN CINEMA & REEL ASIAN ANNOUNCE A SPECIAL PRE-FESTIVAL PRESENTATION OF
I HAVE NO MEMORY OF MY DIRECTION by MIDI ONODERA
The Liaison of Independent Filmmakers of Toronto (LIFT) and the 10th Toronto Reel Asian International Film Festival is pleased to partner in a special New Directions In Cinema and Reel Asian Pre-Festival Presentation of I Have No Memory Of My Direction by award-winning Canadian filmmaker Midi Onodera. The Toronto premiere of Onodera's first feature length video will take place 7:00pm Saturday October 28, 2006 at The Workman Theatre, 1001 Queen Street West.
Midi Onodera a Toronto-based filmmaker who has been directing, producing and writing films for over twenty years. Her films have been critically recognized and included in numerous exhibitions and screenings internationally. Some highlights include the Andy Warhol Museum, the International Festival of Documentary and Short Films, Bilbao, Spain; the Rotterdam International Film Festival; the Berlin International Film Festival and the Toronto International Film Festival. Onodera will be in attendance for a Q&A proceeding the screening.
'I Have No Memory of My Direction' unfolds through an experimental narrative of a Canadian-born Japanese woman's voice-over as she dreams her way though Japan. Ostensibly searching for an emotional connection with her aging father, the woman contemplates her own inherited culture and familial touchstones. Her North American pop-culture sensibility fuses with a distorted Japanese perspective to create a surreal interpretation of a "Japan of the imagination." This fictional landscape is peppered with invented Japanese myths, ruminations on memory loss, the temporal space of digital photography and the ghosts of inherited imagination.
New Directions in Cinema is a screening series presented by LIFT showcasing members and their innovative film works – filmmakers whose work bypasses traditional structures and techniques.
The 2006 Toronto Reel Asian International Film Festival will celebrate it's 10th year as Canada's largest showcase of contemporary Asian cinema and work from the Asian diaspora from November 15 to 19th 2006. Reel Asian fosters the exchange of cultural and artistic ideas, provides a public forum for homegrown Asian media artists, and fuels the growing appreciation for Asian cinema in Canada.
For festival details visit www.reelasian.com.
Saturday 28 October 2006 19:00  
Non-members: Free
Members: Free
Location:
Joseph Workman Theatre 
1001 Queen Street West 
Toronto ON Canada