LIFT co-presents "Where Do We Go From Here?" at the8Fest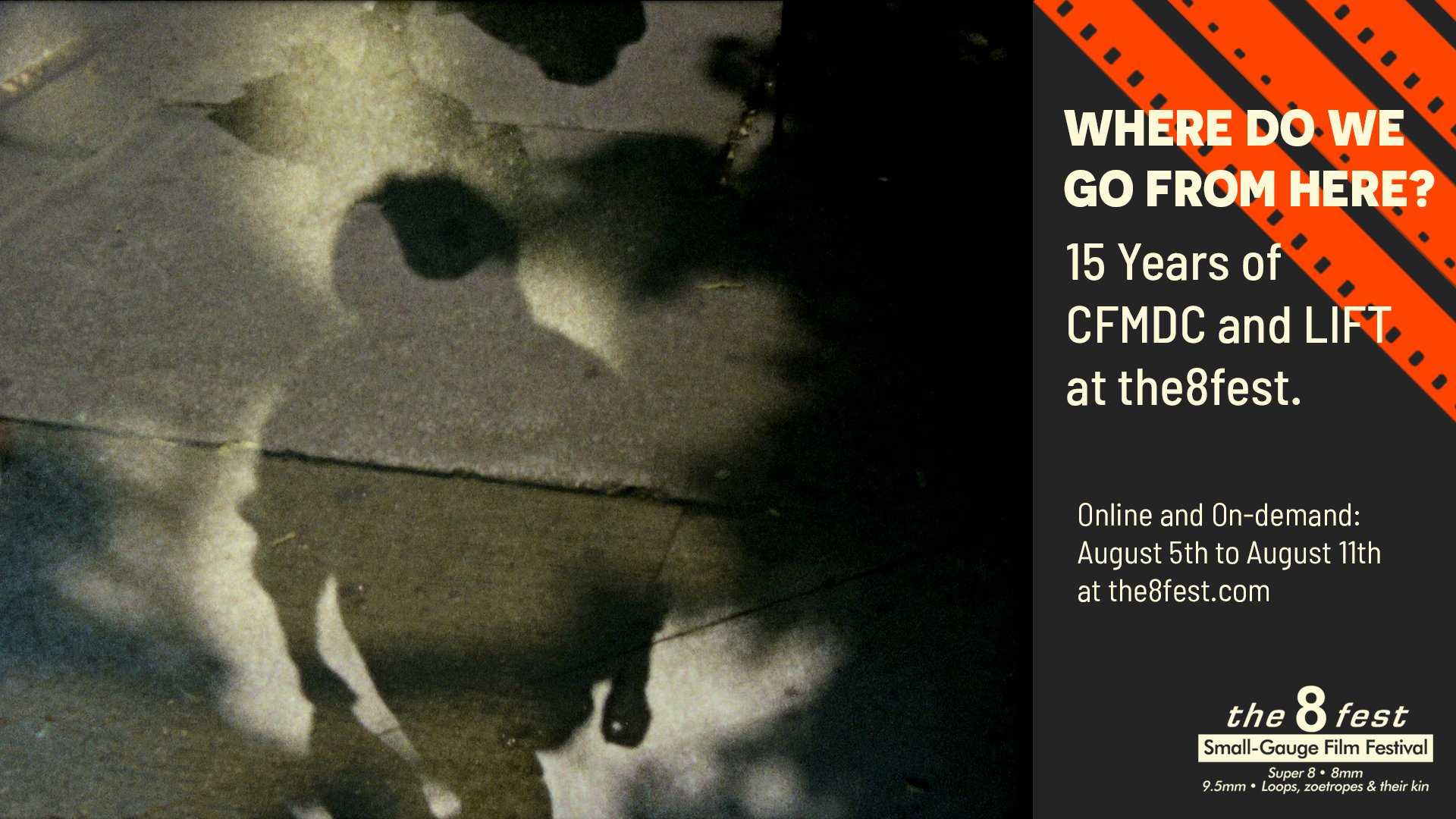 LIFT and the CFMDC co-presents "Where Do We Go From Here?"
15 Years of CFMDC and LIFT at the 8fest
Curated by Jesse Brossoit from Canadian Filmmakers Distribution Centre (CFMDC) and Cayley James from the Liaison of Independent Filmmakers of Toronto (LIFT).
Online and On-Demand
August 5 – 11, 2022 at https://the8fest.com
Presenting films by Alexandre Larose, Kara Blake, Eva Kolcze, Lisa Nielsen, Martha Davis, Scott Miller Berry, Kika Thorne + October Group, Graham Hollings, E. Hearte, Jaene Castrillon, Marcos Arriaga, Zoe Heyn-Jones, SoJin Chun, Madi Piller, and Keith Lock.
Curatorial Statement:
CFMDC and LIFT occupy opposite ends of the filmmaking spectrum—distribution and creation—and small gauge filmmaking has been an essential format for our respective organizations since their founding in 1967 and 1981. Over the past five decades our memberships have often overlapped and our goal with this retrospective was to provide a glimpse into that rich creative history we have shared.
While sifting through the past editions of the 8fest we were drawn to the joyfulness and possibility of the medium and although the films vary in style and approach they are connected by an indelible sense of place. Specifically the urban landscape.
From abstract meditations on process, to diary and portrait films, and allusions to the travelogue, the city proves to be both familiar and frightening. It can be a lens through which to view the program, both as a literal and conceptual space. A place where we find community and can simultaneously decay our sense of self. But there are works that stretch those same themes into unexpected spaces: into the privacy of a bedroom, onto a familiar path through the woods, or long abandoned ruins. It is an intentionally eclectic lineup that exemplifies not only the past and present but future of small-gauge filmmaking in Canada.
Friday 5 August 2022 – Monday 11 July 2022
Non-members: Free
Members: Free