LIFT co-presents "Alternative Landscapes" at Planet in Focus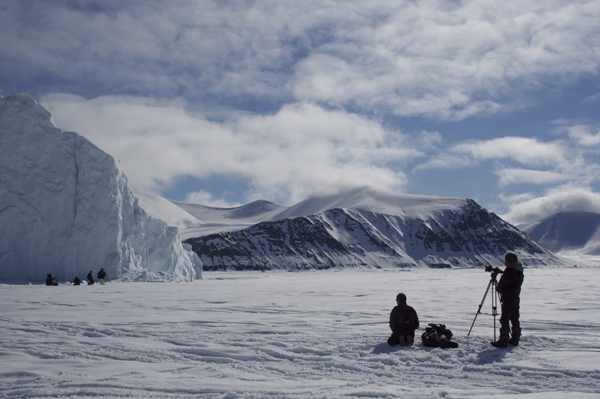 The Liaison
of Independent Filmmakers of Toronto (LIFT),
The Liaison
of Independent Filmmakers of Toronto (LIFT),
along with Consulate General of the Federal Republic of Germany Toronto, Worldwide Short Film Festival, and Canadian Filmmakers Distribution Centre, co-presents at the 2011 Planet in Focus: International Environmental Film and Video Festival.
Alternative Landscapes:
Shorts Program
This collection of nine
experimental short film and video works explores how artists working in various
disciplines interpret the landscapes around them. From the sculptural lakes,
volcanoes and caves crafted from cellophane, kitty litter and candle wax in LINT
LENT LAND, to the contemporary dance
choreography in Melt, digital
video compositing in The Want and The
Park, poetry in Nanameshkueu, manipulated Super 8 footage in Daybreak and musical collaboration in Sirmilik, this program celebrates the works that challenge
traditional aesthetics of landscape.
LINT LENT LAND
Director: Isabell Spengler
Germany / 2009 / 9 min /
Experimental
Reworked hinterland sounds breathe
life into synthetic sculptural tableaux of natural worlds.
Winter Light (Vinterlys)
Director: Skule Eriksen
Norway / 2011 / 24 min /
Documentary / Norwegian with English subtitles
Winter Light captures the stillness and subtle beauty that
pervades everyday life on a Norwegian archipelago as the low autumn sun sinks
below the horizon for the duration of the winter months.
Melt
Director: Noémie LaFrance
Canada, USA / 2010 / 10 min /
Experimental
A sensual, dramatic and
delicate expression of the body in exile surrendering to the effect of heat; a
spiritual mutation, where the body as matter transforms from solid to liquid to
light in a quiet and highly-charged atmosphere.
Blue
Director: David Geiss
Canada / 2010 / 8 min /
Experimental
An elegiac meditation on the
sights, sounds, form and function of a 1924 bascule-style drawbridge destined
for demolition.
The Want
Director: Annie Si-Wing Tung
Canada / 2010 / 6 min /
Experimental
A dreamlike exploration of the
built environment, where natural and industrial elements become interlaced and
progress is no longer clear.
Nanameskueu (Tremblement de
terre)
Director: Réal Junior Leblanc
Canada / 2010 / 3 min /
Experimental / Innu with English subtitles
Leblanc's poetry inspirits a
colourful dual-screen collage of the faces, trees, waves and moon around him.
Daybreak
Director: Jason Britski
Canada / 2011 / 10 min /
Experimental
Inverted Super 8 and video
footage paints a hauntingly beautiful portrait of Saskatchewan's northern
forests.
The Park
Director: Ulu Braun
Germany, Finland / 2011 / 5
min / Experimental
Intricate video compositing
techniques combine familiar features of our social and architectural
environments into a panoramic exploration of the space between urban and
natural landscapes.
National Parks Project:
Sirmilik
Director: Zacharias Kunuk
Canada / 2010 / 10 min /
Documentary
Against the arresting backdrop
of Nunavut's blue skies and majestic glacial expanses, filmmaker Zacharias
Kunuk (Atanarjuat: The Fast Runner)
explores how climate change is impeding the local Inuit community's ability to
predict weather patterns. Sirmilik features
the music of Andrew Whiteman (Broken Social Scene), Dean Stone (Apostle of
Hustle) and Yellowknife throat singer Tanya Tagaq.
Saturday 15 October 2011 –
Non-members: $12.00 General
Members: $12.00 General
Location:
Royal Ontario Museum
100 Queens Park
Toronto ON Canada