I Began to Wish…: Films by Julie Murray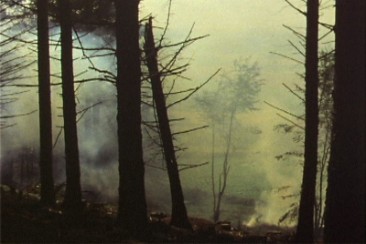 The Liaison of Independent Filmmakers of Toronto (LIFT) is pleased to present
I Began to Wish…: Films by Julie Murray

Julie Murray in attendance


Program:
The Liaison of Independent Filmmakers of Toronto (LIFT) is pleased to present
I Began to Wish…: Films by Julie Murray

Julie Murray in attendance


Program:
The World of the Diving Spider, 1979
untitled performance, 2013
I Began to Wish….., 2003
Micromoth, 2000
Untitled (light), 2002
Orchard, 2003
Deliquium, 2003
Line of Apsides, work-in-progress
Julie Murray's films form a beautiful and subtle body of work that moves between meticulously edited found footage films and richly beautiful first-person visual diary films. This program features aspects of both, focusing on a particularly prolific period in the early part of this millennium when Murray produced a suite of still resonant films over a short two-year cycle.
The screening begins with a found educational film, The World of the Diving Spider, that Murray will respond to with a live double projection before launching into the dark meditation on father / son relations featured in I Began to Wish… Three of Murray's most beautifully lensed films follow—Micromoth, which shoots through a vintage microscope at a miniature world of dead insects and dust particles; Untitled (light), a record of the light sculpture erected to pay tribute to the fallen World Trade Centre; and Orchard, an "arrangement of continuous wandering" through a 19 century Irish ruin. Deliquium follows—inspired by an Irish folk tale, it displays Murray's wonderful aptitude at editing found-footage film, connecting vivid imagery together in unique ways. The program ends with Line of Apsides, a work-in-progress started on the farm at Phil Hoffman's Independent Imaging Retreat.

"Using combinations of found and original footage, Irish-born New Yorker Julie Murray makes subtle and eloquent films that imbue banal images and everyday sounds with an other-worldly charge, a sense of mystery and menace. Murray's increasingly sophisticated cutting style connects images using visual rhymes based on rhythm, gesture and morphology, until each person, animal or object becomes the dream or nightmare of another in a web of associations without beginning or end."
—Chris Gehman, Cinematheque Ontario
Julie Murray is an Irish born artist and filmmaker making experimental films and videos in the US. She studied Fine Art in Dublin, Ireland, and in 1985 moved to the US. While creating and exhibiting paintings and photographs there she began exploring moving image media and making experimental films. Continuing to work in as well as draw relationships from painting and photography, she has completed many short films and has collaborated on numerous film installation/performance events with artists, musicians and filmmakers. Her films have been included in many festivals including the New York Film Festival, Images Festival, TIFF, Hong Kong International Film Festival, Rotterdam International Film Festival, Centre George Pompidou, Paris, the Museum of Strasburg, the Dublin Film Festival, Ireland and the Times London Film Festival. Her work was exhibited in the Whitney Biennial in 2004.
Thursday 17 October 2013 –
Non-members: $8.00
Members: $5.00
Location:
CineCycle
129 Spadina Avenue (down the alley)
Toronto ON Canada