Fall 2017 Studio Immersion Program – Nightwalk: The Films of Andreas Wutz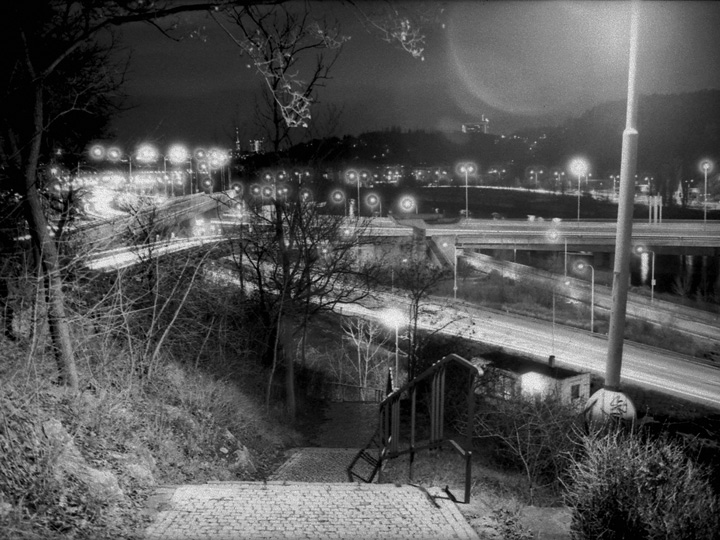 Nightwalk by Andreas Wutz
FALL 2017 STUDIO IMMERSION PROGRAM
NIGHTWALK: THE FILMS OF ANDREAS WUTZ
 
Join us for a free screening with filmmaker in the Studio Immersion Program artist Andreas Wutz. Andreas Wutz is a conceptual media artist living in Munich and Bilbao. His short films are cinepoems which use experimental and documentary strategies, are equally interested in the visual world as in the invisual and the world of sound, and are driven by a deep interest in social-political themes as well as in historical references. The films in this program consider historical trauma, migration, psychogeography and a sonic portrait of the 24-hour car race in Le Mans. More detailed information at www.andreaswutz.net
 
Le Mans (2003, 9:30 min)
An experimental film about the ambiguous sensation of fear and elation experienced during the loneliness of a night race. Original footages of the 24 Hours of Le Mans are associated with pictures of Charles Lindbergh's transatlantic airplane The Spirit of St. Louis and quotations by Antoine Saint-Exupéry and Bertolt Brecht.
Observatory (2006, 2:00 min)
This film reflects on the act and inner motif of observing long distance objects as they may be represented by an urban landscape seen from the top of a mountain or by the stars seen from an observatory.
Caryatid Row (2008, 12 min)
Filmed in Prague and at the Unité d'Habitation in Marseille Caryatid Row is a film about people reading in the public space moving through it and transforming it. Reading seems to transport them into another world changing the image of the habitual one.
Nightwalk (2006, 14 min)
"Nightwalk" was filmed on a nocturnal circle walk around the city of Prague. It tries to understand a city by its urban surroundings, by its psychogeography and by aspects of the Other and Non-human.
Not to Go and Not to Stay (2005, 6 min)
Not to Go and Not to Stay is a short film about an inner conflict of enforced voyage or migration, about the contradictory wish to stay at place and leave it at the same time. The film is based on a dream noted by Franz Kafka.
Embassy Morning (2007, 7 min)
The short film explores the situation of exterritorial places and national borders as it can be studied in the embassy area Bubeneč in Prague. The Czech capital is home of nations from all over the world and each nation occupies one mini-territory in a garden town looking idyllic and peaceful.
Hortus Harare (2011, 5 min)
In 1979 ended the long and traumatic liberation war of Zimbabwe that took place in the bush. In 1962 the Botanic Garden of Harare was founded as a model of exactly this landscape. The film asks how the Zimbabwean landscape and the war trauma are interrelated
Andreas Wutz is an independent audiovisual artist living in Munich and Bilbao. Specializing in 16mm film, his recent works included a photo project in Albacete, Spain, and a long term research in Zimbabwe resulting in a solo exhibition at the National Gallery of Zimbabwe. He has been teaching Audio-Visual Art, Art Film and New Media at the Instituo Europeo de Design in Barcelona, and at the University of California in San Diego. www.andreaswutz.net
The LIFT and PIX FILM Studio Immersion Program is generously supported by the Petman Foundation.
Andreas Wutz's visit is also made possible in part through the support of the Goethe-Institut Toronto.

PIX FILM is an independent working studio, micro cinema, event space and gallery. The modular space accommodates diverse needs of individual artists, community arts groups and arts collectives. PIX FILM values digital and film forms of production and exhibition. www.pixfilm.ca
The Liaison of Independent Filmmakers of Toronto (LIFT) is Canada's foremost artist-run production and education organization dedicated to celebrating excellence in the moving image. LIFT exists to provide support and encouragement for independent filmmakers and artists through affordable access to production, post-production and exhibition equipment; professional and creative development; workshops and courses; commissioning and exhibitions; artist-residencies; and a variety of other services. LIFT is supported by its membership, Canada Council for the Arts, Ontario Arts Council, Ontario Trillium Foundation, Ontario Arts Foundation, the Government of Ontario and the Toronto Arts Council. www.lift.ca
Wednesday 8 November 2017 –
Non-members: Free
Members: Free
Location:
Pix Film Gallery
1411 Dufferin Street, Unit C
Toronto ON Canada