Andrea Fraser's "Performance or Enactment" as selected by Martha Wilson – NRATI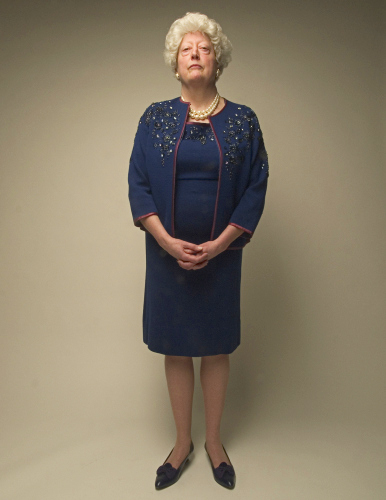 As part of the 28th annual Images Festival, this salon will feature Andrea Fraser's essay "Performance or Enactment" as selected by Martha Wilson.
Martha Wilson in attendance.
As part of the 2015 Images Festival, Wilson will be participating in performance artist Jess Dobkin's How Many Performance Artists Does it Take to Change a Light Bulb (For Martha Wilson). Taking a direct cue from Wilson's video The History of Performance Art According to Me, Martha Wilson (2005), Dobkin takes on the complex and riddled history of performance art, defining its terms and conditions, while acknowledging the slippery temperament of her task. This new work will be an attempt to overwhelm the definitions and intersections of performance, documentation, the archive, and image reproduction to investigate the nature of performance itself. As a preface to the performance, which is centred upon enacting a lightbulb joke about performance art, Fraser's text foregrounds discussion of re-performance of historical works.
Fraser's essay "Performance or Enactment" can be accessed here. However, please note that it is not necessary to pre-read the text.
Martha Wilson is a pioneering feminist artist and gallery director, who over the past four decades created innovative photographic and video works that explore her female subjectivity. She has been described by New York Times critic Holland Cotter as one of "the half-dozen most important people for art in downtown Manhattan in the 1970s." In 1976 she founded Franklin Furnace, an artist-run space that champions the exploration, promotion and preservation of artist books, temporary installation, performance art, as well as online works. She is represented by P.P.O.W Gallery in New York; and has received fellowships for performance art from the National Endowment for the Arts and the New York Foundation for the Arts; Bessie and Obie awards for commitment to artists' freedom of expression; a Yoko Ono Lennon Courage Award for the Arts; a Richard Massey Foundation-White Box Arts and Humanities Award; and in 2013 received an Honorary Doctor of Fine Arts degree from the Nova Scotia College of Art and Design University.
Special thanks to the Liaison of Independent Filmmakers of Toronto for their ongoing support of this project and the Images Festival for hosting this salon.
No Reading After the Internet is a salon series dealing with cultural texts, which are read aloud by participants. The particular urgency of the project is in reforming publics and experimenting with the act of reading, as its own media form, in our moment. No Reading After the Internet (Toronto) is a project of the efforts of cheyanne turions.
Non-members: Free
Members: Free
Location:
Urbanspace Gallery
401 Richmond Street West, Ground floor
Toronto Canada