Abstracts and Almanacs: Films by John Price – World Premiere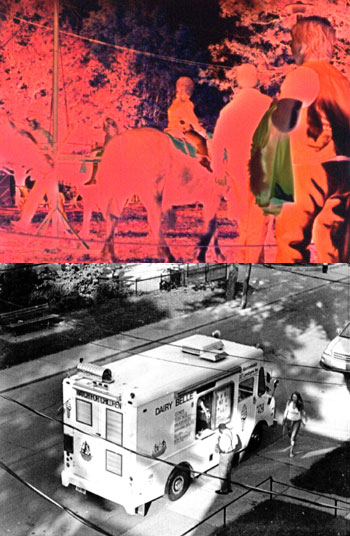 LIFT presents an evening of short, finely textured 16 and 35mm films by filmmaker John Price. Abstracts and Almanacs is a series of films made between 2002 and 2005 that explore the vast aesthetic potential of century old film technology and alchemical experimentation. The program includes a film shot at some of the largest industrial sites in China while traveling with the photographer, Ed Burtynsky. Also featured is a 52 week cycle of films shot in Central America, the US and Canada with a 35mm hand-cranked camera and an experimental 16mm travelogue of a train journey from Geneva to Istanbul. All the lab work on the program was done by the filmmaker and will be projected on film.
Having shot and hand-processed film for over 15 years, John Price has created a body of work which stands in stark contrast to the images that exists in the multiplex and on T.V. Since receiving an M.F.A. from Concordia University in 1996, he has exhibited his work internationally and has created numerous film projections for opera and dance. He lives in Toronto.
Abstracts & Almanacs is a program of 6 films and a short intermission with a total running time of 110 minutes.
New Directions in Cinema is a screening series presented by LIFT showcasing long time members and their innovative film works.


Location:
Innis Town Hall
2 Sussex Avenue
Toronto ON Canada