$99 No Excuses Film Festival Tour in Peterborough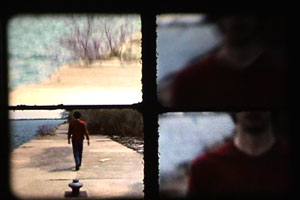 LIFT presents a benefit screening for the Peterborough Arts Umbrella to help raise funds for the Peterborough arts community, which experienced a devastating flood disaster this past summer.
Started in 2002, LIFT's $99 No-Excuses Film Festival challenges the demons that occasionally plague independent filmmakers: the four horsemen of procrastination, fatigue, anxiety and ennui. Participants must accept our tough-love approach (we will suffer no sob-stories and accept no alibis) and we in turn will do everything in our power to help you to the finish line. The 2004 tour features a selection of 13 films from the past 3 years.
New Dates:
Screening of the $99 No Excuses Film Festival will be on Saturday, November 27th, 2004 and the Cameraless Animation workshop will be on Sunday, November 28th, 2004
Location of Screening and Workshop TBA.
PROGRAM 1
4 x 8 x 3, Chris Kennedy
locks part 2: dread execution!, Juliana Saragosa
Subterranea Gargantua (prelude), Daniel Cockburn
Défi des étoiles, Sara MacLean
Half Man 1/2 God, Darryl Callender
Blueprint, Jamie Phelan
PROGRAM 2
the eye of the beholder, Stefan Chiarantano
Taking Pictures, Scott Berry and Adam Segal
The Observatory, Alexi Manis
In the Garden, Larissa Fan
Last Still Life, Michèle Stanley
She Was So Young Back Then, Francisca Duran
Body Scares, Andréa Cohen
Saturday 27 November 2004 –